Trinity mobile phone information

Three Ireland is the provider for Trinity staff mobile phones.
If you experience an issue connecting to the Three Ireland network, please notify ICT Facilities at noc@tcd.ie or phone 01 896  2050. The ICT Facilities team will provide help and support and if necessary escalate the issue to Three Ireland on your behalf.
All information on this page is correct at date of publish however please note all costs are subject to change.
General Procedures for ordering a mobile
Procuring a Mobile Phone
All Trinity corporate mobile phone devices are ordered from Three Ireland in accordance with OGP Framework 3.
National / EU - Price Plan
In bundle
Unlimited National calls and texts
Unlimited calls made/received in the EU
Includes texts sent received in the EU
Industry leading unlimited national data offering and EU data allowance (4GB)
Out of bundle
Outside of bundle rate of 2 cent per MB while in ROI
Outside of bundle rate of 5 cent per MB while roaming in the EU
Please note that this tariff is the standard tariff and does not including coverage outside of EU, please contact your departmental point of contact prior to travelling to request an additional bundle if required.
Point of contact by area or department for ordering a phone
If you wish to order a phone please contact the relevant point of contact in your area:
| | |
| --- | --- |
| Department | Point of contact |
| Biology Teaching Centre | Siobhan McBennett |
| Botany | Siobhan McNamee |
| Careers Advisory Service | Orla Bannon |
| Central Events | Liane Donnelly |
| College Health Services | Catriona Curran |
| Comparative Medicine Unit | Dr Laavanya Parthasarathi |
| Computer Science - ADAPT | Sandie O'Dwyer |
| Computer Science & Statistics | Sandie O'Dwyer |
| COO's Office | Marian Thornton |
| CRANN | Jacqueline Ballentine Armstrong |
| Day Nursery | Aoife Cox |
| Department of Genetics | Brenda Campbell |
| Department of Sport | Eamon Cusack |
| Disability Services | Kevan O'Rourke |
| Estates & Facilities | Aoife Quigley |
| Faculty Office - FEMS | Katie O'Connor |
| Financial Services Division | Lisa Orpen |
| Geography | Frank Hendron |
| Geology | Frank Hendron |
| Global Relations | Audrey Fevry |
| Health & Safety | Carol Mitchell |
| Human Resources | Mary Dunne |
| Maths | Karen O'Doherty |
| Mechanical & Manufacturing Eng | Judith Lee |
| Pharmacy | Dimitrios Paraskevas |
| Political Science | Olive Donnelly |
| Psychology | Lisa Gilroy |
| School of Business | Gerard Ecock |
| School of Chemistry | Sinead Boyce |
| School of Histories & Humanities | Patricia Stapleton |
| School of Medicine | Alex McKee |
| School of Natural Science | Anthea Cameron |
| School of Nursing & Midwifery | Frank O'Rourke |
| School of Social Science & Philosophy | Olive Donnelly |
| School of Social Work & Policy | Jennifer O'Toole |
| Academic Registry | Luke Fitzgerald |
| IT Services | Nicola Butall |
| Library | Carmel Carr |
| Project Office | Roslyn Clohisey |
| Secretary's Office | Caroline Campbell |
| TR&I Administration | Leonard Hobbs |
| Trinity Hall, Dartry | Anne-Marie Looney |
| Zoology | Martyn Linnie |
If your area is not listed or if you have further queries regarding new phone purchases and account queries, please contact IT Services. All orders for new devices, porting of numbers and all queries and general communication will be done directly between Three Ireland, IC Facilities and the nominated Points of Contact in each School/Area.
Your local point of contact will have access to the latest mobile phone handsets available (Samsung and Apple) with the latest pricing.
BlueClick Web Portal
Once the migration is complete, all orders will be completed by your local point of contact on the Three Ireland BlueClick web portal.
Ordering Process
If you experience an issue connecting to the Three Ireland network, please notify ICT Facilities at noc@tcd.ie or phone 01 896  2050. The ICT Facilities team will provide help and support and if necessary escalate the issue to Three Ireland on your behalf.
Phone model and tariff is selected and ordered.
The local point of contact places the order and it is received by Three Ireland and processed.
The Mobile Phone can be delivered to ICT Facilities, IT Services, or you can have it delivered to your home address.
ICT facilities assist the user in ensuring the mobile phone configuration process is completed successfully and that the phone is assigned exclusively to the named Trinity staff member.
Policies set as part of MDM
At least 6 digit PIN is required to lock your mobile phone.
MS Outlook is the only approved app for accessing Trinity email.
OneDrive for Business and SharePoint for saving Trinity corporate data.
Minimum IOS 11 and Android v.6 allowed. That is only one version behind current version.
Managed Applications cannot be backed up to iCloud this assists in efforts to keep Trinity data stored within Microsoft environment only.
After 10 failed attempts at sign-in the device will be automatically wiped.
Configuration Service (MDM)
Once the Trinity staff mobile phone is ordered by the Point of Contact it is assigned to a particular member of staff with Three. Three Ireland registers the device and it is assigned as a corporate Trinity branded phone to Trinity. This means the phone can only be used by that authorised member of Trinity.
Each Trinity staff mobile phone is registered in the Trinity Mobile Device Management system. This allows IT Services to provide a GDPR compliant service for the Trinity funded Mobile estate by protecting access to corporate data accessible through these staff mobile phones. It allows pre-registration of the phones, Trinity branding of the phones and enforcement of a security PIN. The MDM pre-installs applications to these phones It also facilitates the phone to be securely deleted remotely by IT Services if they are reported stolen or lost. The MDM supports GDPR compliance, improves data security and optimises user experience.
As part of the enrolment process, the authorized person must consent to the following Terms and Conditions. The MDM system collects information about the device but cannot read emails, messages or the contents of apps, personal data stored on the phone or iCloud or personal photos.
The Trinity staff member is also permitted to use the mobile phone for personal use subject to the acceptable user policy. They may use approved App store and Google Play store apps that they have purchased themselves. They may also process their own personal data on the phone – such as photographs and files. However, they do so at their own risk and are responsible for backing up their own personal data. IT Services support does not extend to personally owned data or apps. All use of the mobile phone must follow the terms and conditions set by IT Services to ensure GDPR compliance.
The following apps are available to Staff as standard as part of the configuration service:
MS Outlook
Managed Browser
Edge Browser
OneDrive for Business
Skype for Business
Microsoft Authenticator App
MS Word
MS Excel
MS PowerPoint
MS Teams
MS SharePoint Online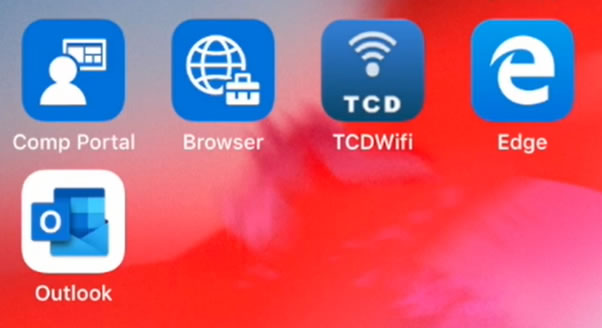 Setting up your new device
Samsung Android set-up
In order to set up the new phone you will need a personal Gmail account to download apps and set up the phone for personal use; IT services will have no access to the login details for this Gmail account. 
You will also need to ensure that your new phone has 6-digit PIN protection.
IT Services will also have no access or responsibility for the personal data on the phone.
Following personal setup, please download the Intune company portal app via the Google app store to setup the work profile on your new phone. You will then need to follow Android Device Enrolment
iPhone or iOS set-up
Using your Staff Mobile Phone – Do's and Don'ts
Do use the MS Outlook application to access your Trinity email.
Don't "jailbreak" your mobile phone.
Do use your phone responsibly and check the bill regularly to ensure it is correct.
Do create and use at least a 6 digit pin code or biometric unlocking to prevent unauthorised access to your mobile device.
Do turn your mobile device off or use screen lock and put it in an appropriate carrying case when travelling.
Do keep all drinks and any other liquids away from your mobile device. Any spillage on the device can result in data loss and expensive repairs.
Do report a loss or theft as soon as possible to both Three (dial 1913) and IT Service desk.
Be aware of your surroundings and ensure no-one can "shoulder-surf" your password or see the data on your screen.
Don't leave your mobile device unattended and store the device in a safe, or at the very least lock it in your room. Don't use your mobile device to access sensitive University data in public places if there is a possibility that the data could be breached.
Don't purchase any apps outside of Google Playstore or the Apple Appstore.
Billing
Similar to current arrangements all invoices will be individually associated with a cost code that pertains to each active Trinity owned mobile number. Three Ireland offers online billing a month in arrears. The current intention is to remove paper billing and switch to electronic billing only. Points of Contact will have access to all bills pertaining to their area only and individuals will have access to an electronic version of the bill pertaining to the mobile number associated with them only.
Changes to your Mobile phone tariff
For the following other query types, please contact your local point of contact above in your school/area:
Request a new connection (i.e. a new contract with Three Ireland)
Request a replacement mobile phone or change in tariff
Roaming – at least 48 hours prior to departure
Mobile phone Insurance
How to access your voicemail
To access your voicemail from your Three mobile dial 171.
To set up and personalise your voicemail from your mobile:
Dial 171
Press 2 to work with your greeting
Press the # key when you are finished recording your message
To save your greeting press * 2

You can also check your voicemail messages from another phone:
Dial your own number but include 5 after your prefix. For example, if your number is 083 XXX XXXX, then you would dial 083 5 XXX XXXX.
You will then hear the greeting. Interrupt it by pressing the # key; enter your PIN, then press the # key again. Your PIN is the 4 digit code you received with your SIM.
For access to voicemail while roaming, simply dial your number adding the international prefix. The service is pre-programmed on your SIM card under 'International Voicemail'
Loss and theft
As soon as your Trinity staff phone is phone is lost or stolen:
call Three Ireland on 1913
and also contact Trinity via noc@tcd.ie , 01 896 2050
The Three Ireland Business Support team can block the phone and SIM card so no unauthorised charges will be incurred. If you require a replacement phone, please contact your point of contact in your local school or area. IT Services can issue a remote wipe command to delete all data one the phone and help protect Trinity data from unauthorised access.