IT Security Awareness Training
The IT Security Awareness training is available to all staff and students in Blackboard. The training will take approximately 90 minutes and includes a short quiz which you must pass in order to successfully complete the training. The pass mark for this training session is set at 90%. On completion you should have a full understanding of:
The importance of protecting information and data
Physical and procedural information security
Working remotely and in the cloud
Common threats and how to counter them
Why Research data is different
IT Security at Trinity
How to enrol on the IT Security Awareness training module
You need to self-enrol on this module. Follow the instructions or video below for the steps involved.
 Login to Blackboard (http://mymodule.tcd.ie) with your Trinity network username and password.
Once logged in, paste the following link into your browser's address bar: https://tcd.blackboard.com/webapps/blackboard/content/listContentEditable.jsp?content_id=_1391252_1&course_id=_62307_1
Click on the Enrol button on the left-hand side of page.
You will be brought to a Self-Enrolment page. Click on the Submit button to finish your enrolment.
Click on the Ok button on the bottom right side of the page to be brought back to the module page.
If you need to re-access the module, you will now find it in the Module List on your Blackboard homepage.
Once you have completed the enrolment process, all module content will be displayed for you.
Access the IT Security Awareness training module once self enrolled
Click on the 'IT Security Awareness Training' link on the main screen to get started.
The module will open in a new window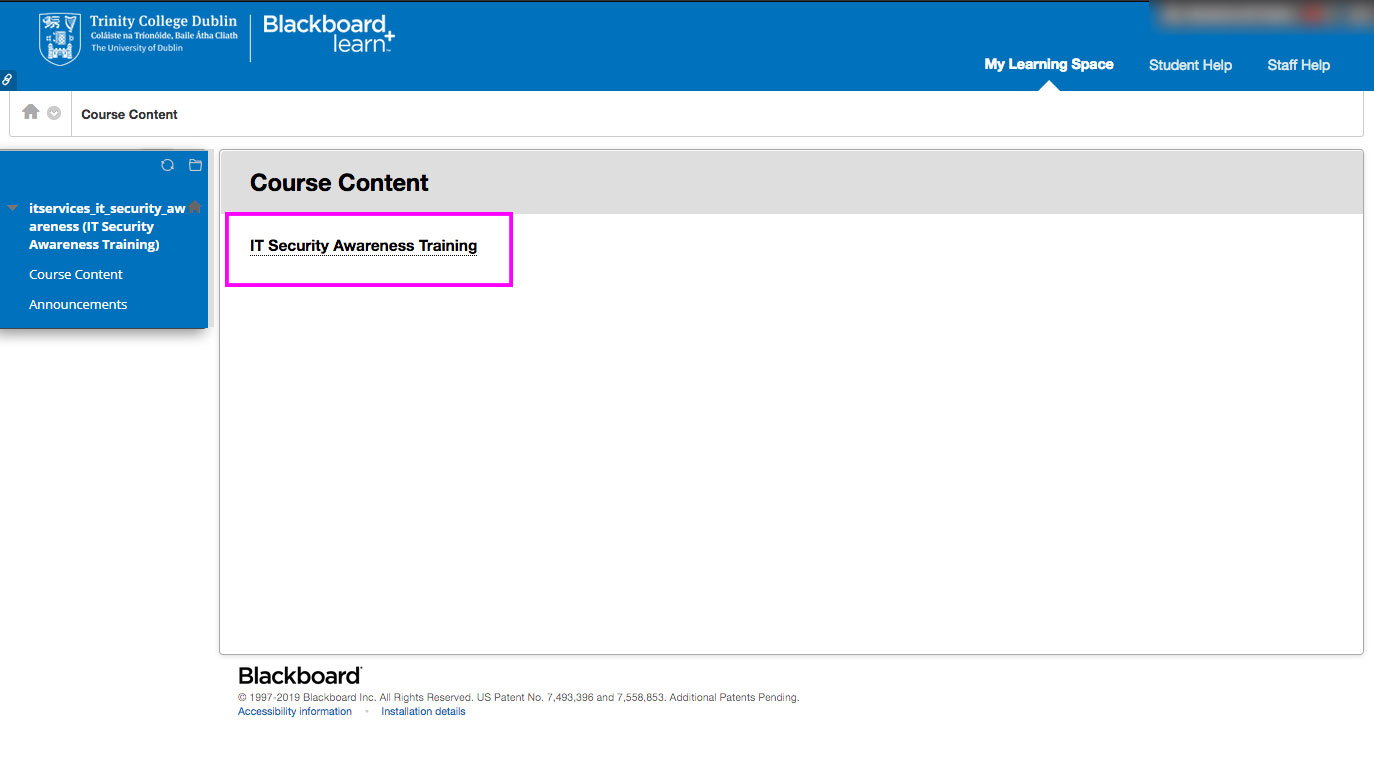 If you see a message that the pop up window is blocked, click on Launch Course
Need Help?
I am a new staff member, how do I access Blackboard?
To access Blackboard, you use your Trinity computer account username and password to login at http://mymodule.tcd.ie. Note that it can take up to 48 hours after registering with HR before you can gain access to Blackboard.
Staff who are entitled to use the IT services in Trinity will be provided with a Trinity computer account username and an initial password after they have been registered by HR. You can also obtain these details by calling into the IT Service Desk and presenting your Trinity ID card. If HR and/or IT Services cannot provide you with a username and password then your School Office may need to contact HR to ensure you have been setup with the appropriate HR pay scale or visitor code, to make sure you are entitled to a Trinity computer account.
I cannot login to mymodule.tcd.ie – what should I do?
First check if you can access other Trinity College websites, such as http://elib.tcd.ie, using the same Trinity username and password as you are using to login to http://mymodule.tcd.ie. If you cannot access other Trinity services then you will need to reset your password as follows:
If you can login to other Trinity services, but can still not login at http://mymodule.tcd.ie, then please contact the IT Service Desk who will help to determine what the root of the issue is.
I can login to Blackboard but cannot see this module - what can I do?
Staff - Please ensure that you have carefully followed the instructions, outlined above, for enrolling into this module. If you are still experiencing difficulties enrolling then please contact the IT Service Desk.
My question is not answered above - who should I contact?
If you need further assistance, please contact the IT Service Desk.