Trinity Development & Alumni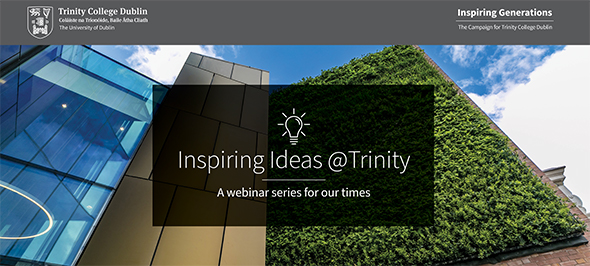 Wednesday 16 June, 1pm GMT
In partnership with Trinity Business Alumni, please join our next Inspiring Ideas @ Trinity webinar welcoming Dr Sheila Cannon, Assistant Professor of Social Entrepreneurship, who will lead a discussion with two social entrepreneurs: John Weakliam, founder and CEO of Vita Green Fund, and Ahmad Mu'azzam, co-founder and CEO of Evocco. They will be exploring how businesses can genuinely and authentically respond to the climate crisis, beyond greenwashing.

While there is a scientific consensus on human-caused climate change, there is still no social consensus on how to respond. What is the role of business in responding to the climate crisis beyond "do less harm"? The social changes needed for climate adaptation have focussed on individual behaviour, such as reducing international flights and switching to a plant-based diet, an approach which has not worked so far. Will individual action ever trickle up and change our unsustainable systems? What are the collective social changes that constitute 'climate adaptation'? Join us to hear about innovative responses to these issues, and how social entrepreneurs are pushing the boundaries of what is possible.
If the event is fully booked, you can join the live stream at our YouTube channel:

Inspiring Ideas @ Trinity is a webinar series produced by Trinity Development & Alumni. You can watch all of our previous webinars here.
Inspiring Generations Projects
Trinity Foundation operating as Trinity Development & Alumni (TDA) is an independent charity (RCN 20028626) established to support Trinity's funding priorities.