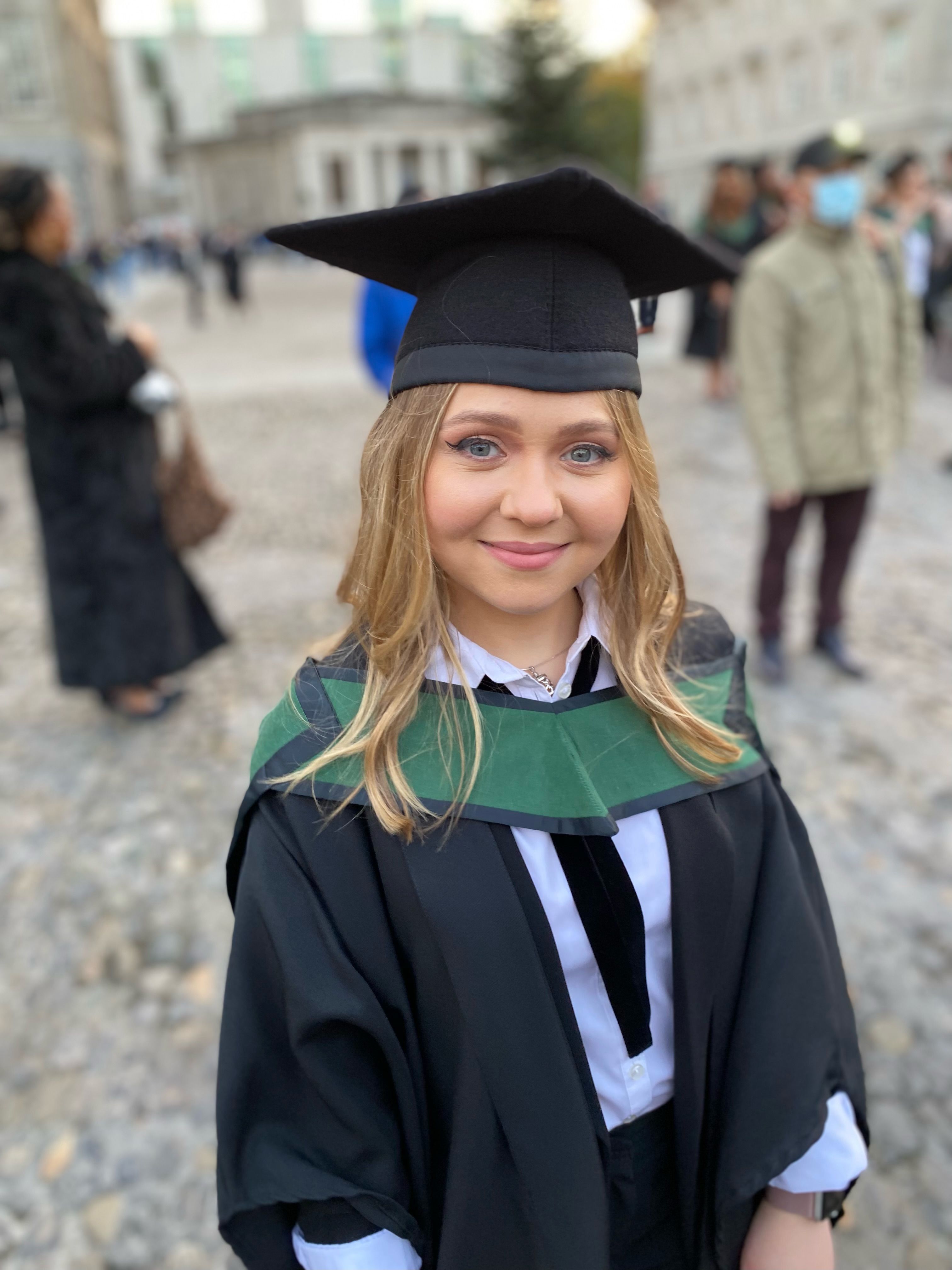 Dear alumni and friends,

My name is Maddie.

When I was 14 years old my mother and I moved to Ireland from Poland. When I came here first, I could barely speak any English.

Today, thanks to the support I got from the Trinity Alumni Fund I am a second year PhD student here in Trinity, working on a ground-breaking research project studying the genetic causes of dementia.

It has been an incredible journey. But there is no way that I could have achieved all that without the amazing support of the Trinity Alumni Fund.
I was born in Krakow. I come from a poor family. There were eight of us in the one apartment. But I always dreamed of going to university.

When my mother lost her job, we moved to Ireland.

I worked really hard in school to get the points to get into Trinity. Eventually I did and started to study Human Health and Diseases.

But when I first came to Trinity, I had no idea how I was going to be able to afford it. We lived in Kilkenny. So, as well as fees and living expenses, I was also going to have to find money for my rent.

When I started in first year, I had to work 32 hours a week as a barista in Dundrum shopping centre. I worked four days a week and every weekend.

But thanks to the Trinity Alumni Fund I was able to get the support I needed through Trinity Access (TAP).

Being able to study in Trinity has transformed my life. But there is no way I could have come this far on my own.

I think it's just incredible the way that Trinity alumni continue to give, month after month, year after year, so that students like me can have the same opportunity to attend this amazing university.

I can't think of anything more incredible than helping a student who would have otherwise been unable to go to university.

I know that there are so many other 'Maddies' out there who are also dreaming of being scientists and doctors and teachers. But they can't do that on their own. They need the continued help of alumni.

So, I'd really encourage you to make an alumni gift today.

Every time I see a group of students pass through Front Square I imagine the lives and opportunities that lie ahead of them. If we can help support those students through university, if we can help them overcome the challenges they face, imagine the impact that they could have on the economy, on society, on healthcare – on the world.

Linda Doyle, Provost & President