Trinity Device Encryption Service - Apple Macs
How McAfee Management of Native Encryption works via FileVault
Management of Native Encryption, as the name implies, uses the native encryption client on the Mac known as FileVault to encrypt the hard drive of the Mac.
The benefit of using the McAfee Management solution is that the 'recovery key' is stored on a secure Trinity server, rather than in iCloud. This secure server can only be accessed by IT Services staff, thus meeting the high-security requirements related to confidential Trinity data.
Once encryption is enabled you will see the below screen or similar (depending on your MacOS version) prompting you to restart your device. We recommend you save and work and restart your Mac, this will encrypt your device.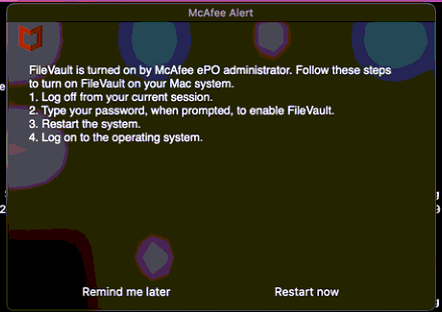 After, you will be prompted to enter your Mac administrator password (not your Trinity network login password) just after powering on your Mac.
After passing the encryption log in screen, your Mac will boot up as normal and bring you to the standard log in screen.
Mac administrator password
If you do not know your Mac administrator password, please refer to the following page - Change or reset the password of a macOS user account.
IT Services cannot assist in recovering Mac administrator passwords if they are lost.
Backing up your data
Please note that this service does not backup your data. All users are still responsible for backing up the data on the computers they use.
OneDrive can be used for personal backup and SharePoint for any departmental files.
Leaving Trinity and Uninstalling FileVault
As per the terms and conditions of this encryption service, if the user's account expires or is disabled, all encryption facilities will be terminated. In the event of such termination, users are obliged to contact the IT Service Desk so that FileVault can be removed.
This is of relevance to those members of staff planning to leave Trinity permanently. In this instance, the member of staff or their manager should contact the IT Service Desk in advance to arrange for the uninstallation of FileVault.
Getting help, password issues and FAQs
If you have further queries regarding this service, please see the service description page and the FAQ page. If you still require assistance, please contact the IT Service Desk.