Open a Google Account using your @tcd.ie email address.
Below you will find a list of the frequently asked questions on why and how you might wish to set up a Google Account using your Trinity College email address, and a step by step guide to setting up a Google Account.
This guide is for Trinity staff and is for information on setting up generic Google services using an @tcd.ie account. You are not required to set up a Google account using your @tcd.ie account and so the information below is a self-service guide.
As always, please consider that you will be in contact with data of many types and so it is vitally important to know how handle, store and process such information so that you can keep within the data protection and GDPR requirements.
Frequently Asked Questions.
Why would I require a Google Account?
As a staff member you may wish to open a Google account to use some of the services provided by Google, such as:
I already have an email address, will this give me another one?
No, you do not need to get an additional email address when you sign up for a Google account, you can choose to use your @tcd.ie email address but still get access to the other services.
Can I have the same password for my Google Account as my Trinity Account?
No, you should not use the password you set as your Trinity account as the password for any other account. As this could compromise the security of your Trinity account.
When setting your Google account password it must follow these rules:
must be at least 8 characters long
must have a mix of upper and lower-case characters
must include at least one numeric character OR a special character such as ! @ $ % * _ - + = ~
must not include £ € : ? | space
must not include part of your first name, last name or username
What information can I share & store on Google Services?
We strongly advise that no personal staff or student information is shared or stored on these services. If you are intending on using Google Drive to share information with institutions outside Trinity, please make yourself aware of the Trinity Data Protection Policy, and if you have questions contact the Information Compliance Office for advice.
Steps to create a Google account using your @tcd.ie email address.
Instructions to create your account.
Step 1. Open Google.ie and click the blue Sign in button at top right of your screen.
If you are already signed in using your personal Google account, log out first and then click the Sign in button.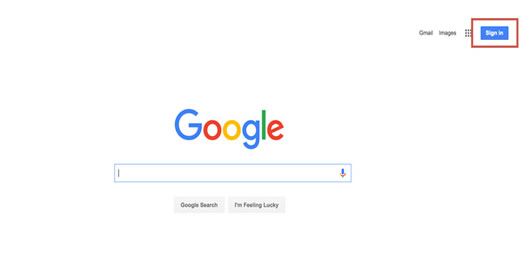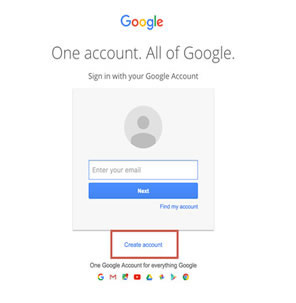 Step 2. Next click the Create account link below the sign in box for a new Google Account sign up form.
Step 3. Fill in your First and Last Name in the appropriate fields.
Step 4. Under the "Choose your username" box is a link that says "I prefer to use my current email address" which, when clicked, will allow you to use your @tcd.ie email address. Click that link.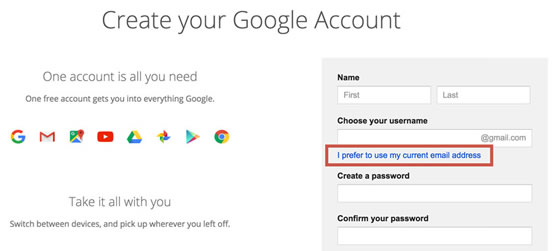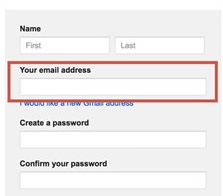 Step 5. Now you can enter your current @tcd.ie (non-Gmail) email address in the box.
Step 6. You can then continue filling out the rest of the form, which is pretty standard and doesn't require any special steps:
Create and confirm a password
Enter your birthdate
Select your gender
Add your mobile phone number (for security)
Choose your geographic locations
Once you've filled out all the fields you can click the Next step button. You'll then be asked to confirm that you agree with Google's Privacy and Terms. Once you've done that you'll just need to confirm your account by following the instructions sent to your email address that you gave.
And that's it! You've officially set up a Google account with your @tcd.ie email address.
More information.
What do I do if I think my Google account password has been compromised?
In this situation it is vital that you change your password. You can also follow up and check when and where your account was last accessed from. Follow these steps:.
Follow the steps on the Gmail support pages which explain how to check when your account was accessed and the approximate geographical location from where it was accessed. This information may help you determine if your account has been accessed by someone other than you.
When I change my @tcd.ie password, will this affect my @tcd.ie Google account?
No, your Trinity login password is separate to your Google account. When you update your Trinity login password your Google account will not change.
Can I access my personal Gmail account whilst signed into my @tcd.ie Google account?
In order to be logged into both your @tcd.ie Google account and a separate personal Google account you need to enable 'Multiple sign-in', as follows:
Log into your personal Gmail account and click on your email address at the top right corner of the screen, and choose Account settings



Beside the option for Multiple sign-in choose Edit



Select 'on' and check the four boxes beneath. Click Save.



From now on when you click your email address at the top right corner you will have an option to 'Switch account'. You can then sign into another account and access both your personal and @tcd.ie Google accounts at the same time. See the Google help pages for more information on using multiple accounts.



I don't want to have my Google account searchable under my name
You can hide the account from search by changing the settings so that the profile doesn't appear in Google's search results. You'll definitely want to do this if the account will not be active as a Google+ profile.
Related Pages: