Theoretical physics
B.A.; 40 places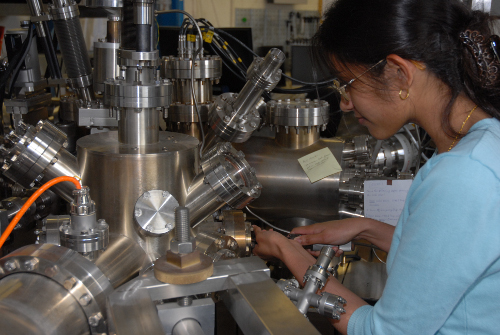 What is Theoretical Physics?
Theoretical Physics explores the natural world at its most fundamental level, using mathematical theories guided by experimental investigation. For some it is the foundation for an academic career in mathematics or physics. For others it provides the basis for many career options in industry, medicine, law, finance and computing. Trinity provides a course which ranges widely across physics and mathematics. Its graduates are in demand for their technical skills and versatility.
Theoretical Physics: The course for you?
If you enjoy mathematics and seeing how physical theories can be developed to unlock the secrets of the universe on every scale from the quark to the Big Bang, you will be stimulated by this course. If you want to keep a wide range of options open for the future, you can do this in Theoretical Physics. It consistently attracts a spirited and talented class that makes the most of the Trinity experience.
Theoretical Physics @ Trinity
Trinity is a world renowned university for physics and mathematics with a long tradition of excellence in teaching and research. The course offers a unique mixture of pure and applied mathematics and physics courses taught by faculty with international reputations in their research fields. The School of Physics has excellent Junior Freshman (first year), Senior Freshman (second year) and Junior Sophister (third year) laboratories for teaching experimental physics. The School of Physics is affiliated with Trinity's world renowned nanoscience institute (CRANN, the Centre for Research on Adaptive Nanostructures and Nanodevices) and the associated advanced microscopy lab (AML).
In the School of Mathematics students will be taught by active researchers working in areas of theoretical physics, such as string theory, quantum field theory and general relativity, as well as pure mathematicians. The School of Mathematics provides its own computing network comprising a dozen linux machines acting as servers and about 60 workstations for undergraduates and staff. In addition, the school boasts the finest mathematics research library in Ireland, with over sixteen thousand books and a current subscription to over one hundred journals.
Assessment for courses is through a mixture of homework, laboratory reports, presentations and end-of-year exams.
Graduate skills and career opportunities
Many of our graduates proceed to PhD degrees in leading institutions throughout the world (such as Cambridge University, Harvard, and Imperial College London) in mathematics and experimental physics as well as theoretical physics. Alternatively, as this degree provides graduates with a strong foundation in highly complex problem-solving skills as well as logical and abstract thinking, a world of possibilities beckons. The broad scientific background and skills that the course develops are in great demand by employers in diverse areas, including actuarial science, patent law, journalism, weather forecasting, telecommunications, medical physics, information technology, scientific computing and teaching.
Your degree and what you'll study
The course combines much of the mathematics and physics curricula, including several modules specifically designed with the Theoretical Physics programme in mind. The final year includes a project which is carried out working closely with individual faculty members to develop an original piece of research.
First and Second (Freshman) Years
40 credits maths, 20 credits physics
Maths
Algebra
Analysis
Mechanics
Equations of Mathematical Physics
Physics
The teaching of physics is divided into two modules (each of 10 credits) in each of the Freshman years and 5 credit lecture and 10 credit practical/project modules in the Sophister years
Topics in classical and modern physics include:
Waves and Optics, Special Relativity, Astronomy and Astrophysics, Quantum Physics, Nuclear Physics, Electromagnetic Interactions, Chaos and Complexity and Statistics.
Students also take laboratory classes, small group tutorials and group study projects
Third (Junior Sophister) Year
30 credits Maths, 30 credits Physics
Maths
Classical Field Theory and Electrodynamics
Quantum Mechanics
Statistical Physics
Physics
Atomic and Nuclear Physics
Condensed Matter Physics I and II
Astrophysics or Computer Simulation
Students also take a laboratory class and workshops to develop communication skills
Fourth (Senior Sophister) Year
25-35 credits Maths, 25-35 credits Physics (total 60 credits)
Maths
Quantum Field Theory
Differential Geometry
General Relativity
Partial Differential Equations
Other mathematical modules and a project option are available each year
Physics
Condensed Matter Theory
Electron and Photon Physics
High Energy Physics
Optional courses are in:
Nanoscience
Advanced Topics such as Green's Functions in Physics
Cosmology
Computer Simulation
Students undertake a computational physics project and tutorials to develop problem solving abilities
Study abroad
Theoretical Physics students can spend up to a year, usually the third year, of their studies at a university abroad, either in Europe via Erasmus exchanges or further afield via a considerable number of bilateral agreements between Trinity and universities ranging from the Australian National University to the University of California and New York University in the United States.
GET IN TOUCH!
The Math/Physics Open Day (MPOD) is held in November each year.
https://www.maths.tcd.ie/Info_for_Schools/ or: www.physics.tcd.ie/outreach
www.maths.tcd.ie or: www.physics.tcd.ie
Email: kod@maths.tcd.ie or: dowlingu@tcd.ie
Tel: +353 1 896 1949 / 2019
Twitter: @TCD_physics
---
What our graduates say
Manya Sahni
"I chose Theoretical Physics in Trinity because I wanted the best possible understanding I could get in university about the laws that govern our universe. I loved solving problems. If you go through the definitions and practice using the theorems, it all comes together in this magical moment and, suddenly, you find you know how to solve a problem. It is the most challenging and rewarding thing I have done in my life. It is worth all the work I put in to now have an idea of how black holes work. I would like to pursue a masters or a PhD in particle physics or quantum gravity. Theoretical Physics has given me the problem-solving and analytical skills to research these topics."
Course Options
Award
B.A.
Number of Places
40
CAO code (Central Applications Office code) is
TR035
---
Admission Requirements
For general admission requirements please click here
Leaving Certificate H3 In mathematics and physics
Advanced GCE (A-Level) Grade B In mathematics and physics
Other EU examination systems See www.tcd.ie/Admissions/undergraduate/requirements/matriculation/other/
---
Apply
To apply to this course, click on the relevant Apply Link below
EU Applicants
Read the information about how to apply, then apply directly to CAO.
Non-EU Applicants
Advanced Entry Applications
Read the information about how to apply for Advanced Entry, then select the link below to apply.
CAO code (Central Applications Office code) is
TR035