Mechanical and Manufacturing Engineering
Overview
Students who wish to study mechanical and manufacturing engineering apply to the engineering degree (TR032).
The first two years are common to all engineering students and at the end of the second-year students select mechanical and manufacturing engineering as their specialist area.
What is Mechanical and Manufacturing Engineering?
This is often seen as the broadest of all engineering qualifications as the skills required range from mathematics and electronics to metal fatigue and fluid mechanics. Nearly all machines used in everyday life – from the car or washing machine to the most complex aircraft or electricity supply plant to the tiniest surgical instrument – have required the skills of a mechanical engineer. Every industrial plant or manufacturing operation relies on a mechanical engineer for its smooth running and efficiency.
Mechanical engineers are involved in design, testing, inspection and manufacture of mechanical devices and components. As a mechanical engineer you will work as a professional using technology to make the world a better, safer place.
Do you enjoy…
Imagining new solutions to problems?
Exploring how machines and technology work?
Complex problems?
Using computers and mathematics to apply physics to the real world?
Graduate skills and career opportunities
Our graduates have taken jobs in companies such as: High tech manufacturing (Intel, Pfizer, DePuy, National Instruments, Seagate, Siemens); Automotive (Jaguar, Rover, BMW, Dromone); Engineering and Business Consultancy (Arup, Deloitte, Accenture); Energy (OpenHydro, ESB, Eirgrid, EDF, Vattenfall); and Process Engineering (Cameron Flow Control, Procter & Gamble, Syngenta, Glanbia, Kerry).
Our graduates went on to master's and Ph.D. programmes in Universities such as: RCSI; University of Edinburgh, Imperial College London, University of Cambridge, ETH Zürich, KTH Royal Institute of Technology, Université Grenoble Alpes, and Massachusetts Institute of Technology.
As well as the potential for a career in mainstream mechanical or manufacturing engineering, graduates have found work in industries as diverse as film production, financial services and aircraft leasing and management. There is also a demand for specialist research and development work in industry, research organisations and universities.
Opportunities exist for graduates in mechanical and manufacturing engineering to find employment in Ireland and elsewhere in engineering consultancies, public utilities (transport, power generation) and manufacturing industries in the mechanical, electronic and biomedical sectors.
Your degree and what you'll study:
Mechanics – how things like cars, wind turbines and rugby players move, deform and break
How to design new machines and technology, for example a phone charger for developing countries
Advanced manufacturing techniques such as rapid prototyping
How heat and energy can be captured, used and managed (how to keep electronics cool as they become more powerful and more compact)
Course topics include: Energy; Solid Mechanics; Engineering Materials; Fluid Mechanics; Manufacturing Technology and Systems; Dynamics; Mechatronics; and Engineering Design.
In third year you will study core engineering subjects, specialised mechanical and manufacturing engineering subjects and a Trinity Elective module. In fourth year and optional master's (fifth) year you will choose from a wide range of technical and nontechnical modules, tailoring your degree to suit your own interests.
Project work is an important aspect of this degree and there is an extensive research facility available to students. You will carry out several projects, including a major Capstone research project in your final year. Some examples of final-year projects include:
Study of jet engine exhaust noise
Design and build an entry for 'Robot Wars'
Design and construction of energy storage devices for the developing world
Pedestrian car impact simulation
Bamboo: study of structure and mechanical properties
Click Here for further information on modules/subject.
Study Mechanical and Manufacturing Engineering at Trinity College Dublin
Overview of the Mechanical Engineering stream in the School of Engineering, delivered by Tim Persoons.
Course Details
CAO Information
CAO Points 555 (2022)
CAO Code TR032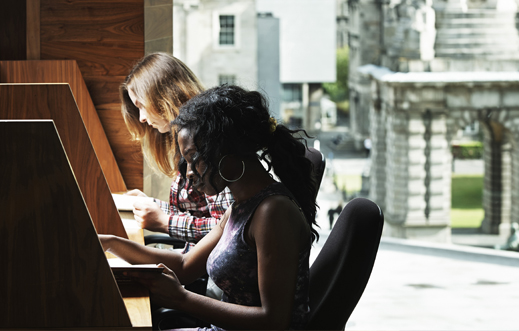 Admission Requirements
Leaving Certificate:
H4 Mathematics
Advanced GCE (A Level):
Grade C Mathematics
International Baccalaureate:
HL Grade 5 Mathematics
Apply
To apply to this course, click on the relevant Apply Link below
EU Applicants
Read the information about how to apply, then apply directly to CAO.
Non-EU Applicants
Advanced Entry Applications
Read the information about how to apply for Advanced Entry, then select the link below to apply.