Digital Technologies in Human Services - Micro-credential
Overview
The micro-credential is designed to meet the digital skill needs of professionals working in human services such as social work and social care work and those who manage such services. Firstly, it aims to increase learners' awareness of the use of digital technologies in human services and then to increase their ability to assess the benefits and challenges of implementing technology in human service work. Learners will develop practice skills through the evaluation of technology's impact on professional practice e.g. reach and social presence, privacy, boundaries, risk and relationship management.
The use of digital technologies in the provision of human services such as social work, health and education has gained momentum following the 'pivot' in response to Covid-19. Supported by a European and national policy agenda driving digital transformation, human services are increasingly delivered and managed partly or wholly using such technologies. Service provision and user communication frequently draws on technologies such as video conferencing and social media.
This MC aims to provider learners with an understanding of the policy context and other drivers of digital technology use in human services and the considerable scope for the use of such technologies in human service delivery. The organisations which provide human services display distinctive features such as co-production with service users and they operate in complex contexts subject to statutory regulation and political influence. The MC aims to facilitate an assessment of the benefits and challenges associated with technology use given these factors and evaluate the impact of technology use on stakeholders in human services. Learners will engage directly with the benefits and challenges of digital technologies for their own employers through the MC.
Course Details
Number of Places
60 Places
Next Intake
February 2022
Course Director
Dr Julie Byrne
Closing Date
7th January 2022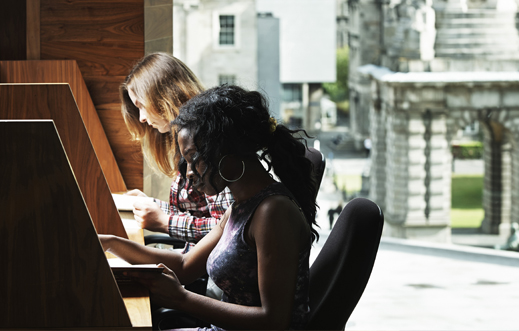 Admission Requirements
NFQ Level 8 and a CV
University transcript

PLEASE NOTE THE FOLLOWING
1. Submit your personal details on the application form
2. Log in to the my.tcd.ie portal with your (new) logon credentials
3. Upload documents as required by the School for the module including, also a copy of your Curriculum Vitae
Apply
To apply, click on the relevant Apply Link below
Get in Touch
Telephone Number
01 896 4648
Email
Noreen.osullivan@tcd.ie
jennifer.otoole@tcd.ie
Register Your Interest
Register your interest at Trinity College Dublin, the University of Dublin.
As Ireland's leading university, we offer a wide range of postgraduate programmes at masters, diploma and certificate level.
Trinity is an international university steeped in history, with a reputation for excellence in education, research and innovation.