Advanced Spatial Analysis using GIS- Micro-credential
Overview
Who is this Micro-credential for? 
• If you work with spatial data and maps and would like to have the ability to analyse this data and create your own maps and new spatial information, then this micro-credential is for you.
• Geographic Information Systems (GIS) are used in many professions and industries, from engineering and environmental science to history and tourism to local authorities and provision of utilities, wherever spatial information is important, where maps may be used as a key means of communication of information, and where analysis of the spatial data provides valuable new information.
Why should I take this Micro-credential? 
• This micro-credential will enable the student to get a practical introduction to the QGIS open-source software and will use the software to address an issue in their field. Examples of projects completed by students recently include the identification of the best location for a new waste-to-energy plant, a study of the relationship between tree cover and household income, the siting of a new mass-vaccination centre, a study of the effect of green-ways on the local population. In each of these, publicly available spatial data was used to investigate a topical issue.
• The production of good informative maps and the analysis of spatial data are valuable but scarce skill sets. With developments in GPS, mobile devices, and software, organisations are now collecting more and more spatial data and need spatial specialists to manage, analyse and report this data. Local authorities, civil engineering consultancies, environmental agencies, utility companies, among others, are increasing their use of GIS to manage their valuable spatial data.
• Our Micro-credentials are all CPD approved by Engineers Ireland
When can I start this Micro-credential? 
• There is one intake per year in September
What do I need to be accepted onto this Micro-credential? - Entry requirements & Prerequisite documents 
• Level 8 award 2.1 grade in Engineering, Science or any discipline in which GIS may be used. Computer skills such as proficiency in Excel are essential.
• Degree Parchment or transcript
• Curriculum Vitae
What will I learn?
• Participants will learn the extended fundamentals of GIS theory and techniques and will then apply these in a research project which is in a field related to their profession and uses GIS.
• In this work, they will investigate and solve Spatial Analysis problems by applying the latest interdisciplinary approaches. They will critically select and implement a technical solution that best addresses a spatial analysis problem. They will identify and use appropriate mathematical methods, numerical techniques, and GIS tools for application to new and ill-defined spatial analysis problems.
• In addition, they will show that they can communicate effectively in technical and scientific writing, and present scientific/technical ideas concisely to a technical audience that may not be expert in the specific domain of the presentation.
What will I do?
• In the first six weeks, six one-hour lectures provide an overview of GIS. In six two-hour tutorial sessions, students follow guided tutorials and must submit an exercise within seven days. Feedback is provided on these, but the marks do not count towards the final grade.
• The seventh week is Reading Week.
• In the eighth week, a one-hour in-class GIS theory test is conducted, and a two-hour in-class practical test is held.
• In weeks nine to twelve, students work on their projects in the two-hour practical sessions. They will be expected to share their weekly progress on their project at the practical sessions. In this way, the students will learn from their own work, the work of other students, and assistance and advice from the staff.
How will this Micro-credential be delivered?
• Blended - complementary online and in-person
How is this Micro-credential assessed?
• Project 90%: Students are required to complete a report based upon the work conducted for their individual project. The report should be approximately 3,000-4,000 words. Students will be provided with detailed guidance on writing the report.
• In-class theory test 5%
• In-class practical test 5%
Course Details
Awards
5 ECTS
Number of Places
15 Places
Next Intake
September 2023
Course Coordinator
Daniel Wearen: wearend@tcd.ie
Course Director
Dr. Niamh Harty
Closing Date
12th August 2023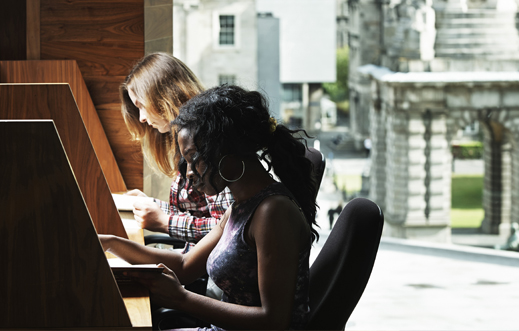 Admission Requirements
• Level 8 award 2.1 grade in Engineering, Science or any discipline in which GIS may be used. Computer skills such as proficiency in Excel are essential.
• Degree Parchment or transcript
• CV
Before Applying, PLEASE NOTE THE FOLLOWING:
1. Submit your personal details on the application form.
2. Log in to the my.tcd.ie portal with your (new) login credentials.
3. Upload documents as required by the school for the module including a copy of your Curriculum Vitae.
Course Fees
Click here for a full list of postgraduate fees
Apply
To apply, click on the relevant Apply Link below
Get in Touch
Email
General Enquiries: micro-credentials@tcd.ie
Course Coordinator: Daniel Wearen - wearend@tcd.ie
Course Director: Dr. Niamh Harty- niamh.harty@tcd.ie
Website
Register Your Interest
Register your interest at Trinity College Dublin, the University of Dublin.
As Ireland's leading university, we offer a wide range of postgraduate programmes at masters, diploma and certificate level.
Trinity is an international university steeped in history, with a reputation for excellence in education, research and innovation.