Creating Value with ESG - Micro-credential
Overview
Who is this Micro-credential for? 
• This micro-credential has been developed to benefit business professionals, who are interested in learning more about how to implement environmental, social and governance (ESG) criteria into their business operations. Issues, such as sustainable development, climate action, business and human rights, integrated reporting and stakeholder management are taking an increasingly important role for internationally operating businesses.
• A particular target for this micro-credential is sustainability and CSR managers, community affairs directors, corporate affairs directors as well as managers in diverse functions – including legal and compliance, procurement, human resources, and external affairs.
• These learners will advance their professional competencies through an in-depth focus on the key ESG issues that are relevant to their industry and/or employer.
Why should I take this Micro-credential? 
• By completing this micro-credential, professional learners will be facilitated to identify and to address key ESG issues and will be enabled to advance the ESG-performance of their individual business organizations.
When can I start this Micro-credential? 
• There is one intake annually in November
What do I need to be accepted onto this Micro-credential? – Entry requirements & Prerequisite documents 
• The micro-credential course targets professional learners from mid and senior levels from the private, public and third sectors and will be open to graduates with a degree (or equivalent) with a strong academic record in any discipline from a recognised third level institution.
• Applicants without a degree are welcome to apply provided they can show a proven managerial track record. All applicants are required to have a minimum of 3 years professional or managerial work.
• Language requirements for students whose first language is not English are IELTS 6.5 or TOEFL IBT 90 for non-native English speakers.
• In case of heavy competition for places or concern regarding a particular applicant's suitability, applicants may be interviewed.
• Up to date CV required.
What will I learn?
On successful completion of this micro-credential, learners will be able to:
• Gain a systematic understanding of societal impacts of organisations and their role in achieving ESG targets.
• Build strategies and action plans in response to current ESG challenges of organisations.
• To critically analyse theoretical as well as practical concepts in relation to creating value with ESG.
• To evaluate as well as integrate ethical, social, economic, ecologic, legal, and political factors in decision making to support sustainable corporate governance.
• To demonstrate the ability to communicate and interact with multiple stakeholders to support positive ESG action.
What will I do?
• This micro-credential aims at providing learners with the key frameworks and actionable guidance to integrate ESG-criteria into their own business organizations thus creating sustainable value for all stakeholders.
How will this Micro-credential be delivered?
• This micro-credential will be delivered online over 8 days
How is this Micro-credential assessed?
• The individual assessment components are as follows:
1. Individual company project presentation (45%)
2. Individual written project report (35%)
3. Individual engagement in peer-feedback process (20%)
Course Details
Awards
5 ECTS
Number of Places
30 Places
Next Intake
November 2023
Please note intakes are subject to applicant numbers.
Course Coordinator
Maria Merriman – MERRIMMA@tcd.ie
Course Director
Maximilian Schormair
Closing Date
14th October, 2023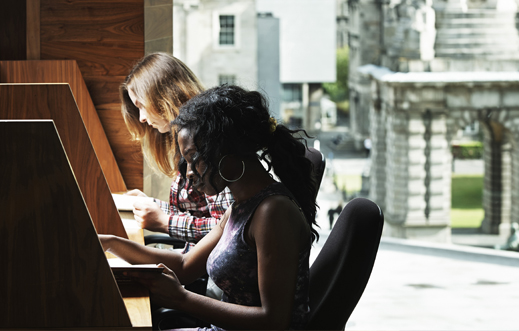 Admission Requirements
• Applicants without a degree are welcome to apply provided they can show a proven managerial track record.
• All applicants are required to have a minimum of 3 years professional or managerial work experience (this is in-line with entry criteria for other TBS post-experience postgraduate programmes such as the MBA and Executive MBA programmes).
• Up to date CV required.
Apply
Before Applying, PLEASE NOTE THE FOLLOWING:
1. Submit your personal details on the application form.
2. Log in to the my.tcd.ie portal with your (new) login credentials.
3. Upload documents as required by the school for the micro-credential including a copy of your Curriculum Vitae.
Course Fees
Click here for a full list of postgraduate fees
Apply
To apply, click on the relevant Apply Link below
Get in Touch
Telephone Number
+353 1 896 2538
Email
General Enquiries: micro-credentials@tcd.ie
Course Coordinator: Indrani Chakravarty - chakravi@tcd.ie
TBS Executive Education contact (recruitment): Jane Flanagan jane.flanagan@tcd.ie
Register Your Interest
Register your interest at Trinity College Dublin, the University of Dublin.
As Ireland's leading university, we offer a wide range of postgraduate programmes at masters, diploma and certificate level.
Trinity is an international university steeped in history, with a reputation for excellence in education, research and innovation.