Introduction to XR: Applications and Technology - Micro-credential
Overview
Who is this Micro-credential for? 
• This micro-credential is being offered to creative media professionals, musicians, composers, visual artists; those looking to upskill in the development of interactive environments using Unity software and apply their audio, 3D visual and interactive media skills in Virtual Reality and Augmented Reality.
Why should I take this Micro-credential? 
• This micro-credential will give you broad but deep introduction to Unity3D, the current standard software for VR and AR prototyping and development.
• Through the development of portfolio-standard applications, you will take a deep dive into VR and AR development, enabling you to apply your new knowledge in a creative manner.
• Our Micro-credentials are all CPD approved by Engineers Ireland
When can I start this Micro-credential? 
• There is one intake per year in January
What do I need to be accepted onto this Micro-credential? – Entry requirements & Prerequisite documents 
• Experience with the fundamentals of audio and visual production is highly desirable, but not necessary, for this micro-credential.
• CV.
What will I learn?
• The aim of this micro-credential is to give learners a broad but deep overview of the Unity3D software and how it can be used to develop Virtual and Augmented reality applications. The focus of these developments will be applications in a variety of areas, from art and music to health and training. Learners will show their design and development skills, in the Unity software, by creating two portfolio standard XR projects (a VR and an AR application).
• The first half of this micro-credential introduces learners to a broad range of topics in Unity3D that will allow them to develop an interactive VR environment. This ranges from the workspace, adding 3D visuals and audio to making the world interactive. It also provides a brief introduction to programming in Unity3D.
• The second part of the micro-credential is focussed on developing environments for Augmented Reality applications using an AR engine.
What will I do?
• In this micro-credential you will attend weekly 2-hour lectures. These will be classroom based but will be live streamed and recorded for those that prefer online delivery. These lectures will introduce you to the development of interactive environments using the software Unity3D, that can be designed for Virtual or Augmented Reality applications.
• There is a particular focus on the development of creative and innovative uses and application of these environments.
• Two of the lectures will be dedicated to showcasing and reviewing the body of work created by the learners.
• You will create 2 applications that can be used for portfolio and write a report on the design and development of each piece.
How will this Micro-credential be delivered?
• There will be blended delivery with all lectures recorded 'live' while also giving the option for face-to-face lectures. Timetabling currently has 2-hour slot for lectures. Weekly lectures (2hr) will be given from Week 1 to Week 12 with viewing sessions of learners' work taking place on Week 6 and 12. These lectures will be live streamed and recorded.
• The VLE (Blackboard) will be used to host lectures including Collaborate Ultra and discussion boards. It will also be used to provide structured access to all resources. Lecture recordings will be automatically published on the VLE. The assignments tool in Blackboard will be used to submit and give feedback on assessments.
How is this Micro-credential assessed?
It is assessed through 2 practical assessments, worth 40% and 60% respectively.
• Assignment 1 (40%) Focuses on the development of an original interactive environment in, that could be experienced as VR and shows the learner's ability to think creatively about the application and use of the interactive environment.
• Assignment 2 (60%) has 2 parts: Part 1 requires the learner to create a video trailer of Assignment 1. Part 2 requires learners to develop an original interactive Augmented Reality application, to be experienced using a mobile phone (or another AR device they may have access to).
Course Details
Awards
5 ECTS
Number of Places
20 Places
Next Intake
22nd January 2024
Course Coordinator
Daniel Wearen - wearend@tcd.ie
Course Director
Dr. Fionnuala Conway
Closing Date
2nd January 2024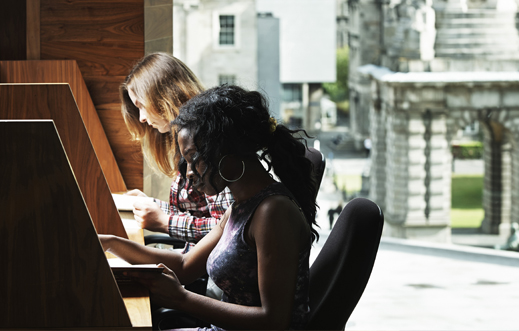 Admission Requirements
• Experience with the fundamentals of audio and visual production is highly desirable, but not necessary, for this micro-credential
• CV
Before Applying, PLEASE NOTE THE FOLLOWING:
1. Submit your personal details on the application form.
2. Log in to the my.tcd.ie portal with your (new) login credentials.
3. Upload documents as required by the school for the module including a copy of your Curriculum Vitae.
Course Fees
Click here for a full list of postgraduate fees
Apply
To apply, click on the relevant Apply Link below
Get in Touch
Email
General Enquiries: Mailto:micro-credentials@tcd.ie
Course Coordinator: Daniel Wearen - wearend@tcd.ie
Fionnuala Conway - conwayfi@tcd.ie
Website
https://www.tcd.ie/eleceng/mmt/
Register Your Interest
Register your interest at Trinity College Dublin, the University of Dublin.
As Ireland's leading university, we offer a wide range of postgraduate programmes at masters, diploma and certificate level.
Trinity is an international university steeped in history, with a reputation for excellence in education, research and innovation.