Finance for Non-Finance Executives - Micro-credential
Overview
Who is this Micro-credential for? 
• The micro-credential is designed for anyone who oversees a budget, and who seeks to understand and analyse financial reports, and forecast future performance. The aim is to give business leaders and decision makers a strong grasp of finance language, terminology, and skills in analysis.
• This micro-credential empowers non-finance managers to communicate effectively with accountants and finance managers. Using practical and real-life case studies the programme will explore numbers in business financial statements and reports in order to provide an understanding of how day-to-day decisions and activities impact the financial performance of your business.
Why should I take this Micro-credential? 
• Participants will be able to analyse the performance of their business and make improvements in areas that are not performing to satisfaction.
• The micro-credential will also boost your literacy with financial language and terminology.
• Managers will learn how to spot financial opportunities and how to take advance of them. Participants will also learn practically how to investigate the cost and benefits of investments.
When can I start this Micro-credential? 
• There are two intakes annually in November and in April
What do I need to be accepted onto this Micro-credential? – Entry requirements & Prerequisite documents 
• This micro-credential targets professional learners from mid and senior levels from the private, public and third sectors and will be open to graduates with a degree (or equivalent) with a strong academic record in any discipline from a recognised third level institution.
• Applicants without a degree are welcome to apply provided they can show a proven managerial track record.
• All applicants are required to have a minimum of 3 years professional or managerial work experience.
• Language requirements for students whose first language is not English are IELTS 6.5 or TOEFL IBT 90 for non-native English speakers.
• In case of heavy competition for places or concern regarding a particular applicant's suitability, applicants may be interviewed.
• Up to date CV required.
What will I learn?
On successful completion of this course learners should be able to:
• Define and describe the terminology and language of finance and accounting.
• Critically analyse and apply knowledge of business performance, cash flows, costing and pricing, company valuations and investment appraisal.
• Select from advanced financial techniques to develop a tool kit which participants can apply within their own organisation and put into practice immediately.
• Demonstrate how to critically evaluate a company's financial performance using common-size income statements.
• Illustrate and interpret the components of the assets, liabilities, and equity sections of the balance sheet, and discuss the uses of the balance sheet in financial analysis.
• Demonstrate how the cash flow statement is linked to the income statement and the balance sheet.
What will I do?
• The micro-credential aims to empower business leaders with a deep understanding
of financial analysis and the use of financial data and information in strategic decision making.
• Participants will expand their strategic thinking and knowledge base in finance to address significant business challenges, make informed decisions, gain a competitive edge in their career, feel confident in new roles, or embark on new professional paths.
How will this Micro-credential be delivered?
• Four days of in-person delivery based on 2 x 2-day blocks, comprising of lectures and interactive workshops, with additional reading material and independent learning and reviewing via Blackboard. With approximately one to three weeks between sessions.
• This format, in the experience of TBS Executive Education, works best for mid-level and senior level organisational leaders and minimises disruption to work.
How is this Micro-credential assessed?
• Individual written assignment (70%)
• Active participation in peer-feedback process (30%)
Course Details
Awards
5 ECTS
Number of Places
30 Places
Next Intake
November 2023
Course Coordinator
Course coordinator: Gabrielle De Bertier Sa Murphy - SMURPHYG@tcd.ie
Course Director
Prof. Hilary Hough
Closing Date
30th September 2023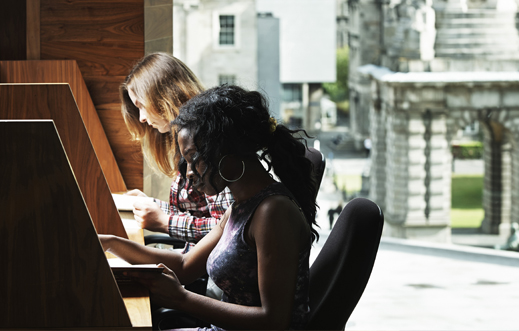 Admission Requirements
• Applicants without a degree are welcome to apply provided they can show a proven managerial track record.
• All applicants are required to have a minimum of 3 years professional or managerial work experience (this is in-line with entry criteria for other TBS post-experience postgraduate programmes such as the MBA and Executive MBA programmes).
• Up to date CV required.
Before Applying, PLEASE NOTE THE FOLLOWING:
1. Submit your personal details on the application form.
2. Log in to the my.tcd.ie portal with your (new) login credentials.
3. Upload documents as required by the school for the micro-credential including a copy of your Curriculum Vitae.
Course Fees
Click here for a full list of postgraduate fees
Apply
To apply, click on the relevant Apply Link below
Get in Touch
Telephone Number
+353 1 896 2538
Email
General Enquiries: micro-credentials@tcd.ie
Course Coordinator: Gabrielle De Bertier Sa Murphy SMURPHYG@tcd.ie
TBS Executive Education contact (recruitment): Jane Flanagan jane.flanagan@tcd.ie
Register Your Interest
Register your interest at Trinity College Dublin, the University of Dublin.
As Ireland's leading university, we offer a wide range of postgraduate programmes at masters, diploma and certificate level.
Trinity is an international university steeped in history, with a reputation for excellence in education, research and innovation.