German (JH)
B.A. Honours Bachelor Degree (NFQ Level 8)
CAO Points 367-601 (2023)
Overview
Why study German?
German is spoken by some 100 million Europeans. To study German at an in-depth level is to order your very own passport to possibility. Not alone will you be highly employable in Ireland, the EU and further afield, you will also see the world around you differently.
English may be the language of Shakespeare, but German is the language of Freud and Marx and some of the most influential ideas of our own time. The German-speaking world has produced thinkers, artists and innovators of astonishing brilliance and impact. It also inflicted on Europe the most evil regime it has ever seen – followed by the most profound reflection on that awful fact. All of this makes German a fascinating language to learn and a fascinating degree subject to study.
Do you enjoy:
Learning a new language with native speakers in small groups, theatre rehearsals, debates, and other social activities?
Challenging received wisdom, thinking critically, analytically, and independently?
Reflecting on the culture and history behind a widely spoken European language?
German: The course for you?
We teach most of our language and culture modules in small groups, which is a real advantage for the language learner and sets us apart from most other universities in Ireland and further afield.
Whether you are a beginner or have completed German to post-Leaving Certificate (or equivalent), with us you will acquire advanced competence and fluency, spoken and written, in the German language. You will also develop reading and communication skills alongside methods of research and analysis in literature, history, culture, film, and society of the German speaking countries.
If you are interested in stretching your horizons, habits and hopes; if you are curious about the relationship between who we are and how we speak; if you want to understand the magic that can happen when cultures meet; if you consider literature, film and history all part of our human make-up... then a German degree at Trinity could be just for you.
German at Trinity
We offer a wide range of modules in written and spoken language, in literature, culture and ideas. We teach in small groups and we offer both beginners and post-school-leaving programmes.
Being a small Department has given us a strongly student-centred ethos. We get to know all our students and do everything we can to help each and every one of them thrive in their studies. Each undergraduate student is an individual whose talent and potential it is our privilege to nurture.
Graduate skills and career opportunities
Employers value the language skills of German graduates, and their 'transferable skills': the creativity, confidence, and sensitivity which marks the advanced linguist, the maturity and flexibility that comes from engaging with another culture, and from experience gained abroad. Recent graduates work for Google, Deutsche Bank, and Enterprise Ireland, also in telecoms, IT, education, public service, the media, law, and in universities in Ireland, Europe, and North America.
Your degree and what you'll study
At entry, German must be combined with one other subject. In later years, depending on your pathway, you may select to take modules in related disciplines and electives.
First and second years
Throughout your degree, you will have an average of seven tuition hours per week. The course covers three key areas:
Language programme building on the written, oral, and aural skills you acquired at school and develops fluency and accuracy in expression.
Area studies introduces you to society, political and cultural issues in modern Germany, Austria, and Switzerland.
Literature and textual studies introduces you to key aspects of modern German literature and film, and to reading and analysing literary and non-literary texts in German.
In second year, in addition to language classes, you take seminars with a literary, filmic, cultural or historical focus. These can include seminars on the phenomenon of National Socialism, Hitler, German-Jewish literary and cultural history, and themes from 20th century German and Austrian literature.
Third and fourth years
In third year, students on the Single Honours pathway in German will study abroad. Other students of German are also encouraged to study abroad. If you stay in Dublin, alongside your language classes you will choose from modules in German intellectual history, culture and literature from the 19th century to the present, as well as on research and writing skills for the Capstone Project.
In fourth year, these specialist interests are extended through advanced options that link undergraduate study to staff research expertise.
You will be assessed by a combination of continuous assessment and exams. We use a mix of continuous assessment methods – essays, project work, presentations, and journals. Language modules are assessed by written, oral and aural examinations. Final year students also write a Capstone project.
There are QQI/FET routes available for this course. Please see www.cao.ie for details.
Click here for further information on modules/subject.
Study abroad
A year or semester studying abroad is a highlight of a German student's Trinity experience. Immersing oneself in the language and culture is one of the most valuable ways of achieving fluency when you are studying a language. Single Honours students have a compulsory third year of study abroad and other students are encouraged to spend a year or a semester abroad also. At a minimum, you will be required to spend two months in a German-speaking country prior to taking your final exams. We currently have exchange agreements with Cologne, Göttingen, Konstanz, and Vienna universities. For more information on study abroad destinations and requirements visit: www.tcd.ie/study/study-abroad
Study Modern Languages at Trinity
This short video provides an overview of the Modern Language degree programmes at Trinity College Dublin.
Course Details
Awards
B.A. Honours Bachelor Degree (NFQ Level 8)
CAO Information
CAO Points 367-601 (2023)
Number of Places
9 Places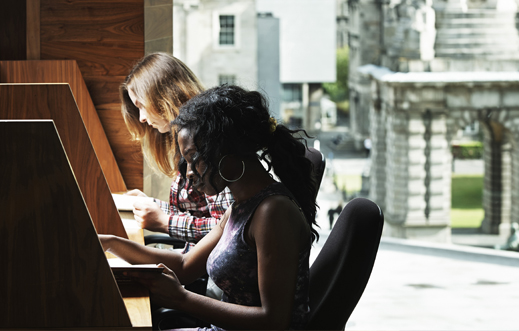 Admission Requirements
Leaving Certificate:
H4 in German or, for beginners, in a language other than English
H3 for combinations with Law (TR018) and Business (TR085)
Advanced GCE (A Level):
Grade C, in German or, for beginners, in a language other than English
Course Fees
Click here for a full list of undergraduate fees.
Apply
To apply to this course, click on the relevant Apply Link below
EU Applicants
Read the information about how to apply, then apply directly to CAO.
Non-EU Applicants
Advanced Entry Applications
Read the information about how to apply for Advanced Entry, then select the link below to apply.
Testimonials
The German component of my degree has not only prepared me for working in a European business where I speak German every day, but also to cope with the day to day cultural differences, which one faces on a daily basis. Over the past two years working in an international company, I have noticed how my degree has given me a distinct competitive edge in regards to spoken level of German, understanding the German culture, being open to other cultures in general and confidence in public speaking when working in an international environment.

Graduate