English Studies (JH)
CAO Points 546-577 (2023)
Overview
What is English?
The Joint Honours course covers a broad range of literatures written in the English language, from Chaucer to the present day. The aim of the course is to help students acquire a sense of the development of literatures in English over time and space and a rich array of critical techniques and questions. While Joint Honours students study a range of genres, periods and national literatures, the course is less comprehensive than that of the Single Honours programme.
English: The course for you?
If you want to study the whole range of developments in English and related literatures, from their earliest beginnings through to contemporary studies in the language, you would enjoy English Studies.
English at Trinity
Our commitment to small-group teaching means that you will benefit from close personal staff supervision, so that your writing and discussion skills develop.
Our English courses have been designed to develop independence of critical thought and the articulation of informed discussion, both oral and written. Much of your work will be undertaken independently, and you will have at your disposal the resources of one of the world's great libraries, with rich resources in the full range of literature in English.
The School of English also co-ordinates many non-syllabus activities, such as lecture series, conferences and symposia, guest lecturers Anne Enright, Colm Tóibín, Emma Donoghue and Richard Ford.
The School actively supports several journals of creative and critical writing by undergraduates. Many of our students are involved in student societies, where they take part in activities such as journalism, debating and theatre. In this way we ensure that your time studying English at Trinity is exciting and intense.
Pathways
The pathways available are Single Honours, Major with Minor and Joint Honours.
Graduate skills and career opportunities
Trinity's School of English graduates gain leading roles in intellectual, professional and public life. The skills developed by students of English are in high demand from employers, especially in journalism, broadcasting, teaching, advertising, marketing and business, arts management, publishing, law and diplomacy. Recent graduates work in Google, the Irish Times, the Department of Foreign Affairs, RTÉ and PwC.
The four-year degree provides an outstanding platform for postgraduate study in English with around 30% of our graduates going on to study a higher degree in English each year.
Many well-known creative writers are Trinity English graduates, including Eavan Boland, Deirdre Madden, Michael Longley, John Connolly, Derek Mahon, Brendan Kennelly, Anne Enright, Paula Meehan and Sally Rooney.
Your degree and what you'll study
The English courses are designed so that the first year consists of compulsory modules, taught through a combination of lectures and tutorials. In the second year there are further compulsory modules, but you will also take approved modules outside English. In the third and fourth year, students choose between a large number of option modules in English, reflecting the great variety of expertise among the staff.
First and second years
The first and second year provide an introduction to a variety of critical theories, practices and approaches to literature. You will primarily concentrate on selected prescribed texts. Examples of first and second year modules include: Genres, Irish Writing, Imagining the Middle Ages, Shakespeare, Writing Childhoods, Pulp: Introduction to Popular Literature, American Literature, Postcolonial Literature and Imagining the Contemporary.
Third and fourth years
In the third and fourth years, you will choose most of your modules from a wide range of specialist options; in these years, modules are taught at an advanced level in small group seminars. Examples of third and fourth year modules may include: Creative Writing, Ulysses in Context, African and Caribbean Literature, Crime Fiction, Global Shakespeare, Modernism, American Writing, Children's Literature, Popular Literature, and History of the English Language. All final-year students are expected to complete a Capstone project, which might be a dissertation, a study of material from the Library's Open Collections, or a portfolio of Creative Writing.
Assessment is by a combination of submitted essays, journals, dissertation and end-of-semester examinations. In first and second year the weighting is approximately 66% submitted work and 33% final examinations. In third and fourth year it may vary depending on the modules chosen, although submission of a Capstone project is compulsory for all final year students.
There are QQI/FET routes available for this course. Please see www.cao.ie for details.
Click here for further information on modules/subject.
Study abroad
Students in the School of English may apply to study abroad during their third year, either on the Erasmus programme in Europe or a non-EU exchange in a wide range of countries, including the US, Australia, Canada, Singapore and China. For more information on study abroad destinations and requirements visit: www.tcd.ie/study/study-abroad
Course Details
CAO Information
CAO Points 546-577 (2023)
Number of Places
107 Places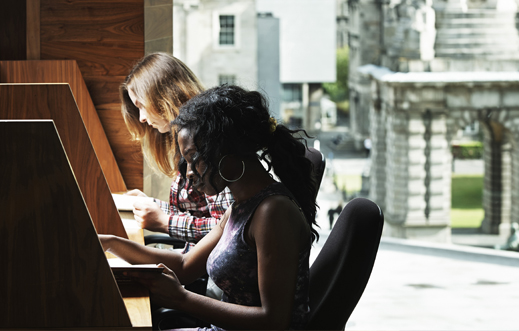 Admission Requirements
Leaving Certificate:
H4 in English
Advanced GCE (A Level):
Grade C in English Literature (A or B) or English Language (A or B)
International Baccalaureate:
HL Grade 5 in English
Course Fees
Click here for a full list of undergraduate fees.
Apply
To apply to this course, click on the relevant Apply Link below
EU Applicants
Read the information about how to apply, then apply directly to CAO.
Non-EU Applicants
Advanced Entry Applications
Read the information about how to apply for Advanced Entry, then select the link below to apply.