Drama Studies (JH)
B.A. Honours Bachelor Degree (NFQ Level 8)
CAO Points 529-559 (2022)
Overview
What is Drama?
Drama exists on and off the stage. Theatre happens in our everyday life. It is the basis for story-telling and other forms of performance within the creative arts. It has its origins in sacred ritual and remains central today as part of our sensemaking as we negotiate our place in the world. As with other creative arts, Drama and the insights from studying performance can be applied in the fields of medicine, politics, education and more.
Theatre Studies encompass all the arts that make up the live experience we call theatre – including costume, lighting, sound, devising, directing, design, dramaturgy and playwriting. We also study the meaning behind theatre, analysing culture and politics, space and place, the presence of audience and performers, and the use of digital technology.
Do you enjoy:
Working as part of a creative team?
Putting theory into practice?
Hands on practical experience?
The study of drama and theatre is a study of the human condition as explored and expressed through these creative arts.
Drama: The course for you?
All Drama pathways explore the relationship between the theory and practice of Drama and Theatre to discover how and why they work. The strong developmental emphasis of the courses requires a particular blend of practical and academic skills. In addition to a high level of analytical ability and creativity, you will need to possess resourcefulness and self-motivation.
Teaching is by lecture, seminar and workshop, with a strong emphasis on experiential learning and practice-based research through theatre laboratory and production opportunities. This leads to a relatively high number of contact hours with other students for group projects, as well as the regularly timetabled taught classes. You will need to be a team player to succeed on this course.
Single Honours students combine Drama Studies with Theatre Studies throughout their degree, whilst Joint Honours students combine it with another subject outside of the Department of Drama. Opportunities are available for Joint Honours students to engage more extensively in practice in their third and fourth years, if they select an exit pathway that includes Drama.
Drama at Trinity
Performing Arts at Trinity was ranked in the top 100 subjects worldwide in the QS Rankings 2021, reflecting the quality of our teaching and learning. Drama at Trinity is housed in the purpose-built Samuel Beckett Centre, home to the Samuel Beckett Theatre, the Players Theatre, a dance studio/rehearsal space, seminar rooms and offices. All our full-time staff have theatre-making experience and are published academic writers, active both nationally and internationally. Some modules are taught by visiting specialists, including award-winning designers, directors, performers and playwrights many of whom are alumni from the course.
Pathways
The pathways available are Single Honours, Major with Minor and Joint Honours. There is also the opportunity to take up Drama Studies as a New Minor Subject from second year.
Graduate skills and career opportunities
Many of our graduates seek employment in theatre or related professions and a large percentage of today's Irish theatre-makers are alumni. Some graduates opt to take further training or apprenticeships, whilst others go straight into working in specialist areas of theatre, film, or television (such as directing, acting, design, playwriting, management, community drama and teaching). Some have formed their own theatre companies; many have won awards. Others have chosen research careers beginning with further study at postgraduate level. Even for graduates who decide not to pursue theatre as a career, the core skills of research, writing, organisation, collaboration, and interpersonal communication that they gain on the course last a lifetime.
Your degree and what you'll study
First and second years
First and second years will provide you with a foundation in the skills and vocabularies of the theatre historian, analyst and practitioner. During these years, the course introduces drama, theatre and performance, and places them in a contemporary and relevant context. Teaching is by lecture, seminar and practical workshop, covering Theatre History (from the Greeks to the present), Performance Analysis, and Contemporary Performance Research (including studies in semiotics, feminism and gender, dramaturgy, postmodernism and more). Single Honours students also take courses in practical areas of theatre (Embodied Practices, Performance and Technology, and Crew Rotation). Training in study, research, and writing skills is provided to support you with the academic elements of the course.
Third and fourth years
Student choose from a wide range of optional modules, striking a balance between the academic and the practical nature of the course (based on your chosen exit pathway).
The range of modules allows you to favour study in historical and theoretical fields or in practical aspects of theatre. The range of options may include theatre and Ireland, embodied Shakespeare, stage, costume and lighting design, playwriting, devising, directing, theatre management, acting, performance and technology, women and theatre, and applied drama and theatre. Students exiting through Drama as a Major, Joint Honours, or Single Honours subject also complete a staff-supervised Capstone project. The Drama Capstone project allows students to integrate their interests into an individual research submission (such as a long dissertation or blended practice-as-research).
Assessment
Assessment is by a combination of essays, reflections, practical assignments, class presentations, oral examinations Students exiting through Drama via Major, Joint Honours or Single Honours subject are required to complete a Capstone project.
There are QQI/FET routes available for this course. Please see www.cao.ie for details.
Click here for further information on modules/subject.
Study abroad
You may apply to spend third year studying abroad at a European university as part of the Erasmus exchange programme or at one of Trinity's non-EU partner universities.
Course Details
Awards
B.A. Honours Bachelor Degree (NFQ Level 8)
CAO Information
CAO Points 529-559 (2022)
Number of Places
24 Places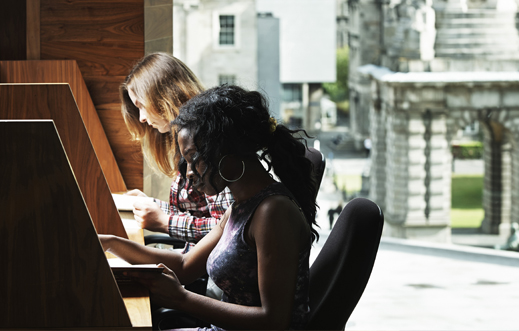 Admission Requirements
These are restricted entry courses. Therefore, applications must be submitted to the CAO by 1 February of the proposed year of entry. If you indicate Drama Studies or Drama and Theatre Studies as a choice of subject, you will be sent a questionnaire to complete in March. Applicants will be accepted based on the completed questionnaire, and those accepted will remain in the competition for places based on Leaving Certificate points.
Course Fees
Click here for a full list of undergraduate fees.
Apply
To apply to this course, click on the relevant Apply Link below
EU Applicants
Read the information about how to apply, then apply directly to CAO.
Non-EU Applicants
Advanced Entry Applications
Read the information about how to apply for Advanced Entry, then select the link below to apply.
Testimonials
---
Saoirse Anton
"…I have had the chance to nurture interests I already had, such as theatre criticism and writing about theatre, and I have discovered ones I would never have thought of before, such as programming, curating and arts policy."