Stage Management and Technical Theatre
B.A. Honours Bachelor Degree (NFQ Level 8)
Overview
What is the Bachelor in Stage Management and Technical Theatre degree?

This three-year honours degree offers practice-based training to students who are interested in a career in professional theatre, TV and film. It has been enhanced to provide increased opportunities in specialist areas within stage management and technical theatre (e.g. sound, lighting and construction), increased professional placements and a Capstone research project. Classes on production management, design (set, lighting, costume and sound) and managing your own freelance business will also be introduced during the final year.

Stage management and technical theatre: The course for you?

Students who undertake this course will need to have a keen interest in stage management, production management, lighting, sound, construction, prop making, costume or set design. This is an intensive course requiring a commitment on average of 35 hours per week, 38 weeks per year.

Stage management and technical theatre at Trinity

This degree is specifically designed to train technical staff for the theatre, TV and film industries. Through a series of skills based courses, placements and professional development programmes the course aims to equip students with the necessary skills to realise a professional theatre production. The practical training during the degree course will be complemented with a range of classes including theatre history, principles of stage management and principles of theatre technology. Led by dedicated and experienced theatre technicians and stage managers these classes will reflect best practices in professional theatre.

Graduate skills and career opportunities

Stage manager, assistant stage manager, lighting operator, sound operator, costume supervisor, scenic and prop maker in local, national and international theatres. Stage management and theatre technician jobs with theatre companies touring nationally and internationally. Technical jobs with companies that support the theatre, TV and film industries such as PSI and Avcom.
Core skills-based classes in theatre skills, theatre technologies and theatre studies will be complemented by practice based learning on in-house productions.
Do you enjoy…

Working behind the scenes in a theatre, film or TV production?
The idea of freelancing on the national and international theatre circuits?
Your degree and what you'll study
First year
First year is designed to introduce students to practice-based training in all technical departments including lighting, sound, prop making, scenic art, costume, set construction and stage management.
Second year
Second year will see students apply the skills learned from their first year to a series of theatre and film productions, directed and designed by professional practitioners. Each student will have the opportunity to become a head of department and work alongside their peers to deliver a full production.
Third year
In year three students will undertake work placements with prominent theatre companies, festivals and industry related companies in order to further develop their chosen area of specialism. Capstone research projects will be assigned according to the preferred career choice of each individual student. Further opportunities as head of department on shows and internal projects are offered in this year.
Click Here for further information on modules/subject.
Study Stage Management and Technical Theatre at The Lir Academy
Join The Lir's Technical Director, Barry Conway, to learn about the three-year degree programme to discuss this programme that prepares you for a backstage career in the Arts, Film, TV Live Performance and entertainment industries.
Course Details
Awards
B.A. Honours Bachelor Degree (NFQ Level 8)
Number of Places
24 Places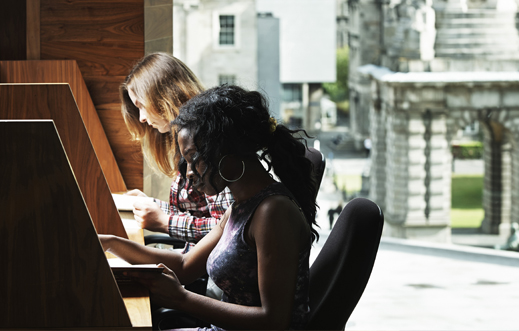 Admission Requirements
This is a restricted entry course. The application deadline is July 1st 2023. This course is taught by The Lir National Academy of Dramatic Art at Trinity. It is not part of the CAO application system. Application forms can be completed online on The Lir Academy website: www.thelir.ie
Entry is by interview and everyone who applies will get an interview. The interview is an opportunity for you to demonstrate your passion, ability and understanding for this training and the type of work it will lead to. No experience necessary. Interviews will be held between February and June 2023.
Course Fees
Click here for a full list of undergraduate fees.
Apply
To apply to this course, click on the relevant Apply Link below
EU Applicants
Read the information about how to apply, then apply directly to CAO.
Testimonials
"I've been involved in youth theatre all my life and couldn't see myself going down any other path. I had been to see a show at The Lir Academy in the summer of 2015 and from that point I started the process to apply. I would definitely recommend the Bachelor in Stage Management and Technical Theatre degree because in addition to the technical skills I've learned on the course, I've grown so much as a person and have met people who I will be friends with and work with for the rest of my life."

Graduate