Music
B.A. Honours Bachelor Degree (NFQ Level 8)
Overview
What is Music?
Music is a discipline that stretches back to the ancient world. One of the seven original liberal arts, music maintains a place in the university as a subject of broad and passionate interest to composers, musicologists, performers, technologists, and theorists.
Music: The course for you?
Studying music will allow you to engage with a range of traditions to acquire a profound understanding of how music works in theory and in creative practice. If you are interested in understanding music and its place in society, developing music technology skills, writing music, or improving your skills as an informed performer, this course could be for you. A music degree will prepare you for a wide range of careers in the creative arts, journalism, music production, arts management, research, and teaching.
Music at Trinity
Performing Arts at Trinity was ranked in the top 100 subjects worldwide in the QS Rankings 2022, reflecting the quality of our teaching and learning. Trinity's Music Department is Ireland's oldest and most internationally renowned venue for the study of music. With a distinguished team of academics and practitioners, the department attracts Irish and international students of the highest calibre. Alumni include Derek Bell, harpist in the Chieftains; Niall Doyle, Head of Music at the Arts Council; Deborah Kelleher, Director of the Royal Irish Academy of Music; Kerry Houston, Head of Academic Studies, TU Dublin Conservatoire; Donnacha Dennehy, composer and Professor of Music at Princeton University; Eleanor McEvoy, singer-songwriter; and Fergus Sheil, founding artistic director of Irish National Opera. A particular strength is the department's commitment to small-group teaching, with some subjects taught in groups of ten students or fewer.
Pathways
The pathways available are Single Honours, Major with Minor and Joint Honours. There may also be an opportunity to take this subject up as a New Minor Subject from second year.
Graduate skills and career opportunities
The employment record for Trinity's graduates in Music is excellent. Recent alumni have established successful careers as composers, music producers (for television, radio, or recording companies), performers, conductors, administrators, teachers, and academics in institutions worldwide. Several recent graduates have been commissioned by organisations such as RTÉ. Trinity Music students have an outstanding record of obtaining scholarships for further study abroad as well as from the Arts Council of Ireland. Some have used the analytical and intellectual skills that a Music degree offers to build successful careers in medicine, law, financial investment, and public relations.
Your degree and what you'll study
The Single Honours and Joint Honours options provide a thorough grounding in the basic skills of musicianship and academic study.
Students receive extensive training in aural and keyboard skills, learn the history and theory of art music from the medieval period to the present day, and choose modules in jazz, rock, popular, vernacular, and world music. Taught performance modules (such as conducting) allow students to contextualise their practical skills. In the specialisations (composition, music technology, and musicology), students are closely supervised in their chosen area. Students may continue to take modules outside of their specialisation. All students complete a final year Capstone research project based on their specialism.
First and second years
Subjects include: Pop Music; Music Theory & Techniques; Film Music Fundamentals; Music Technology; Aural and Keyboard Skills; Critical Writing on Music; and Creative Instrumentation.
In Year Two, students continue the subjects from first year, and begin the exploration of Composition, Musicology, or Music Technology. Single Honours students will also select a Trinity Elective or a New Minor Subject.
Third and fourth years
Concentrated study in chosen modules with possible electives from other specialisations. Students can present a recital and devise their own Capstone project with the help of a supervisor.
Recent options have included: Advanced Theory Clinic, Counterpoint and Fugue for Three Voices; Advanced Harmony (Sonata Forms); Intersectionality and the Role of Women in Electronic Music; Experimental Music Theatre & New Opera; Writing for Voice(s); Conducting and Rehearsal Techniques; Philosophy of Music; Rock 'n' Roll; Opera and Gender; Audiovisual Culture; Performance Research Lab; Sound Art; Fundamentals of Choral Conducting, Recital; Csound; Heavy Metal; An Introduction to Debussy's World and Music; History and Aesthetics of Recording; The Hollywood Musical from The Jazz Singer (1927) to Sweet Charity (1969); RTÉ National Symphony Orchestra at the National Concert Hall; and Irish Traditional Music. Capstone projects take the form of, respectively, a portfolio of compositions, a major technology project, or a dissertation.
There are QQI/FET routes available for this course. Please see www.cao.ie for details
Click here for further information on modules/subject.
Study abroad
Music students can apply to study abroad in European universities with the Erasmus programme (such as the Royal Holloway University of London) and non-EU universities (University of Toronto, Peking University) via university-wide exchanges.
Music students who study abroad find the experience hugely enjoyable, academically and culturally rewarding, and of value to prospective employers. Further information on study abroad can be found at: www.tcd.ie/study/study-abroad/outbound/index.php
Course Details
Awards
B.A. Honours Bachelor Degree (NFQ Level 8)
CAO Information
CAO Points 405 (2023)
CAO Code TR002
Number of Places
25 Places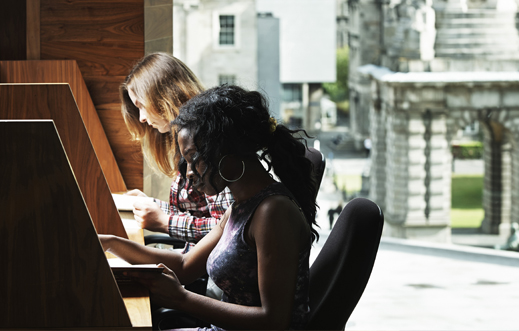 Admission Requirements
Though desirable, formal musical training is not a prerequisite for entry, but candidates should have a good ear and the ability to read and notate music to a rudimentary level.
Course Fees
Click here for a full list of undergraduate fees.
Apply
To apply to this course, click on the relevant Apply Link below
EU Applicants
Read the information about how to apply, then apply directly to CAO.
Non-EU Applicants
Advanced Entry Applications
Read the information about how to apply for Advanced Entry, then select the link below to apply.
Get in Touch
Telephone Number
+353 (0)1 8961120
Email
Website
Testimonials
I am very glad that I chose Trinity for Music. Since day one I have found the faculty inspiring, supportive, and willing to help. The course has allowed for many incredible opportunities that have aided my personal and musical development, including directing the music department's chamber choir, The Campanile Consort, and attending seminars in Oxford University. Most recently, I have been granted a scholarship from Indiana University which will allow me to continue my studies with an M.A. in Musicology in the US.

Graduate