Sociology (JH)
B.A. Honours Bachelor Degree (NFQ Level 8)
CAO Points 403-613 (2023)
Overview
What is Sociology?
Sociology studies the interaction of people within social groups like families, schools and companies and how this shapes their behaviours and life chances. It explores questions such as: why do migrants develop their cultural identities in different ways? How is privacy changing with the rise of digital technologies? How does a child's family of origin shape their chances of educational success and future job? Do state rules and regulations represent and protect elite power? Sociology is foremost among the social sciences in its understanding of social change.
Do you enjoy:
Debating how globalisation impacts on work conditions in the developed and developing world?
Finding out how changes in gender roles are reshaping developed and developing societies alike?
Learning the facts about why some societies are more unequal than others and the consequences of this?
Sociology: The course for you?
If you want to understand the social changes taking place in the world today, and you are curious about people and society, then Sociology is for you. You will also gain the ability to understand topical issues and to present and communicate information and thoughts coherently. In addition, you will learn invaluable analytical, communication, research and presentation skills – transferable skills which can be applied to a wide range of careers and postgraduate programmes.
Sociology at Trinity
There has been a rich tradition of sociological education at Trinity since the 1960s. The department is committed to advancing the understanding of society and to igniting the passion of our students through exceptional teaching and research. The Department of Sociology is internationally known for its work on education and employment, migration, identities, social inequalities, conflict and digital lives. The department has won several teaching awards—both for postgraduates and staff—for outstanding contribution in the pursuit of teaching excellence.
As a recent graduate put it, Sociology explains how the great thinkers predicted the ills of modern society from social isolation to empty hospital wards. It questions the future of whether India can and will become the next China, and whether the internet will undermine traditional communities. It explains the underlying reasons why European societies are culturally so different. It tackles the big social issues of conflict, race, migration, gender and popular culture. It teaches you how to understand, research and explain all of these topics in a logical, organised fashion.
Graduate skills and career opportunities
Sociology graduates find that their broad training and appreciation of how society and people work means they can thrive in careers in the media, journalism, consulting, academia and teaching, policy analysis, non-governmental organisations, management, and advisory roles in the public service. Graduates are working for organisations as diverse as Goodbody Stockbrokers, the ESRI, the European Parliament, Citibank, RTÉ, Google, the Department of Foreign Affairs and Enterprise Ireland.
Your degree and what you'll study
Our modules cover Ireland, wider European society, the non-European world and the global arena. The first two years are more general and foundational in nature while the third and fourth years are characterised by smaller, more intimate classes that attempt to challenge you intellectually and encourage problem solving and critical thinking skills.
First and second year
Sociology teaching in the first and second years emphasises the understanding of the basic principles of sociology and the acquisition of both quantitative and qualitative research skills necessary for in-depth study. In first year, you are introduced to the distinctive questions that sociologists ask about human society, and the theories and concepts used in the search for answers. You have approximately six hours of lectures and three hours of tutorials per week in Sociology.
In the second year, you study issues around gender, work and family; power, state and social movements, and are introduced to sociological research methods and theory.
Third and forth year
Specialisation in sociological topic areas, and more advanced analysis, research and presentation skills are provided in the third and fourth years. In your third year, you learn from moudles in: Globalisation and Development; Comparative Sociology of Europe; Race, Ethnicity and Identity; and Social Stratification and Inequalities. You also carry out research projects involving analysis of both numerical data from surveys, and verbal data that are the outcomes of recorded interviews and focus groups.
The fourth year offers modules in a variety of modules, including: Digital Lives and Social Networks; Labour Markets, Gender and Institutions; Migration, Mobilities and Integration, and Conflict Studies. You have the opportunity to carry out your own independent Capstone research project from start to finish on a topic of your choice (recent projects included: immigration and the prison system, unmarried fathers' participation in their children's lives, and counter-urbanisation in the Irish countryside). Many students find this a great asset when talking to employers and applying for jobs.
Modules are examined by a combination of continuous assessment including essays, portfolios, individual and group presentations, and the formal end-of-semester examination. In addition, students specialising exclusively in sociology in their final year complete a Capstone project.
There are QQI/FET routes available for this course. Please see www.cao.ie for details.
Click here for further information on modules/subject.
Study abroad
Around a third of our undergraduate students participate in Erasmus and non-EU international exchanges. You may participate in full-year or half-year exchanges with the following partner institutions: Sorbonne University (France), University Lille 1 (France), Charles University Prague (Czechia), Umea University (Sweden), University of Copenhagen (Denmark), University of Helsinki (Finland), University of Malta (Malta), Istanbul Bogazici University (Türkiye), Utrecht University (Netherlands), Ludwig Maximilian University Munich (Germany). In addition, you can compete for a smaller number of places on university-wide non-European exchanges with partners in Australia, Singapore, China, Japan, Hong Kong, Brazil, Canada and the US in your third year. Most of these universities offer their courses through English. Further information on student exchanges can be found at: www.tcd.ie/ study/study-abroad/outbound/options
Course Details
Awards
B.A. Honours Bachelor Degree (NFQ Level 8)
CAO Information
CAO Points 403-613 (2023)
Number of Places
87 Places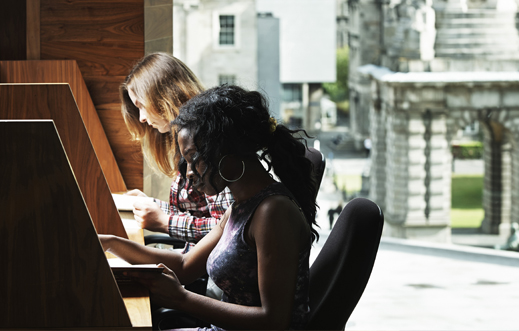 Apply
To apply to this course, click on the relevant Apply Link below
EU Applicants
Read the information about how to apply, then apply directly to CAO.
Non-EU Applicants
Advanced Entry Applications
Read the information about how to apply for Advanced Entry, then select the link below to apply.
Testimonials
Studying Sociology has helped bring deep and engaging insights to the questions of identity, mobility and people's relationships. The four years of wide-ranging study in the field of sociology challenged me across many dimensions and I left the degree with critical thinking capability that will allow me to thrive in life and the world of work.

Current student
Testimonials
Studying Sociology has been an incredibly enriching, mind-opening and rewarding experience. Studying sociology at Trinity has changed how I view the world, helping me to develop a more critical understanding of power, inequality and the forces shaping our society.

Graduate