Social Policy (JH)
B.A. Honours Bachelor Degree (NFQ Level 8)
CAO Points 532-625 (2022)
Overview
What is Social Policy?
Social Policy entails the study of those social relations shaping human welfare and wellbeing and analysis of the means by which governments achieve citizen's well-being through the formation of policies, provision of services and responding to social issues and problems. As a course of undergraduate study Social Policy fits with a commitment to advance the cause of a just, pluralistic and sustainable society. The course encourages engagement with wider society and civic engagement through modules on issues such as refugee policy, housing and homelessness, ageing and the lifecourse, youth, reproductive rights, social inequality, disability and domestic violence. A global outlook is a reoccurring and integral part of the course. Our curriculum aims to give you a thorough training in the systematic analysis of contemporary social issues and the role of social policy in comparative country contexts. At the end of your four years you should have developed both a general understanding of the field of social policy and specific expertise in select contemporary policy issues, the process of policy making and the skills of research, analysis and argumentation applicable to the policy arena.
Social Policy: The course for you?
Curious about social and economic policy issues around the world? Searching for a course that demands both academic and vocational qualities? Interested in understanding society, its social problems and have a desire to make a difference? Then Social Policy may be the subject choice for you. It is particularly relevant to students intending to pursue a career in research, social policy analysis and evaluation, management and planning within the social services, both voluntary and statutory, as well as to those with a general interest in society and social policy.
Do you enjoy…
Contemplating the prospect of getting involved at the coal-face developing policies, services and visions of how we, as a society, could organise ourselves better?
Learning about what makes for better and worse evidence about society and how it can be used to both understand and change it?
Social Policy at Trinity
Trinity's School of Social Work and Social Policy strives for an ethos that values multidisciplinary scholarship; research-led teaching; a diverse student base; a student-centred approach to education and pastoral care; public service; partnership with colleagues in other parts of the University, and with colleagues in other institutions; international experience, connections and integration between teaching, research and policy influence. Social Policy in Trinity ranks in the top 100 universities worldwide (QS World Rankings by Subject 2019), making Social Policy at Trinity the highest ranking university in Ireland.
Pathways
The pathways available are Single Honours, Major with Minor and Joint Honours. There may also be an opportunity to take this subject up as a New Minor Subject from second year.
Graduate skills and career opportunities
The range of employment opportunities in the area of social and public policy continues to expand. This is a particularly relevant degree for those interested in pursuing a career in the formulation of policy in the public sector, community development and voluntary/ non-profit sectors. Graduates of Social Policy at Trinity have secured employment as social researchers, policy analysts government advisors and journalists recruited by companies such as Eurodesk (Brussels Link), the Web Summit, Inner City Organisation Network, Focus Ireland, Migrant Rights Centre, the public service, and various education facilities, to name but a few. The course also provides a solid foundation for specialist postgraduate courses in the areas of social research, social policy and social work.
Your degree and what you'll study
The fundamental aim of the degree programme is to give students a thorough training in the systematic study of social policy, contemporary social issues and how policy works. Teaching methods include lectures, seminars and group project work utilising innovative approaches enhanced by digital technologies. Assessment is by a combination of continuous assessment, written submissions, class presentations, real world relevant assignments e.g. policy case studies or ministerial briefings and a final year Capstone project.
First year
In first year you will take introductory modules in Social Policy Concepts and Social Policy in Action and skills based modules on Accessing and Reviewing Scholarly Literature in the field of Social Policy as well as a module in Critical Analysis and Argument Development.
Second year
The second year places greater emphasis on social policy issues offering modules including Poverty in Society; European Refugee Policy; Citizen Participation in Research & Policy and Health Policy. You will also be given the opportunity to take modules from other programmes across the university under the Approved Module and Trinity Electives model. This can include other social science modules such as Economy of Ireland; Economics of Public Policy; History of Political Thought; International Relations; Comparative Politics; Introduction to Irish Family Law; French, German, Russian, Polish language, and Trinity Electives. In first and second years students typically have two lectures and one tutorial per week for each module.
Third year
The choice of modules available in third year typically includes modules such as: Youth and Society; Conceptualisations of Gender Based Violence; Leading Human Service Organisations and a research methods module covering statistical analysis, documentary and policy analysis as well as qualitative research skills. Again in third year, student have the option to take modules from other programmes across the university under the Approved Module and Trinity Electives model. Third year students also have the option to study abroad in a European or international university.
Fourth year
The choice of modules available in fourth year typically includes: Poverty, Inequality and Redistribution; Ageing Societies; Families, Reproduction and Social Policy; Disability and Global Human Rights. In the final year you will research and write a Capstone project on a topic of your choice under one-to-one supervision from a member of our School.
There are QQI/FET routes available for this course. Please see www.cao.ie for details
Click here for further information on modules/subject.
Study abroad
Students have the opportunity to study abroad in their third year at prestigious universities in Europe through the Erasmus programme as well as through non-EU international exchanges. You may participate in full-year or half-year exchanges with partner institutions in countries such as Sweden, France, Malta, Finland and the Czech. In addition, you can compete for a smaller number of places on university-wide non-European exchanges with partners in Australia, Singapore, China, Japan, Hong Kong, Brazil, Canada and the USA in your third year. Most partner universities offer their courses through English.
Course Details
Awards
B.A. Honours Bachelor Degree (NFQ Level 8)
CAO Information
CAO Points 532-625 (2022)
Number of Places
28 Places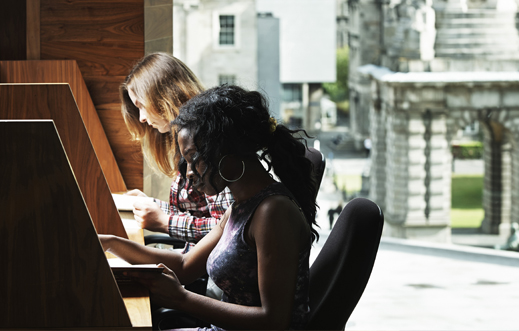 Apply
To apply to this course, click on the relevant Apply Link below
EU Applicants
Read the information about how to apply, then apply directly to CAO.
Non-EU Applicants
Advanced Entry Applications
Read the information about how to apply for Advanced Entry, then select the link below to apply.
Testimonials
---
What our current students say
Stephen Shortt
I am a final year student of the bachelor's in social studies (Social Work) course. I chose to study social work as I wanted to put myself in a position where I could fight for justice and equality in the world around me and provide a voice to the most vulnerable people in our society who often struggle to be heard.
What our graduates say
Laura Bambrick
Studying Social Policy in Trinity opened up opportunities beyond imagination in giving me a world-class education from lecturers who continue to support me long after I graduated. After Trinity, I completed a master's and Ph.D. in Social Policy at the University of Oxford. I worked in the Office of the Assistant Secretary General at the United Nations Headquarters in New York; in the Social Justice and Policy Unit of the Society of Vincent de Paul National Office; in the Minister's Office in the Department of Social Protection and in the Office of the Tánaiste. I am currently the Social Policy Officer at the Irish Congress of Trade Unions.
Julianne Flynn
Sociology and Social Policy is the ideal course for someone who is passionate about social issues and curious to learn. Its unique blend of theory and policy gave me a greater awareness and understanding of a range of contemporary issues, from poverty inequality to conflict resolution. From a social perspective, the small class size makes the transition from school less daunting and provides great opportunity to study with like-minded people. I was also given the unforgettable opportunity to study for a year at University of Melbourne.