Psychology
B.A. Honours Bachelor Degree (NFQ Level 8)
Overview
What is Psychology?
Psychology is the study of human behaviour and mental processes. It includes topics such as infant and child development, perception, learning, motivation, cognitive processes (like memory and problem solving), individual differences and social psychology, and has many of the features of a science course, such as practical work, statistical description and analysis of data and courses on the underlying physiology of the human brain.
Psychology: The course for you?
The School of Psychology aims to offer a knowledge base and a set of skills that not only equip students for the many careers that exist in psychology, but also prepare students intellectually for other careers.
Psychology is a branch of science that demands clear, rigorous thinking, numeracy and the ability to define, study and solve problems in complex, changing settings. It is also an applied science that deals with how people act and behave in the real world and provides support for people in their social life and work, for example, through clinical and counselling interventions. If you are interested in the factors influencing human thinking, feeling and behaviour you will enjoy this course.
Do you enjoy:
Trying to understand other people's behaviour?
Trying to understand how the brain works?
Conducting your own research to answer questions?
Psychology at Trinity
Trinity's School of Psychology is ranked in the top 150 universities for Psychology in the QS World University Rankings by Subject 2020. As well as offering high-quality teaching, the school collaborates with a number of other disciplines through Trinity College Institute for Neuroscience, the Trinity Centre for Global Health, and the Trinity Centre for Innovative Human Systems.
Students are encouraged to become actively involved in our ongoing research, particularly in the third and fourth years of their studies. The Single Honours degree confers eligibility for graduate membership of the Psychological Society of Ireland and provide the basis for entry to postgraduate programmes, such as those in clinical psychology and counselling psychology.
Graduate skills and career opportunities
Many psychology graduates proceed to a career in professional psychology through professional training. The School of Psychology itself offers a range of postgraduate programmes including professional doctorates in Clinical Psychology and Counselling Psychology, Masters courses in Applied Psychology, Applied Behaviour Analysis and Clinical Supervision, as well as online postgraduate qualifications in Managing Risk and System Change, the M.Phil./P.Grad.Dip Psychoanalytic Studies and research M.Sc. and PhD degrees. However, the advanced understanding of human behaviour and experience and the wide range of skills developed during the course have allowed students to enter many professions, ranging from management, marketing, advertising and accountancy, to journalism, broadcast media, teaching and recruitment. Seminars about career development will be provided by the school during the course of your degree.
Your degree and what you'll study
The course is designed to develop a wide knowledge of the concepts, principles, theories and research methods of contemporary psychology; to develop skills of analysis and synthesis, research design, statistical description and evaluation, problem-solving and computer use; to provide practice in the design, execution, reporting and assessment of research and to develop competence in group work, communication and presentation skills and self-assessment.
During the lecture term, Single Honours students spend approximately 10-12 hours per week receiving tuition such as lectures, tutorials, seminars and laboratory practicals.
First and second years
As a first and second year student, you will take foundation-level modules in a range of areas such as: Foundations in Psychology; Social Psychology; Perception; Psychological Disorder; Developmental Psychology; Cognition and the Brain, the Psychology of Language; Thinking; Fundamentals of Neuroscience and Behaviour; Evolutionary Psychology; Personality and Individual Differences; Research methods and Statistical Analysis.
You will also be given the opportunity to take modules from other programmes across the university.
Third and fourth years
By third year you will have identified areas within psychology that are of particular interest to you and you will have the opportunity to develop these interests throughout third and fourth year, by choosing modules from a series of advanced options.
On completion of the course, students must have taken at least one module from each of the five specified thematic areas (Biological, Social, Developmental, Cognitive, and Personality and Individual Differences).
The type of modules which have been offered within each of these areas include: Biological: Neurological Rehabilitation; Preclinical and Clinical Models of Neuropsychiatric and Neurological Disorders; The Brain Throughout the Lifespan; Case studies in Neuropsychology; Making Sense of Action; Social: Social Neuroscience; Advanced Psychology of Language; Moral Development in Childhood; Human Factors and Organisational Factors; Social Psychology and Discourse; Developmental: Child Development in Changing Family Contexts; Applied Issues in Developmental Psychology; Child and Adolescent Clinical Psychology; Child Health and Well-being Cognitive: Human Reasoning; Creative Cognition; Development of Perception Throughout the Lifespan; Perceptual Neuroscience; Personality and individual differences: Health Psychology; Psychology of Criminal Behaviour; Clinical Psychology and Intellectual Disabilities
In fourth year a large part of your workload involves carrying out an independent Capstone project under the supervision of a member of staff. Many students report that this project, while challenging, is one of the most rewarding parts of the course.
There are QQI/FET routes available for this course. Please see www.cao.ie for details.
Click here for further information on modules/subject.
Assessment
A combination of end-of-semester written examinations and continuous assessment is used. In your final year, you will also undertake a Capstone project.
Study abroad opportunities
Second and third-year undergraduates are eligible to apply to study for one or more semesters (usually a whole academic year) in certain other European psychology schools, with travel, and, where appropriate, some subsistence funding provided by the EU Erasmus fund. There are no basic course charges to be paid abroad. Assessment is carried out in the host (i.e., international) institution and is accepted by Trinity as if students were examined here. The School of Psychology has bilateral agreements with several European universities, including the University of Helsinki, Freie Universität Berlin, Erasmus University Rotterdam and Université Paris V.
Study Psychology at Trinity College Dublin
This is a presentation by Dr. Elizabeth Nixon giving an outline of the Psychology course at Trinity College Dublin.
Course Details
Awards
B.A. Honours Bachelor Degree (NFQ Level 8)
CAO Information
CAO Points 577 (2022)
CAO Code TR006
Number of Places
40 Places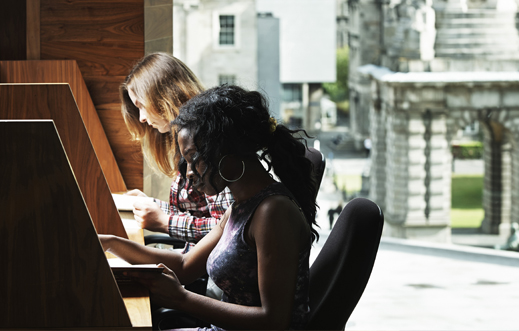 Course Fees
Click here for a full list of undergraduate fees.
Apply
To apply to this course, click on the relevant Apply Link below
EU Applicants
Read the information about how to apply, then apply directly to CAO.
Non-EU Applicants
Advanced Entry Applications
Read the information about how to apply for Advanced Entry, then select the link below to apply.
Testimonials
---
What our graduates say
Sinéad Moylett
"After observing the work of an educational psychologist while working with individuals with autism and from other experiences working with Intellectual disabilities, I choose to study Psychology. The broad range of topics that I was able to study on the course, from health psychology to neuroscience, could have prepared me for a number of career paths not just within Psychology, but also in the wider world. I enjoyed my time so much during my degree, that when it came to choosing a field in which to complete a Ph.D., I felt that there was only one real choice."
What our current students say
Lisa Gannon
"Psychology has not only prepared me for my future career, it has prepared me for life. As a psychology student I have gained fascinating insights into the enigmatic human mind and the peculiarities of human behaviour. The diverse and comprehensive range of modules offered in psychology as well as the vast array of helpful resources made available by the School have equipped me with a rich theoretical understanding of the human psyche and an aptitude for critical thought. I hope to use the knowledge and skill I have gained through studying psychology to make a positive and valuable contribution to society."