History (JH)
B.A.
CAO Points 462-613 (2022)
Overview
What is History?
History is about people. Studying History means studying lives, events and ideas in times and places often very different from our own. History embraces everything from the rise and fall of empires, or the birth of new ideologies, to the contrasting everyday lives of people in a whole range of settings, across time and across the globe. Studying History means developing critical skills, learning to express your ideas and arguments clearly, and becoming self-directed in your studies.
History: The course for you?
History is a subject for the intellectually curious. It offers an enormous diversity of subjects to explore, questions to ponder and problems to resolve. The History modules at Trinity allow you to study a remarkable range of types of history – whether cultural or political history, military or social history, environmental history or the history of ideas – from the early Middle Ages to the very recent past. We offer survey modules allowing you to grasp the broad patterns in history, specialist modules where you can study topics of particular interest to you in small classes, and opportunities for you to pursue your own independent research.
History at Trinity
The History department at Trinity offers a remarkably broad range of discipline options for its size. The four-year programme allows students to lay firm foundations in the first two years, with wide-ranging modules on medieval and modern history, Irish, European, American, environmental and global history, as well as on historical methods and approaches. The final two years of the programme allow students the chance to study several specialist modules in-depth and to undertake independent research on a subject of their own choice. The breadth and depth of study in this programme is unique in Ireland and has few rivals internationally.
Trinity is a leading university internationally for the study of History. Our staff has published extensively in the fields of Irish, British, European and American history. We take special pride in the small-group teaching which characterises the final two years of study in particular, and for being a department which places student learning at the centre of its values.
Pathways
The pathways available are Single Honours, Major with Minor and Joint Honours. There may also be an opportunity to take this subject up as a New Minor Subject from second year.
Graduate skills and career opportunities
Over many decades History graduates (Single Honours and Joint Honours) have pursued successful careers in a wide range of areas. These include: accountancy, advertising, banking, broadcasting, arts and heritage administration, human resources, journalism, law, public administration, public relations, management, marketing, publishing and teaching. Our graduates work for such organisations as the Irish Times, the Law Society of Ireland, Oxfam, IBEC, the American Chamber of Commerce, RTÉ, Google, the United Nations and Accenture. The diversity of careers reflects the wide array of skills amassed by students undertaking a degree in History at Trinity.
Do you enjoy…
Undertaking your own research into historical questions?
Reading widely and critically?
Expressing and debating your ideas in essays, presentations and class discussion?
Your degree and what you'll study
The History programme combines the strength of a broad-based programme in the first two years, introducing all students to the sheer diversity of historical studies, with the freedom to explore areas of particular interest to individual students in the final two years.
The first and second years provide a range of modules covering medieval and modern periods, including Irish, European, and American history, as well as some modules exploring the skills and methods which historians use, and the kinds of debates in which historians engage. Teaching is not only in lectures but in small group tutorials.
All students will have an opportunity to undertake a group project in their second year, undertaking research as a team. The third and fourth years offer a wide range of choice in more specialist modules, all taught by staff with expertise in that field.
There is the opportunity to concentrate on those parts of history which interest you most in the final year Capstone project, an independent project which many students find the most rewarding part of their degree programme.
First and second years
Single Honours students take modules in Medieval and Early Modern Irish and European history in their first year, as well as modules to introduce the methods and approaches historians use in their studies.
In their second year, students take modules in Modern Irish and Modern European History, in U.S. History and in Global History.
They also take modules exploring how history has been interpreted and presented, not just by professional historians but within popular culture, and they take part in a year-long small group project. Joint Honours students also take part in the group project in second year, and select from the period-specific modules to make up the History component of their studies.
Third and fourth years
We offer a range of topics within two different categories:
List I (Special Subject) modules: These are specialist modules which involve intensive research and writing based on primary sources. Some examples include:
Medieval Marriage

Europe Reformed, 1540-1600

American Politics and Culture, 1939-1989

Ireland, Modernity and Empire

China 1911-1949

The French Revolution, 1789-1799
List II modules: These are broader thematic and analytical modules. Some will have a particular focus on historiography; on how different historians have tried to understand a period or problem.
Some examples include:
Race and ethnicity in American thought since 1940

Medieval Globetrotters: Exploration and World Conquest in the Age of the Black Death

Atlantic Island: Eighteenth-Century Ireland in Oceanic Perspective

Global Crisis: Environmental Disasters in World History

German Empires at War, 1914-1945

The Troubles, 1968-1998; From Civil Rights to the Good Friday Agreement
Third year students also take two linked research methods module that focus specifically on concepts and theories in historiography and the preparation of a research proposal, which may be used as the basis for a dissertation in the fourth year.
In any given year there will be a variety of types of history on offer – including political, social, cultural, environmental or intellectual history – ranging in time from Early Medieval Ireland to the post 1945 world, and including Irish, European, American and Asian history modules.
For full details on all our modules see:https://www.tcd.ie/history/undergraduate/single-honors.php. Students are assessed through both examinations and coursework in each year of the programme. In the third and fourth year the balance is approximately 50% exams and 50% continuous assessment.
There are QQI/FET routes available for this course. Please see www.cao.ie for details.
Click Here for further information on modules/subject.
This degree is also available within the Dual BA Programme between Trinity College Dublin and Columbia University.
Study abroad
The Department of History has Erasmus exchange agreements with a wide range of European universities including the Sorbonne (Paris), the University of Vienna and Charles University in Prague. The Department also has an exchange agreement with the University of Tokyo, and students of History can also arrange for a year abroad in other countries, notably the U.S.A., Australia and Canada, where some recent examples would include the University of California, the University of Sydney or McGill University (Montreal).
Course Details
Awards
B.A.
CAO Information
CAO Points 462-613 (2022)
Number of Places
46 Places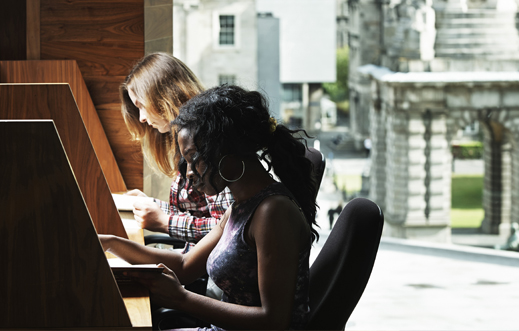 Apply
To apply to this course, click on the relevant Apply Link below
EU Applicants
Read the information about how to apply, then apply directly to CAO.
Non-EU Applicants
Advanced Entry Applications
Read the information about how to apply for Advanced Entry, then select the link below to apply.