Spanish (JH)
B.A. Honours Bachelor Degree (NFQ Level 8)
CAO Points 352-601 (2023)
Overview
Why study Spanish?
Spanish is the native language of over 500 million people. It is second only to English in the number of countries in which it is officially spoken. Spanish is an exciting and growing area of study. It is the second language in the US, an official language in the European Union, the African Union, and the United Nations.
Do you enjoy…
Learning about the similarities and differences between your country and Spain and Latin America?
Experiencing the fascinating and varied cultures of these countries, their history, literature, and cinema?
Adding to your modern language skills for social and career purposes?
Spanish: The course for you?
The Department will help you to discover or deepen your interest in the Spanish-speaking world, giving you the opportunity to study a variety of language, literature, and cultural modules, while helping you to develop your language skills and intellectual abilities.
Spanish at Trinity
Whether a beginner or non-beginner in Spanish, you will very quickly come to feel a valued member of a Department with a rich experience that goes back to 1776. Our students consistently attain high levels of linguistic competence and advanced research skills. You can be confident that this degree will provide a lifetime of personal and professional opportunities.
Pathways
The pathways available are Single Honours, Major with Minor subjects and Joint Honours. There may also be an opportunity to take this subject up as a New Minor Subject from second year.
Graduate skills and career opportunities
A degree in Spanish opens up many career opportunities in education, journalism, the diplomatic service, business administration, banking, publishing, interpreting, translation, advertising, public relations, digital communication, and visual media. Recent graduates have started careers in Google, Oracle, Telefónica, Ryanair, Central Bank of Ireland, Gerson Lehrman Group, NGOs, and the European Union. Many students have also pursued postgraduate degrees in Hispanic Studies and related fields.
Your degree and what you'll study
At entry, Spanish must be combined with one other subject. In later years, you will be able to select additional subjects and electives.
Spanish at Trinity is taught by a variety of methods to equip you with a comprehensive range of language skills. The Department offers intensive language teaching (five hours a week) for beginners.
First and second years
In the first two years, the course covers three main areas:
Language: grammar and syntax, text analysis, and intensive practice in communication skills (speaking, listening, reading, and writing).
Contemporary Spain: an introduction to modern history, socio-political issues, and current affairs.
Literature and cinema: a close study of a range of Spanish and Latin American literary texts and films.
Third and fourth years
You will continue with language study, taking advanced classes that will consolidate your knowledge of grammar and syntax and provide practice in communication skills. You will also be able to deepen your knowledge of Hispanic cultures through the studying literature, theatre, and film.
In fourth year, you will work more independently and with significant freedom of choice. As well as studying Spanish language, you will choose other modules which may include: Medieval, Golden Age, and Eighteenth-Century Spanish Literature; Contemporary Spanish and Latin American Literature; Spanish and Latin American Film; and Spanish and Latin American History, Culture, and Politics. You will also have the opportunity to conduct independent research as part of your Capstone project.
At all levels, you will be assessed by a combination of exams, essays, and continuous assessment. Language modules are traditionally assessed by written and oral examinations. Final year students also write a Capstone project.
There are QQI/FET routes available for this course. Please see www.cao.ie for details.
Click here for further information on modules/subject.
Study abroad
A year or semester studying abroad is one of the highlights of a student's Trinity experience, and immersing yourself in the language and culture is also one of the most valuable ways of achieving fluency when you are studying a language. Joint Honours students are encouraged to spend a year or a semester in their third year in one of our partner universities. At minimum, you will be required to spend two months in a Spanish-speaking country during the course of your studies. We currently have exchange agreements with the Universities of Granada, León, Salamanca, Seville, Oviedo, and Barcelona, among others. Further information on study abroad can be found at: www.tcd.ie/ study/study-abroad/outbound
Study Modern Languages at Trinity College Dublin
This short video provides an overview of the Modern Language degree programmes at Trinity College Dublin.
Course Details
Awards
B.A. Honours Bachelor Degree (NFQ Level 8)
CAO Information
CAO Points 352-601 (2023)
Number of Places
17 Places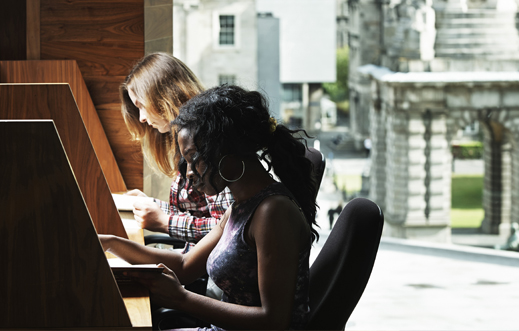 Admission Requirements
Leaving Certificate:
H4 in Spanish or, for beginners, in a language other than English
Advanced GCE (A Level):
Grade C in Spanish or, for beginners, in a language other than English
Course Fees
Click here for a full list of undergraduate fees.
Apply
To apply to this course, click on the relevant Apply Link below
EU Applicants
Read the information about how to apply, then apply directly to CAO.
Non-EU Applicants
Advanced Entry Applications
Read the information about how to apply for Advanced Entry, then select the link below to apply.
Testimonials
My experience as a member of the Department of Hispanic Studies for four years has been exceedingly positive, providing me with an invaluable skillset that is a solid basis for any career path. Studying a diverse range of modules in literature, history, and linguistics in small groups with dedicated teachers allowed me to research a specialised topic for my dissertation in final year. Being able to communicate in Spanish is a huge asset that offers me international opportunities, and I have thoroughly enjoyed this demanding yet rewarding course.

Graduate
Testimonials
As part of the Department of Hispanic Studies at Trinity, I have benefited immensely from a leading programme of undergraduate study, deepening my knowledge of culture, history, literature and language. The Department offers an intimate, supportive academic environment and privileges small-group teaching and the close reading of texts. Moreover, through one-on-one consultation with academics, this course has allowed me the flexibility to develop my own research interests, as part of my final year dissertation. Spanish at Trinity, while both challenging and rewarding, offers essential critical skills and endless opportunities.

Graduate