French (JH)
B.A. Honours Bachelor Degree (NFQ Level 8)
CAO Points 457-466 (2022)
Overview
Why study French?
French is a major world language, with a rich cultural and intellectual heritage. Knowledge of the French language and its literature and culture opens up a world of opportunities to those who study them. French is an official working language of many international organisations (UN, OECD, NATO, etc.) and plays a decisive role in world affairs. In 2018, Ireland became an observer member of the Organisation internationale de la Francophonie (OIF), the international cultural and economic cooperation body for the French-speaking world, thereby recognising the importance of French in the post-Brexit EU and the economic possibilities that exist beyond the English-speaking world.
French: The course for you?
If you are fascinated by how other languages and cultures offer a different perspective on the world, French at Trinity could well be the course for you. You will enjoy studying French here if you have a passion for novels, cinema, drama, poetry, literature in all its forms – and if you want to develop your ability to think critically. If you are interested in French and European history, politics and thought, and if you would like to experience French culture first-hand by living and studying in France, then Trinity's Joint Honours degree programmes in French are for you.
French at Trinity
French at Trinity is a four year course providing a breadth and depth of experience that puts our graduates among the most highly qualified in the field. All students are encouraged to go abroad for a full academic year, or a term. There is no better way to learn French than to live and study through the language (see Study Abroad section).
Graduate skills and career opportunities
Trinity French graduates are working for Google, eBay, Christian Louboutin, The Abbey Theatre, Amazon, the British Institute in Florence, the Museum of Modern Art in New York or the Centre Culturel Irlandais in Paris. Recent graduates are working in areas as diverse as arts administration, translation and interpreting, diplomacy, tourism, publishing, and investment banking, as well as second-level teaching and the Civil Service. Many go on to take postgraduate courses in areas such as law, marketing and business for which a degree in arts and humanities provides an ideal background. The combination of an arts degree and a more vocational or professional programme of studies has proved to be highly attractive to prospective employers.
Do you enjoy…
Reading and discussing literature?
Do you have an interest in history, politics and philosophy?
Do you relish the challenge of learning to speak and write in a foreign language and interacting with different cultures?
Would you like to study in Paris, Bordeaux, Orléans or Lyon?
Your degree and what you'll study
At entry, French must be combined with one other subject. In later years you will be able to select additional subjects and electives.
The development of reading, analytical, and critical skills, through both oral and written exercises in French, form the bedrock of this course. A range of optional subjects are available over the course of the four years.
First and second years
The programme in first year includes an introduction to French language, literature, and history. First year subject areas include: (i) French grammar and grammatical analysis, (ii) written and oral comprehension and (iii) modern fiction, theatre, cinema and poetry. You will spend four contact hours each week working on French language and grammar, and three studying literature and contemporary French and francophone history and society. In second year, you will build on this foundation by following courses in the history of French ideas and politics, French literature, French linguistics and in the practice of the French language itself.
Third and fourth years
In third and fourth year, a wide variety of optional modules building on courses previously undertaken are available. These range from Renaissance and Enlightenment writing to Romantic and Modern French literature; from French language, politics, society and identity to French critical theory, philosophy, history and cinema. In your final year, you will research and write a Capstone project in English or French on a subject of your choice in consultation with a supervisor.
Assessment
At all levels, you will be assessed by a combination of continuous assessment and exams. We use a mix of traditional and innovative continuous assessment methods – essays, project work, online grammar tests, presentations, book reviews and dossiers, podcast creation.
Language modules are traditionally assessed by written, oral and aural examinations.
There are QQI/FET routes available for this course. Please see www.cao.ie for details.
Click here for further information on modules/subject.
Study abroad
A year or semester studying abroad is one of the highlights of a student's Trinity experience, and immersing oneself in the language and culture is also one of the most valuable ways of achieving fluency when you are studying a language. Single Honours students have a compulsory third year of study abroad and other students are encouraged to spend a year or a semester in their third year in one of our partner universities. At a minimum, you will be required to spend two months in a French speaking country prior to taking your final exams. We currently have exchange agreements with Paris 3 – Sorbonne Nouvelle, Lyon 2, Bordeaux-Montaigne and Orléans universities.
Study Modern Languages at Trinity College Dublin
This short video provides an overview of the Modern Language degree programmes at Trinity College Dublin.
Course Details
Awards
B.A. Honours Bachelor Degree (NFQ Level 8)
CAO Information
CAO Points 457-466 (2022)
Number of Places
85 Places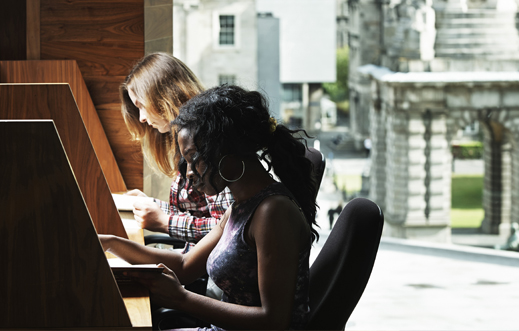 Admission Requirements
| | | |
| --- | --- | --- |
| Leaving Certificate | H4 | French |
| Advanced GCE (A Level): | Grade C | French |
H3 for combinations with Law (TR018) and Business (TR085)
Course Fees
Click here for a full list of undergraduate fees.
Apply
To apply to this course, click on the relevant Apply Link below
EU Applicants
Read the information about how to apply, then apply directly to CAO.
Non-EU Applicants
Advanced Entry Applications
Read the information about how to apply for Advanced Entry, then select the link below to apply.
Testimonials
"I feel blessed to have met such wonderful people, both staff and classmates, who have helped to shape me into an open and inquisitive mind, hungry to travel (across the francophone world and beyond), to work, to further my studies and to ultimately think for myself."

Graduate
Testimonials
"Studying French at Trinity has been invaluable to my personal and professional development. Studying French allowed me to work in Paris for the summer months and study on Erasmus in Lille for the first semester of my third year. Studying on such a vibrant campus has enabled me to work as a Collections Analyst with French for a large multinational company, liaising and building strong relationships with French-speaking clients on a daily basis."

Graduate