Irish (JH)
B.A. Honours Bachelor Degree (NFQ Level 8)
CAO Points 346-601 (2023)
Overview
Cuireann Roinn na Gaeilge fáilte roimh aon mhac léinn ar mhaith leo freastal ar roinnt léachtaí le blaiseadh a fháil ar chúrsa sa Nua-Ghaeilge i gColáiste na Tríonóide, ach teagmháil a dhéanamh linn.
An Nua-Ghaeilge
Cad is brí le 'Nua-Ghaeilge'?
Tugtar 'Nua-Ghaeilge' ar an teanga ón mbliain 1200 go dtí an lá atá inniu ann. Sa chúrsa seo léitear litríocht ó gach cuid den tréimhse agus déantar staidéar ar fhorás na teanga lena linn. Déantar staidéar speisialta freisin ar Ghaeilge an lae inniu agus ar Ghaeilge na hAlban.
Cén fáth a roghnófá an Nua-Ghaeilge i gColáiste na Tríonóide?
Tá cáil ar fhoireann Roinn na Gaeilge sna goirt ina bhfuil siad ag obair mar scoláirí agus iad ag foilsiú leo go rialta. Chomh maith leis sin, tá an-cháil ar an Roinn as a bheith cairdiúil, rud a thaitníonn go mór lenár gcuid mac léinn. Bíonn líon na mac léinn beag go leor le go mbíonn sé éasca do na mic léinn aithne a chur ar a chéile. Tá Cumann Gaelach na mac léinn an-ghníomhach ar fad; tá scéim chónaithe lánGaeilge a bhfuil an-tóir uirthi sa Choláiste. San iomlán, is geall le mionGhaeltacht i lár na príomhchathrach sinn.
Postanna
Tá réimse an-leathan gairmeacha ag daoine a rinne Nua-Ghaeilge anseo. Ina measc tá cuid mhaith múinteoirí, iriseoirí (sna meáin Ghaeilge go háirithe) agus daoine le postanna eile sna meáin: teilifís, ceol, beochan, raidió agus an t-idirlíon. Tá borradh tagtha ar líon na ndaoine a fhaigheann postanna mar ateangairí agus aistritheoirí, in Éirinn agus san Eoraip. Tá léachtóirí ollscoile agus leabharlannaithe againn chomh maith, agus iarmhic léinn eile ag obair sa tseirbhís phoiblí, le gnó agus le margaíocht.
Cad a bheidh á fhoghlaim agat?
Is trí mheán na Gaeilge a mhúinfear do chúrsa. Foghlaimeoidh tú faoi gach gné den Nua-Ghaeilge: ón bhFiannaíocht sa 13ú haois go Máirtín Ó Cadhain agus Nuala Ní Dhomhnaill sa lá atá inniu ann. Cuirfidh tú go mór le do chumas i labhairt agus scríobh na Gaeilge, agus déanfaidh tú staidéar foirmiúil ar cheartúsáid na teanga. Beidh deis agat freastal ar léachtaí faoi: scéalaíocht na seanré, stair shóisialta na teanga, an béaloideas, filíocht na scol, an Fhiannaíocht agus an nualitríocht ar fad, .i.e. gearrscéalta, drámaíocht, úrscéalta, dírbheathaisnéisí agus filíocht. Caithfidh tú dhá mhí sa Ghaeltacht in Éirinn mar chuid de do chúrsa. Sainghné speisialta de chúrsa na Nua-Ghaeilge i gColáiste na Tríonóide ná gur anseo amháin a bheidh seans agat trí bliana a chaitheamh le Gaeilge na hAlban (a' Ghàidhlig). Beidh seans agat, más mian leat, tréimhse a chaitheamh i nGaeltacht na hAlban freisin.
An chéad bhliain agus an dara bliain
Sa chéad bhliain agus sa dara bliain, díríonn an cúrsa ar na hábhair seo a leanas: scileanna i labhairt agus scríobh na teanga, an cheapadóireacht, an t-aistriúchán, stair shóisialta na Gaeilge, an Ghaeilge Chlasaiceach, an nualitríocht, Gaeilge na hAlban.
An tríú bliain agus an ceathrú bliain
Sa tríú bliain agus sa cheathrú bliain, díríonn an cúrsa ar na hábhair seo a leanas: ardscileanna teanga (labhartha agus scríofa), an cheapadóireacht agus an t-aistriúchán ag leibhéal níos airde, agus Gaeilge na hAlban. Foghlaimeoidh tú conas lámhscríbhinní a léamh (cúrsa sa phailéagrafaíocht) agus léirmheastóireacht chriticiúil a dhéanamh ar scéalaíocht na seanré. Ina theannta sin, déanfaidh tú rogha cúrsaí sa Nua-Ghaeilge Mhoch, sa litríocht bhéil, i nualitríocht na Gaeilge agus/nó i nualitríocht Ghaeilge na hAlban.
Meansúnú
Déanann gach mac léinn cleachtaí scríofa gach seachtain mar chuid den mheasúnú leanúnach; bíonn aistí le scríobh go tráthrialta, agus béaltriail agus scrúduithe scríofa ag deireadh an téarma. Sa cheathrú bliain, déanann mic léinn taighde neamhspleách agus scríobhann siad miontráchtas.
Staidéar thar sáile
Is aoibhinn beatha an scoláire a dhéanann leathbhliain thar sáile. Cé nach féidir staidéar a dhéanamh ar an nGaeilge thar sáile mar chuid de bhunchéim sa Nua-Ghaeilge, is féidir le mic léinn le Gaeilge, agus le Gaeilge agus ábhar eile leathbhliain a chaitheamh in ollscoil thar lear sa tríú bliain. Sa chás sin, déanfaidh siad a gcúrsa Gaeilge in aon leathbhliain amháin i gColáiste na Tríonóide, agus caithfidh siad an leathbhliain eile thar lear ag díriú go huile is go hiomlán ar an ábhar eile atá idir lámha acu.
Study Modern Languages at Trinity
This short video provides an overview of the Modern Language degree programmes at Trinity College Dublin.
Course Details
Awards
B.A. Honours Bachelor Degree (NFQ Level 8)
CAO Information
CAO Points 346-601 (2023)
Number of Places
10 Places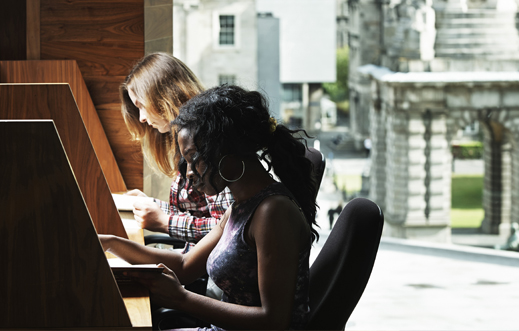 Admission Requirements
Leaving Certificate:
H4 in Irish
Advanced GCE (A Level):
Grade C in Irish
International Baccalaureate:
SL/HL Grade H5 in Irish
Course Fees
Click here for a full list of undergraduate fees.
Apply
To apply to this course, click on the relevant Apply Link below
EU Applicants
Read the information about how to apply, then apply directly to CAO.
Non-EU Applicants
Advanced Entry Applications
Read the information about how to apply for Advanced Entry, then select the link below to apply.
Testimonials
Do mholfainn an chéim seo go mór d'éinne a bhfuil suim acu sa Ghaeilge i gcoitinne – mar atá sí sa lá atá inniu ann agus mar a bhí fadó – go háirithe dóibh siúd atá fiosrach faoin áit as a dtáinig sí i gcomhthéacs na hEorpa. Tá Roinn na Gaeilge ar cheann de na ranna is cabhraí agus is spreagúla dá bhfuil ann, a chothaíonn comhfhoghlaim agus cairdeas i measc a mac léinn go léir, agus is mór an pléisiúr dom go rabhas in ann a bheith i mo chuid dá pobal le linn mo chúrsa fochéime anseo i gColáiste na Tríonóide.

Graduate