Overview
What is European Studies?
European Studies is a broad-ranging and integrated programme that offers students the chance to learn European languages, and also to study history and social sciences. This programme encourages students to think about our continent in all its complexity, and to analyse Europe's cultures, history, and politics.
Do you enjoy:
Learning languages?
Studying Europe's past?
Thinking about the current state of Europe?
European Studies: The course for you?
If you care about Europe's past and future, if you enjoy studying languages, and have an interest in history, politics, and the workings of contemporary society you will enjoy this course. European Studies is designed for students with a broad intellectual appetite, and who are interested in a range of disciplines and subjects.
European Studies at Trinity
European Studies at Trinity offers a unique and broad range of languages and subjects to study, and draws on the expertise and dedication of lecturers from a wide range of disciplines. Staff from different departments work together to deliver a fully-integrated programme that offers flexibility and choice for students. European Studies attracts students with strong potential from Ireland and abroad.
Graduate skills and career opportunities
The language skills and understanding of a variety of disciplines gained through European Studies allow our graduates to take up opportunities in a diverse range of careers. Recent graduates are employed in international organisations both in Ireland and abroad, in the EU, in the civil service and the diplomatic corps, in business, finance and marketing. Other popular career paths are in consultancy, teaching (in Ireland and abroad), translating and interpreting, journalism and tourism. Many students go on to do postgraduate courses.
Your degree and what you'll study
You will study two out of five available European languages: Spanish, French, German, Italian, Polish, or Russian (German, Italian, Spanish, Polish, and Russian can be studied from beginner level). Both languages are studied equally in the first two years, after which one becomes your Major, and the other your Minor language. As well as languages, you will study European history, the history of ideas, and social sciences (politics, economics, or sociology).
First and second years
In first year, you will study two chosen languages, the history of early modern Europe, an introductory module to the history of ideas, and you will take one introductory module in the social sciences (political science, sociology or economics).
In second year, you will continue to study two languages, study the history of Europe in the 20th Century, the history of ideas during the period of Enlightenment and Romanticism, and will choose from further options in history, politics, sociology, or economics.
Third and fourth years
The third year is spent at a university abroad studying through the language you choose as your Major language.
In the final year, language work focuses on your Major language while coursework for your Minor language concentrates mainly on comprehension and textual analysis. The core course in your final year is called 'Modernity and Society: Ideas and Culture in Europe since 1850'. Additionally, you will choose options from a wide range of modules from history, political science, sociology, economics and a number of culture and literature options from the language departments.
At all levels, you will be assessed by a combination of continuous assessment and exams. We use a mix of traditional and innovative continuous assessment methods: essays, project work, presentations, podcast creation. Language modules are traditionally assessed by written, oral and aural examinations. Final year students also write a Capstone project.
There are QQI/FET routes available for this course. Please see www.cao.ie for details.
Click here for further information on modules/subject.
Study abroad
A year or semester studying abroad is one of the highlights of a student's Trinity experience, and immersing oneself in the language and culture is also one of the most valuable ways of achieving fluency when you are studying a language. European students spend third year of study abroad in one of our partner universities.
Exchanges have been established with history and political science departments in universities in France (Paris, Strasbourg, Grenoble, and Bordeaux), Germany (Hamburg, Tübingen, Freiburg), Austria (Vienna), Spain ( Salamanca, Seville, Zaragoza and Alcala de Henares), Italy (Pavia, Siena and Milan), Poland (Kraków) and Russia (Moscow). The year abroad may entail additional expenses for students but support funding under the European Union's Erasmus scheme partially offsets this (with the exception of Russia, outside the Erasmus scheme).
Trinity College Dublin and Columbia University Dual B.A. Programme
European Studies is also available within the Dual B.A. Programme between Trinity College Dublin and Columbia University. Please note: The Dual B.A. is only open to Single Honours students. Joint Honours students cannot apply to the Dual B.A.. For more details, see www.tcd.gs.columbia.edu.
Applicants to the Dual BA Programme must apply by 2nd January 2024 for September 2024 entry. The admissions process includes a review of the applicant's academic history, letters of recommendation, an essay, and an interview conducted in English. Standardized test scores (SAT/ACT) can be submitted but are not required for 2024 entry. Applications are reviewed by a joint committee with representatives from both Institutions. EU applicants to the Dual BA Programme must also apply to and receive an offer from their chosen programme at Trinity through the Central Applications Office (CAO)
Study European Studies at Trinity
This is a presentation by Dr Jac Hayden giving an outline of the European Studies course at Trinity College Dublin.
Course Details
Awards
B.A.
CAO Information
CAO Points 567 (2023)
CAO Code TR024
Number of Places
45 Places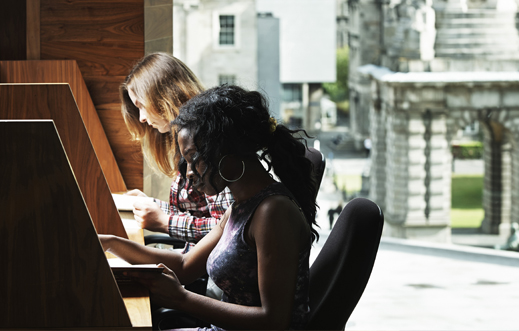 Admission Requirements
Students study two languages from French, German, Irish, Italian, Polish, Russian and Spanish.
German, Italian, Polish, Russian and Spanish are available from beginner level. No student may study more than one language as a beginner. It is not possible to combine Irish and Spanish.
Leaving Certificate:
H3 if presenting French
H4 if presenting any other language
Applicants must present with at least one European language (other than English and Irish) in the Leaving Certificate (or equivalent) at Grade of H3 or higher.
If candidates are presenting two or more languages, they must present at least one of French, German, Greek, Italian, Latin, Polish, Russian, Spanish, and they must attain at least the following grades: H3 if presenting French and H4 if presenting any other language.
Advanced GCE (A Level):
Grade B in one language other than English or Irish
Grade C in two languages other than English or Irish (as listed above)
International Baccalaureate:
HL Grade 6 in one language other than English or Irish
HL Grade 5 in two languages other than English or Irish (as listed above)
Apply
To apply to this course, click on the relevant Apply Link below
EU Applicants
Read the information about how to apply, then apply directly to CAO.
Non-EU Applicants
Advanced Entry Applications
Read the information about how to apply for Advanced Entry, then select the link below to apply.
Testimonials
I have had a great opportunity to take a broad variety of disciplines in European Studies, and then to specialise in subjects of particular interest to me. Staff and students in European Studies at Trinity come from a range of countries and backgrounds which provides a great context for study. I was delighted to have the chance to spend my third year at a university in Spain. I am going to use the knowledge and skills I have gained from European Studies as I begin my career working abroad.

Graduate