Linguistics (JH)
B.A. Honours Bachelor's Degree (NFQ Level 8)
CAO Points 522-600 (2023)
Overview
What is Linguistics?
Linguistics is the scientific study of language. Linguists investigate how language works; how patterns of sounds, words and sentences combine to convey meaning. Language is fundamental to nearly every aspect of human experience: how we communicate, our sense of identity, how we interact socially, how we think. Linguists explore all these areas and more. They study everyday language use, how it varies and changes geographically, socially and across time, and how children acquire language.
Even when they investigate specific languages, linguists are often trying to shed light on language in general. Some investigate how people acquire their knowledge about language and what this tells us about how the mind works. Many linguists investigate how languages vary across speakers, social groups and geographic regions, and some are involved in the documentation and maintenance of endangered languages. Some make computational models of speech and language based on collections of spoken and written language.
Do you enjoy…
Exploring and learning other languages and dialects?
Working out patterns from evidence?
Learning about the human mind?
Thinking about how individuals and societies interact?
Linguistics: The course for you?
Linguistics often appeals to students who are curious about language as one of the most fascinating aspects of human knowledge and behaviour. Perhaps you are interested in accents, dialects, or slang, or you are a good learner of languages, or you are intrigued by how language changes over time, or you wonder how humans manage to learn and produce language. Linguistics is also appealing to those who enjoy detailed, problem-solving analysis and careful argumentation. Students of Linguistics engage in evidence-based analysis of language, acquiring skills and techniques that allow investigation of different aspects of language structure such as sound, words and grammar. This involves key transferable skills in problem solving and critical thinking.
Linguistics at Trinity
This new undergraduate subject builds on a decades-long tradition of Linguistics teaching and research in the Centre for Language and Communication Studies (CLCS). Teaching is research-led: all members of the teaching team are engaged in state-of-the-art work in the various subfields of theoretical and applied linguistics. CLCS boasts a highly equipped Phonetics and Speech Laboratory providing a wide range of analytic empirical approaches to the study of the structure of spoken language, and a tie-in with the many ongoing research projects.
There is a strong postgraduate presence, including both Master's and Ph.D. students, and a lively research ethos, as well as opportunities to interact with other undergraduates in the School such as those in Clinical Speech and Language Studies and the Centre for Deaf Studies. Students are encouraged to participate actively in the wider scholarly activities of CLCS such as seminars and reading groups.
Pathways
The pathways available are Major with Minor and Joint Honours. There may also be an opportunity to take this subject up as a New Minor Subject from second year.
Graduate skills and career opportunities
A Joint Honours degree with Linguistics provides an excellent foundation for professions involving language-centred expertise, such as speech and language therapy; education, including language teaching; media; journalism; PR and advertising; IT including speech and language technology; translation and interpreting. Pathways for academic and research careers abound: Linguistics has natural affinities for areas like sociology, psychology, neuroscience, philosophy, and anthropology.
Training in Linguistics promotes the critical evaluation of evidence, logical and detailed analysis, and the formulation and presentation of arguments. Graduates will be able to take an objective view of theoretical and practical issues, formulate researchable questions and hypotheses, identify and implement appropriate research methods, and critically evaluate competing theories and frameworks.
Your degree and what you'll study
The Linguistics course concentrates in the first two years on core areas and concepts of Linguistics; in the final two years there is scope for specialisation and in some pathways greater optionality. Most teaching is in lecture or seminar format; phonetics and speech modules take place in a laboratory. Certain modules are supported by tutorials.
First and second years
In the first two years of the Linguistics course you will learn about many aspects of human language, including how sounds are produced and perceived (phonetics and phonology), how words are built (morphology), how words are combined to form sentences (syntax), how meanings are expressed (semantics).
Depending on your chosen pathway, you will be taking modules from among the following in the first year: Introduction to Linguistics I & II; Syntax I; Phonetics and Phonology I; Semantics I; and First Language Acquisition. In Year Two, students can take: Syntax II; Applied Linguistics I; Sociolinguistics; Phonology II; Morphology; Introduction to Sign Linguistics I; Phonetics and Phonology Lab; and Pragmatics I.
Third and fourth years
A wide range of modules in the third and fourth years offers deeper specialisation as well as exploration of applied and interdisciplinary topics. Depending on your chosen pathway, you will be taking modules from among the following in third year: Discourse Analysis; Research Methodology; Second Language Acquisition; Semantics II; Applied Linguistics II; Historical Linguistics; Phonetics II; and Introduction to Sign Linguistics II. In the fourth year, students focus on modules including: Multilingualism; Pragmatics II; Language Policy and Planning; Language Learning and Technology; Phonology III; Computational Linguistics; Syntax III; and Semantics III.
If you take Linguistics as a Major subject, you will complete a Capstone Project on a chosen topic in your final year. You will be assigned a supervisor to help you with topic selection and planning and to provide you with support in research and writing. The project is also supported by a third-year module in Research Methodology.
Otherwise, a wide range of assessment formats is used, including collection and analysis of data, take-home problems, classroom tests, research reviews, oral presentations, and some examinations.
Study abroad
Students have the opportunity to spend one or both terms abroad in third year on an Erasmus exchange. CLCS has connections with a large number of European universities with a strong record in Linguistics, including in Norway, Italy, the Netherlands, Spain, Austria, and France. For more information on study abroad destinations and requirements visit: www.tcd.ie/study/study-abroad
Study Linguistics at Trinity
This is a presentation by Dr Valentina Colasanti, director of Linguistics Joint Honours (JH) programme, giving an outline of Linguistics as a course of study at Trinity College Dublin.
Course Details
Awards
B.A. Honours Bachelor's Degree (NFQ Level 8)
CAO Information
CAO Points 522-600 (2023)
Number of Places
20 Places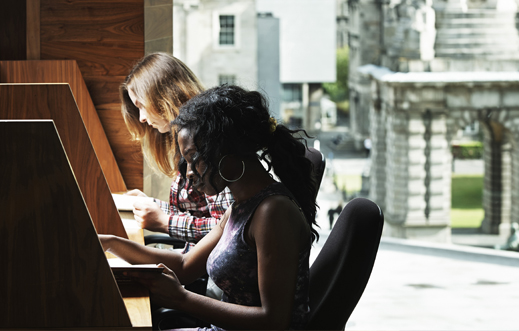 Admission Requirements
Leaving Certificate:
H6/O2 in a language other than English or Irish
Advanced GCE (A Level):
Grade D in a language other than English or Irish
GCSE:
Grade A in a language other than English or Irish
International Baccalaureate:
HL4/SL6 in a language other than English or Irish
Apply
To apply to this course, click on the relevant Apply Link below
EU Applicants
Read the information about how to apply, then apply directly to CAO.
Non-EU Applicants
Advanced Entry Applications
Read the information about how to apply for Advanced Entry, then select the link below to apply.