Italian (JH)
B.A. Honours Bachelor Degree (NFQ Level 8)
CAO Points 371-565 (2023)
Overview
Why study Italian?
Studying Italian opens the door to a beautiful new world. Italy holds up to 75% of the world's art treasures, has been home to some of the world's greatest writers and thinkers (Petrarch, Dante, Boccaccio, Machiavelli, Leonardo da Vinci, Galileo, Leopardi, Gramsci, Montessori), boasts fabulous food, fashion and design, and has a dynamic economy: fourth in the Eurozone and eighth (by nominal GDP) in the world. Having fluent Italian is extremely beneficial for the job market; as Italian is less common, you will stand out. You do not need to have studied Italian before; most students of Italian start as beginners.
Do you enjoy?
Becoming a global citizen, with the skills to face the job market with confidence?
Learning languages in small, friendly classes?
Being immersed in rich Italian culture and way of life?
Italian: The course for you?
Italian has been taught in Trinity since 1776. You join one of the longest traditions of teaching Italian in the world, one which includes alumni like Samuel Beckett and Douglas Hyde. We welcome beginners and advanced students. For beginners we offer accelerated language learning in a friendly and fun environment with highly skilled native teachers. For advanced, we provide one of the few dedicated advanced streams in Ireland to hone your skills. Native Italian speakers also join our programme: it provides a great foundation that opens a gateway to English-speaking economies and excellent job prospects.
Italian at Trinity
Your intensive language courses aim to support you in gaining fluency quickly. You will learn core skills (speaking, reading, writing, and listening) plus the art of translation. As well as language, you study a wide range of cultural courses. These include novels, poetry, theatre, cinema, art, as well as Italian history and contemporary politics. You can study Italy from medieval times (Dante Boccaccio, Petrarch and Machiavelli) to the 21st century.
Graduate skills and career opportunities
Advanced language and communication skills are in high demand – especially here in Ireland, a vibrant knowledge economy which depends on European and international trade. Our graduates develop successful global careers in management, law, journalism, charities, international business, translation, the arts, fashion, tourism, PR, diplomacy, finance, football management, teaching, and banking. Many of our graduates now live and work in, for example, Italy, France, Belgium, UK, USA, and Hong Kong.
You can build quickly on communication and language skills of a language degree, specialising once you are sure of your career direction. A short postgraduate course can take you into advertising, social media management, journalism, law, marketing, teaching, event planning, web development, operations management, research, and much more.
Your degree and what you'll study
At entry, Italian must be combined with one other subject. In later years you will be able to select additional subjects and electives. The degree offers you flexibility and choice.
First and second years
In first year, you follow an intensive course in Italian language. This includes grammar classes, conversation and listening practice, and learning how to write in Italian and produce basic translations. We provide about eight classroom hours per week, mostly devoted to language learning. You will also be introduced to Italy's history and to some literature and cinema. In second year you continue language classes and explore Italy's rich literary tradition including Dante's Inferno, as well as modern Italian culture, history and Italian cinema.
Third and fourth years
The third and fourth years focus on major authors of the medieval, Renaissance and 20th and 21st centuries, as well as contemporary Italian politics and life. You also study optional modules. In previous years, for example, we offered these options: Italian Drama 1470s-1530s; Italian Cinema 1900-2018; Gendered Narratives in 20th Century Italian Literature; The Poetry of Michelangelo; and Introduction to Second Language Teaching and Learning.
In your final year the programme includes advanced modules on Italian language varieties, cultural studies, and key literary texts and films. The final-year Capstone project, allows you to specialise in the area you find most interesting, supported by regular one-to-one meetings with a professor who will share their expertise with you.
At all levels, you will be assessed by a combination of continuous assessment and exams. We use a mix of traditional and innovative continuous assessment methods: essays, project work, presentations, book reviews and dossiers, podcast creation.
There are QQI/FET routes available for this course. Please see www.cao.ie for details.
Click here for further information on modules/subject.
Study abroad
A year or semester studying abroad is one of the highlights of the Trinity experience. Immersing yourself in Italian language, culture, life (and sunshine!) is a valuable way of achieving fluency. Single Honours students have a compulsory third year of study abroad and other students are encouraged to spend a year or a semester in their third year in one of our partner universities. At a minimum, you will be required to spend two months in an Italian-speaking country prior to taking your final exams. We currently have exchange agreements with the Universities of Bologna, Trieste, Pavia, and Rome. For more information on study abroad destinations and requirements visit: www.tcd.ie/study/study-abroad
Study Modern Languages at Trinity
This short video provides an overview of the Modern Language degree programmes at Trinity College Dublin.
Course Details
Awards
B.A. Honours Bachelor Degree (NFQ Level 8)
CAO Information
CAO Points 371-565 (2023)
Number of Places
8 Places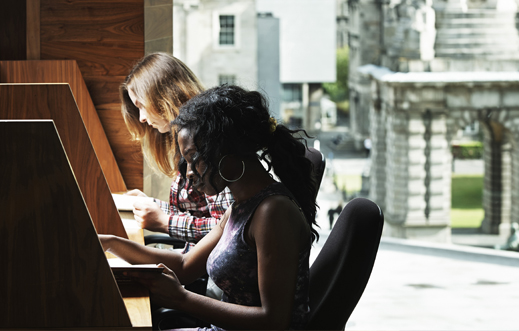 Admission Requirements
Leaving Certificate:
H4 in Italian or, for beginners, in a language other than English
Advanced GCE (A Level):
Grade C in Italian or, for beginners. in a language other than English
Course Fees
Click here for a full list of undergraduate fees.
Apply
To apply to this course, click on the relevant Apply Link below
EU Applicants
Read the information about how to apply, then apply directly to CAO.
Non-EU Applicants
Advanced Entry Applications
Read the information about how to apply for Advanced Entry, then select the link below to apply.
Testimonials
Italian is a huge asset and helped to open many doors early in my career. Being a niche skill, it gives rise to all sorts of experiences which would not normally be available to most Arts graduates. With self-belief, luck and desire to learn quickly, Italian graduates can soon find themselves managing complex business situations and given responsibilities far greater than offered to their peers. In my own case, I was made Ryanair Country Manager for Italy at the age of 26. I would never have had this opportunity so early on, were it not for my knowledge of Italian gained at Trinity.

Graduate
Testimonials
I decided to study Italian because of my curiosity for the language and culture. Four years on, I am pleased to say that it was one of the best decisions I have made to date. I found the Italian Department to be consistently encouraging with regard to our studies, and their passion and enthusiasm for their subject was inspiring. I would highly recommend this course to anyone who would like to discover more about this fascinating country, its people and their language.

Graduate