Overview
What is Human Health and Disease?
The Human Health and Disease degree trains students for work in the field of biomedical research.
It brings to life the fascinating connections between structure and function in the human body and explores the health and disease continuum in detail, including teaching on how medical therapies act to treat or even prevent disease. As an example, understanding brain structure and biochemistry allows us to appreciate how neurons communicate and this in turn is helping biomedical researchers and clinicians to identify new and effective ways to treat and prevent diseases such as dementia.
A central feature of the learning experience is the development of a core set of real-life, transferable skills in the following areas: laboratory technique, group project work, data analysis, public presentation, report writing, research methodology and critical thinking.
Human Health and Disease: The course for you?
This course will suit you if you are interested in human biology and want to gain an in-depth, scientific understanding of the structure and function of the human body in health; the signs and symptoms of disease; the molecular basis of disease and cutting edge therapeutics in treating disease.
Biomedical research is a fast-paced discipline and our course delivers an up-to-date appreciation of current knowledge in this field and encourages students to foster their analytical study skills and critical thinking to keep up to date with the latest developments.
Human Health and Disease at Trinity
This is a programme of multidisciplinary study and training in basic and applied biomedical science provided by the School of Medicine in partnership with the School of Biochemistry and Immunology, with collaborators from across Trinity and beyond.
The majority of classes take place in the excellent teaching and laboratory facilities in Trinity Biomedical Sciences Institute and in final year, students will conduct a research project in an academic research laboratory in this institute, on main campus or in one of the affiliated teaching hospitals.
Graduate skills and career opportunities
The course emphasises the crucial links between the basic and applied biomedical sciences and addresses how advances in both are translated into improvements in patient care and the health of the wider population. The skills developed during this course make graduates ideally suited to a broad range of career opportunities.
Graduates of Human Health and Disease are well-placed to pursue postgraduate M.Sc. degrees in a wide range of biomedical sciences, PhD research leading to careers in biomedical research, and for graduate entry to study Medicine. Career prospects also include employment in the pharmaceutical and biotechnology industry and in health promotion, education and policy.
Your degree and what you'll study
The degree is structured around three main interconnecting themes, namely: 1) Basic human biology 2) Applied biomedical science and 3) Transferable skills and Trinity graduate attributes.
First and second year modules
You will study the structure and function of the human body from a 'molecule to man' perspective through lectures, tutorials and laboratory classes in cell biology, biochemistry, physiology and anatomy (including dissection). Modules based on critical thinking, problem-based learning, presentation skills and research and statistics will further contribute to the development of a core skill set, as outlined above.
Third and fourth year modules
In the third and fourth years, a combination of modules which cover the nature, classification, diagnosis, prevention and treatment of disease are taken. Disease is considered from the basic molecular level through to its context in society in terms of research and public health priorities and correlates. Delivery of clinically focused material by specialist clinicians is included.
As a fourth-year student, you will undertake advanced modules on the molecular basis of disease and cutting-edge advances in biomedical science. A major component of the fourth year will be a comprehensive laboratory-based project in biomedical research supervised by leading researchers in Trinity and its affiliated teaching hospitals in Dublin. It may be possible for students may apply for selection via a competitive process to undertake this project at an ERASMUS partner institute.
Project topics are varied and include, to name but a few, cancer biology, neuroscience, tissue engineering, gastrointestinal disorders, autoimmune disease, epidemiology and public health research.
Click here for further information on modules/subject.
Assessment
Individual and group-based continuous assessment of laboratory work, group project work and scientific writing skills accompanies semesterised examinations.
Study Human Health and Disease at Trinity College Dublin
In this video, Dr. Eric Downer, Assistant Professor and Director of the BSc in Human Health & Disease, will give an overview of the BSc in Human Health & Disease programme at Trinity College Dublin.
Course Details
Awards
B.Sc.
CAO Information
CAO Points 601 (2021)
CAO Code TR056
Number of Places
35 Places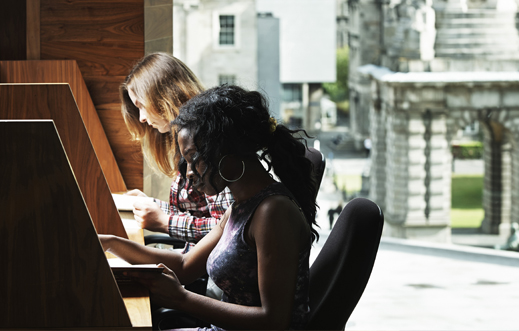 Admission Requirements
Leaving Certificate H4 Biology
H4 In one of physics, chemistry, physics/chemistry
Advanced GCE (A-Level) Grade C Biology
Grade C In one of physics, chemistry
International Baccalaureate HL Grade 5 Biology
HL Grade 5 in one of physics, chemistry
Course Fees
Click here for a full list of undergraduate fees.
Apply
To apply to this course, click on the relevant Apply Link below
EU Applicants
Read the information about how to apply, then apply directly to CAO.
Non-EU Applicants
Advanced Entry Applications
Read the information about how to apply for Advanced Entry, then select the link below to apply.
Testimonials
---
What our graduates say
Hannah Prendeville
"I chose to study Human Health and Disease because of its interdisciplinary nature, to gain an understanding of a broad range of scientific themes and to inspire and direct me to where I am today. Looking back, I can appreciate how this course has helped me further my career, but would also look impressive to employers in a variety of sectors. For me, the research project provided invaluable laboratory experience but also taught me transferrable skills in presentations, statistical analysis and project management which gives its graduates that advantage to succeed in many professions.
The Human Health and Disease B.Sc. ignited my excitement for scientific research, and as a current PhD research student, I can confidently say that it appropriately equipped me to succeed in a research career."