Chemistry: Chemical Sciences
(Moderatorship) B.A. Honours Bachelor Degree (NFQ Level 8)
Overview
Students who wish to study Chemistry apply to the Chemical Sciences Stream (TR061) and at the end of the second year may select Chemistry as their specialist area for the third and fourth years.
What is Chemistry?
Chemistry is a creative science that is used to develop everything from new materials for superconductors and new batteries, to new drug molecules for the pharmaceutical industry. Without it, many modern science disciplines, such as materials science, molecular biology and environmental science, would not be possible.
Chemistry: The course for you?
If you are strong in science, if you enjoy laboratory experiments and want to work in industry or research after university, and if you are innovative, creative and logical then you will be well suited to this course.
Do you enjoy:
Finding out how things work?

Carrying out laboratory experiments?

Analysing results and coming up with a theory?
Chemistry at Trinity
The School of Chemistry at Trinity is ranked number 1 in Ireland and in the top 100 worldwide (QS World University Rankings by Subject 2020). Our Chemistry degree is designed to provide you with the practical and analytical skills needed for a career in research and industry. Many of the School's academic staff carry out research at the cutting edge of their fields in areas as diverse as nanoscience, energy and drug design. In fourth year, you will have the opportunity to undertake a significant Capstone research project either in the School or abroad at one of the many third level/research institutes with which the School has agreements.
Graduate skills and career opportunities
A chemistry degree combines specialist practical training with analytical, problem solving and presentation skills and is excellent preparation for graduates considering a diverse range of career paths. Trinity's chemistry graduates are highly sought after by the chemical and pharmaceutical industries and graduates have worked in companies such as Henkel, Pfizer, GlaxoSmithKline, Johnson & Johnson, and Bristol-Myers Squibb. Patent offices, government advisory and information services, food science, public analytical laboratories, schools and third-level institutes also employ our chemists. Our graduates can also pursue postgraduate degrees either in the School of Chemistry or in other world-class research institutes. Historically, chemistry graduates have been in demand in a wide range of non-scientific fields including the financial sector.
Your degree and what you'll study
Following foundation- and core-level modules in first and second year chosen from a number of science subjects (e.g. physics or biology) along with chemistry and mathematics, you will expand your knowledge of chemistry in third and fourth year, taking more advanced modules in organic, inorganic and physical chemistry. In fourth year, you will carry out a Capstone research project, either in one of the research labs in Trinity or abroad. Graduates often cite this as the most memorable and rewarding part of their undergraduate degree. You will have the opportunity to study the fundamentals of modern chemistry, whilst developing your interests in specific topics such as bio-inorganic/organic chemistry, solid-state materials, interfacial and environmental chemistry.
Click Here for further information on modules/subject.
Study abroad and internship opportunities
The School of Chemistry has exchange agreements with a large number of universities and research institutes where students may carry out their final year Capstone research projects, in places such as Vienna, Berlin, Bologna, Toulouse, and Utrecht, North America and Australia. A limited number of places are also available in China. The areas of research are wide-ranging, including cancer chemotherapy and DNA chemistry, device fabrication and materials processing, homogeneous catalysis, supramolecular chemistry and computational chemistry. Between third and fourth year, some students also take a year-long internship in a pharmaceutical company to enhance their knowledge of chemistry and their practical skills.
Study Chemical Sciences at Trinity College Dublin
The TR061 Chemical Sciences degree programme is the new entry pathway to the study of Chemistry, Nanoscience, Medicinal Chemistry, Chemistry with Biosciences and Chemistry with Molecular Modelling at Trinity College Dublin.
Course Details
Awards
(Moderatorship) B.A. Honours Bachelor Degree (NFQ Level 8)
CAO Information
CAO Code TR061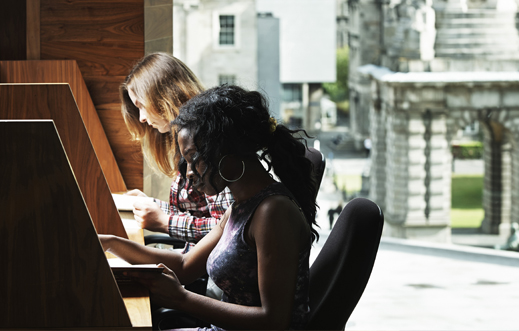 Apply
To apply to this course, click on the relevant Apply Link below
EU Applicants
Read the information about how to apply, then apply directly to CAO.
Non-EU Applicants
Advanced Entry Applications
Read the information about how to apply for Advanced Entry, then select the link below to apply.
Testimonials
---
What our graduates say
Patrick Hull
"I graduated with a degree in Chemistry. My final year research project involved exploring new materials for clean energy production. This first-hand experience gave me a real insight into the process involved in preparing research for publication and provided me with the spark to embark on my future career. After graduation, I started as a publishing editor with the Royal Society of Chemistry, working on the production and publication of cutting-edge chemistry research journals. My job involves technical editing and proof reading of manuscripts. My undergraduate degree at Trinity placed a strong emphasis on critical thinking and problem-solving, something that has really prepared me for my role."
Eva-Maria Dürr
"In school, I always enjoyed chemistry and wanted to study it at university. But I felt like I didn't know enough about other sciences to commit to chemistry yet, so the general science course in Trinity was perfect for me. Studying in a world-class university and being taught by brilliant researchers has been a fantastic experience and after two years of general science, I knew for certain that I wanted to do chemistry. Chemistry to me means trying to understand the world at a very detailed level and apply that knowledge, for example in drugs or new materials. I love how complex phenomena can be understood at a molecular level and being a chemist has definitely changed my outlook on the world."