Botany: Biological and Biomedical Sciences
(Moderatorship) B.A. Honours Bachelor Degree (NFQ Level 8)
Overview
Students who wish to study Botany for their degree apply to the Biological and Biomedical Sciences Stream (TR060) and may select Botany as their specialist subject for the 3rd and 4th years at the end of the second year.
What is Botany?
Botany is the scientific study of plants. These studies are pursued in the field, in the botanic garden and in laboratories. Plants range from the largest forest trees to single celled algae of fresh and marine waters. The study of plants is of vital importance; they are the source of the food we eat, the oxygen we breathe, most of the medicines we use, and are core to the understanding of the processes of global climate change. Dealing with the threats from global climate change will be one of the biggest challenges of this century. Human manipulation of plants in the future will need to provide food and energy for an expanding human population, whilst conserving the biodiversity of living organisms and integrity of habitats.
Botany: The course for you?
If you are interested in the future of the planet and life on it then Botany is for you. Almost no other course offers you the opportunity to study the natural, living World in the field and laboratory. Our graduates enter into a large range of careers and, as there is a global shortage of plant scientists find employment in a huge range of careers.
Botany at Trinity
Trinity's Botany course is unique in content in Ireland and uncommon in a European context. Uniquely, we integrate small-group teaching, field-based activities and the laboratory. Field-based teaching in ecology, physiology and plant evolution is at its heart: We consider both the whole plant and how it works in a natural context. All staff are research active with high profile, strong research interests in Ireland and the tropics. Consistently, our graduates have rated our course very highly indeed: we believe that our course offers you the best possible training in Ireland for your future career.
Graduate skills and career opportunities
When you graduate you can move directly into a career related to plant biology, such as nature conservation, environmental consultancy, environmental protection, plant evolutionary biology or agricultural research as well as teaching at second level. Our recent graduates are employed in many organisations, including Teagasc, the OPW, Botanic Gardens at Glasnevin, Kew, Edinburgh, Oman and Missouri, Barclay Crop Protection and the UK Carbon Capture and Storage Research Centre. Alternatively, you might decide to go on to take a higher degree in Trinity or elsewhere. The skills you acquire in the third and fourth years are also widely applicable in business and industry.
Your degree and what you'll study
Trinity specialises in the study of the evolution and conservation of all forms of plant life and their response to global climate change impacts.
Courses include:
Plant biodiversity and conservation, Ecology, Plant physiology and global climate change, Long-term environmental change, Plant molecular biology, Pollination biology, Soil Science, Economic Botany.
The laboratories and greenhouses on Trinity campus, the Trinity Botanic Garden and the internationally recognised Herbarium support teaching. All courses are derived from active research lines and emphasis is placed on your own Capstone research project in the fourth year.
All students are given the opportunity to participate in field courses which take place in Ireland, the Canary Islands (Gran Canaria) and the tropics (Kenya).
Third year
Mandatory modules: Plant Physiology; Fundamentals of Ecology; Plant Molecular Biology; Plants and the Irish Environment; Seminars, tutorials and workshops; Angiosperm Diversity and Systematics; Environmental Dynamics; Field Skills in Plant and Environmental Science (Canary Islands); Soil Science; Economic Botany; Experimental Design and Analysis; Diversity of Plant Morphology. Optional modules: Entomology; Trinity Electives.
Fourth year
Mandatory modules: Capstone research project; Plant Conservation and Biodiversity; Data Analysis; Global Environmental Change; Seminars, tutorials and workshops; Environmental Impact Assessment; Estuarine Ecology; Vegetation Description and Analysis; The Evolution of Plants and Plant Atmosphere Interactions; Plant Environment Interactions. Optional modules: Restoration Ecology and re-wilding; Tropical Ecology Field Course (Kenya); Plant-Animal Interactions; Plant Breeding and Biotechnology.
Click here for further information on modules/subject.
Study abroad
Two of the field courses on offer are based abroad and there are potential opportunities available to study abroad in institutions with which we have a Memorandum of Understanding e.g. in Thailand.
Do you enjoy:
Exploring and understanding your environment?
Doing laboratory work?
Exploring new places?
Study Biological and Biomedical Sciences Programme at Trinity College Dublin
Biology is the study of life in all its complexity and diversity. In the Biological and Biomedical Sciences programme, we explore how life first arose - the properties that distinguish living organisms from inert matter - how living organisms function and how the vast diversity of life forms was generated - how organisms reproduce themselves and how they interact both with each other and with the environment.
Course Details
Awards
(Moderatorship) B.A. Honours Bachelor Degree (NFQ Level 8)
CAO Information
CAO Code TR060
Course Director
Professor Mike Williams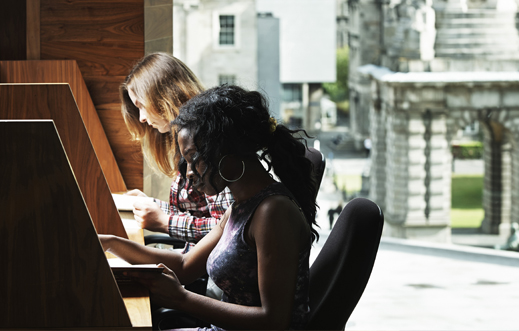 Apply
To apply to this course, click on the relevant Apply Link below
EU Applicants
Read the information about how to apply, then apply directly to CAO.
Non-EU Applicants
Advanced Entry Applications
Read the information about how to apply for Advanced Entry, then select the link below to apply.
Testimonials
---
What our graduates say
Anne Doyle
"The course is one of very few science courses where students have the opportunity to embark on inspiring field trips to Gran Canaria and Kenya. It is so varied that it covers many areas in biology including biochemistry, genetics, ecology, conservation and physiology. I accumulated a tremendous range of skills ranging from laboratory techniques, field research, reporting to knowledge of national and European Law. The important thing to remember when considering Botany is that you will graduate as a scientist and not as a gardener."
Kerry Ryan
"I knew I wanted to choose a field that would allow me to contribute to the ongoing battle with climate change and sustainable agriculture, and I found that in Botany. This is a course for aspiring natural scientists and environmentalists, and you will graduate as a fully-fledged plant biologist, not a horticulturalist. This course has given me so many skills from a proficiency in fieldwork at home and abroad, to lab techniques in biotechnology and microscopy, to a good foundation in statistical analysis. The reasonably sized class allows you connect with your fellow plant biologists and become a strong team player, while also building a close professional relationship with your lecturers. The opportunities that lie before me with this degree behind me are endless."