Overview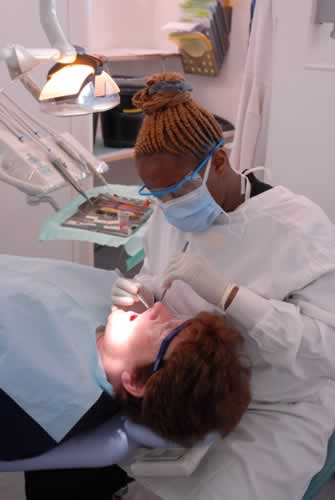 What is a Dental Hygienist?
The dental hygienist works closely with other dental team members and healthcare professionals. Patients must first be examined by a dentist who will then indicate the treatment to be carried out by the dental hygienist. The dental hygienist focuses on preventative oral care for both children and adults, including those with special needs. Dental hygienists treat patients in the clinical setting to prevent or control periodontal (gum) disease and dental decay. They also engage in oral health promotional activities with individuals, targeted groups and other health care teams, providing advice and counselling in relation to diet and lifestyle habits such as smoking.
Dental Hygiene: The course for you?
If you have an interest in working in oral health, and particularly preventative oral health, then this course is right for you. You will need to be able to develop good patient care skills, so an empathetic personality and good communication skills are important. You need to be a good team player and show initiative to achieve the best for people in your care.
Career opportunities
The Diploma in Dental Hygiene conferred by Trinity entitles graduates to register immediately after graduation as a dental hygienist on the Register of the Irish Dental Council. This registration is mandatory for working as a dental hygienist in Ireland.
Most dental hygienists will work in general dental practices or within the public health service. The opportunity exists to teach or become involved in research. The opportunity to work abroad also exists but may require you to sit some local examinations in the country of choice. Further courses of study are available to dental hygienists, including the Diploma in Orthodontic Therapy.
Your diploma and what you'll study
This two-year course is based in the Dublin Dental University Hospital at Trinity. It has academic, project-based and clinical components which are carried out in the Dublin Dental University Hospital, Health Services Executive and general hospital settings. Emphasis is on small-group interactive learning, health promotion projects, evidence-based learning, and clinical practice. You will be integrated with undergraduate dental science students and dental nursing students for some elements of the programme.
First year modules
Introduction to Applied Clinical Science

Introduction to Clinical Practice

Clinical Practice and Health Promotion
Second year modules
Health Promotion

Evidence Based Practice

Clinical Practice
After qualifying as a dental hygienist, you will be able to:
Describe the role of the dental hygienist and function within a dental team in oral health promotion and the provision of primary health care

Plan, implement and evaluate oral educational activities for groups and individuals

Carry out procedures to measure and assess the levels of oral health and oral hygiene

De-bride and polish the teeth

Place fissure sealants

Apply fluoride-containing preparations and desensitising agents to the teeth

Recognise abnormalities in the mouth and inform the dentist

Take dental radiographs

Administer local anaesthetic for dental hygiene procedures

Place temporary dressings and re-cement crowns temporarily
Click here for further information on modules/subject.
Assessment
Assessment is by a combination of written assessments and examinations, objective structured clinical examination (OSCE), a community-based health education project, competence tests in various clinical procedures, completion of various logbooks, clinical credits demonstrating a reasonable level of patient care, and a final written and clinical examination.
School of Dental Science
Overview of UG programmes in the School of Dental Science, delivered by Derek Sullivan
Course Details
Awards
Diploma (NFQ Level 7)
CAO Information
CAO Points 553 (2022)
CAO Code TR802
Number of Places
8 Places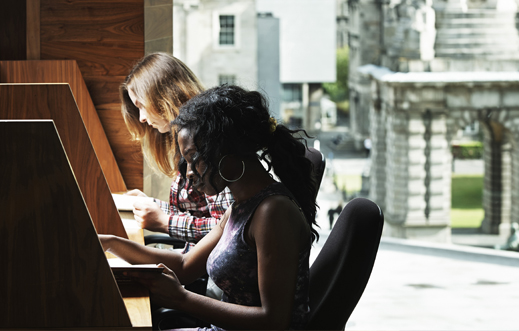 Admission Requirements
Leaving Certificate
Applicants are required to present six subjects including:

English, mathematics, and one of physics, chemistry, biology, agricultural science or physics/chemistry.
Of the six subjects presented, two must be of a standard of at least grade 4 on higher Leaving Certificate papers. The remaining four subjects must be presented to a standard of at least grade 6 on ordinary Leaving Certificate papers
EU Mature Students
Applications may also be considered from mature applicants who do not satisfy the academic entry requirements but can demonstrate appropriate experience relevant to the course.
All offers of admission to this course are made subject to infectious disease testing. See Health Screening requirements
Students will be required to undergo Garda Vetting, see https://www.tcd.ie/students/orientation/undergraduates/garda-vetting.php for further details.
Course Fees
Click here for a full list of undergraduate fees.
Apply
To apply to this course, click on the relevant Apply Link below
EU Applicants
Read the information about how to apply, then apply directly to CAO.
Non-EU Applicants
Advanced Entry Applications
Read the information about how to apply for Advanced Entry, then select the link below to apply.