Overview
What is a Midwife and Midwifery?
The term 'midwife' means 'with woman'.As a midwife, you will be helping women and their families at one of the most crucial times of their lives, supporting the woman during pregnancy, childbirth and the post-natal period. Midwives play a vital role in promoting and maintaining health, facilitating normal childbirth and helping women make informed choices about their care. The midwife is the key professional providing continuity of care and promoting choice and control to women in pregnancy and birth, and to women and their babies following birth. The core concepts of the midwifery profession are of:
Normality: Childbirth is viewed as a normal event in the life cycle, a normal healthy event

Woman-centred: The focus of midwifery practice is pregnant women and their families and delivering care in woman-centred maternity services.

Respect: Midwifery care is delivered in a manner that respects the uniqueness and dignity of each person regardless of culture or religion.

Partnership: Partnerships between the woman and the midwife is fundamental to midwifery practice. It is based on mutual trust, support and collaboration, which facilitates informed choice and decision-making and the empowerment of both the woman and the midwife.

Client first: Decisions about an individual midwife's scope of practice should always be made with the woman's and her family's best interests foremost and in the interest of promoting and maintaining best quality maternity services for women and their families.

Evidence based: Midwifery practice is based on the best available evidence.

Advocacy: Midwifery practice involves advocacy for the individual woman and her family.
Midwifery: The course for you?
Midwives often describe their job as 'privileged'. The role they have in preparing women for the birth of new life makes them a vital presence during all stages of pregnancy, labour and the early postnatal period.
If you want a rewarding and respected career with great employment and travel opportunities, then the professional course in midwifery could be for you.
Midwifery at Trinity
The School of Nursing and Midwifery, Trinity College, has a world renowned reputation and courses are taught by academics at the top of their profession. The School is ranked 1st in Ireland and in the top 50 universities in the World in the QS World University Subject rankings 2021. You will have the opportunity to meet and mix with students from Ireland and abroad and form cohesive bonds throughout your time with us. Midwifery students are taught theory predominantly in the School of Nursing and Midwifery building on D'Olier Street, which is a wonderful historic building in the heart of the capital. The School is a great place to learn and interact with classmates and, with its close proximity to Trinity's main campus, midwifery students are never far from the centre of student life. While on clinical placements, you will be supervised by highly skilled midwives who have been specially prepared to guide and direct your learning.
We also offer opportunities to study abroad and have a large suite of postgraduate courses available to our graduates to facilitate further study needs.
Graduate skills and career opportunities
On completion of this course, the student will be eligible to apply for registration as a midwife on the midwives division of the Nurses and Midwives Register with the Nursing and Midwifery Board of Ireland. The course offers an excellent foundation for career advancement in midwifery and further health related studies. It facilitates learning across wide and varied experiences and promotes flexibility for employment within and outside the health services.
There are QQI/FET routes available for this course. Please see www.cao.ie for details.
Click here for further information on modules/subject.
Your degree and what you'll study
This four-year course will cover such areas as:
Midwifery practice – Knowledge and skills; Communication and interpersonal skills; Professional, personal, ethical and legal issues; Knowledge base for midwifery practice to include: biological sciences, psychology, pharmacology, non-pharmaceutical approaches; Social theory for midwifery practice; Research; Health promotion; Maternal and social care services in Ireland.
You will begin your first midwifery clinical placement in October of the first year of the course. The first three years combine learning in university and clinical midwifery practice in the maternity hospitals and will take place during the academic year with the usual academic holidays. The final year will include a 36-week period of internship in midwifery practice.
The majority of the theoretical component of the course will be taught in the Trinity School of Nursing and Midwifery building, which is located on D'Olier Street, minutes from the main campus. Classes are also held on other sites including the main Trinity College and in the Trinity Centre for Health Sciences in St. James's Hospital. Teaching methods include lectures, small-group teaching, tutorials and practice classes.
The course is offered in partnership with two linked maternity care providers: The Coombe Women and Infants University Hospital and The Rotunda Hospital. Each midwifery student will be allocated all of their midwifery clinical placements throughout the four years at one of these maternity hospitals. Some placements may also occur in other sites including the Midlands Regional Hospital, Portlaoise.
You will be required to complete clinical placements each year, which will consist of 30-35 hours (approximately) supernumerary practice per week in a practice setting. Midwifery students will also undertake other clinical placements, for example, community midwifery, mental health, medical and surgical. The final year will include a 36-week period of internship in clinical midwifery practice.
Assessment
Assessment of learning in midwifery practice is an important component of the course and will take place throughout the course.
Optional international placements/opportunities during training
The Erasmus programme enables students to study at another European university as part of their university degree. This is an exciting opportunity for students to experience a core clinical placement in another European Union healthcare system for a maximum period of eight weeks duration. Erasmus exchange takes place in semester two of second year and semester one of third year. Current Erasmus partners include (dependent upon profession or nursing discipline): Turku University of Applied Sciences, Finland; University of Malta; LUND University, Sweden; University College of Northern (UCN) Denmark Aalborg, Denmark; Hanze University of Applied Sciences, Groningen, Netherlands; Maastricht University Netherlands; Non-European sites are planned from 2022 depending on Covid related travel restrictions.
There are also summer international opportunities students can apply for such as volunteering in Africa. We currently offer a Scholarship for a short summer programme in the United States and there are plans to expand this to Hong Kong in 2022. Collaborative Online International Learning Opportunities are also provided for our high achieving nursing and midwifery students.
Study Nursing or Midwifery at Trinity College Dublin
This is a short presentation by Dr Damien Brennan giving an overview of the Nursing and Midwifery courses available at Trinity College Dublin.
Course Details
Awards
B.Sc. (A.Obs.)
CAO Information
CAO Points 520 (2021)
CAO Code TR913
Number of Places
44 Places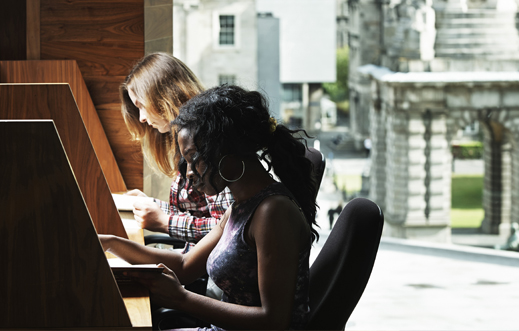 Admission Requirements
This programme is not open to non-EU applicants. Please refer to this page to determine if you are considered a non-EU applicant.
Leaving Certificate O/H6 Mathematics
O/H6 In one of biology, physics, chemistry, physics/chemistry or agricultural science
GCSE Grade C/5 mathematics
Grade C/5 in one of biology, physics or chemistry
See Health Screening requirements
Students will be required to undergo Garda Vetting
Note for mature applicants:
Applications must be received by the CAO by 1 February of the proposed year of entry.
You are not required to submit a mature-student supplementary application form to Trinity.
Apply
To apply to this course, click on the relevant Apply Link below
EU Applicants
Read the information about how to apply, then apply directly to CAO.
Get in Touch
Telephone Number
+353 1 896 2692
Email
Website