Civil, Structural, and Environmental Engineering
Overview
What is Civil, Structural and Environmental Engineering?
Civil, Structural and Environmental Engineering is a very diverse and broad discipline. It offers graduates the chance to work on projects that improve people's lives. These include the design of better transport systems, looking after the environment, constructing new buildings and bridges and creating the infrastructure on which society depends. Civil engineers are responsible for running many of the world's largest businesses and public agencies. The skills needed to be a good civil engineer are a logical and systematic approach, good problem-solving and creative abilities, backed up by a mathematical and scientific mind. In addition to these skills a civil engineer needs to be imaginative and inquisitive.
Civil Engineering
Civil engineers are responsible for the planning, design, and operation of our cities and infrastructure. These include user-centred and integrated transport systems and renewable and sustainable energy systems, as well as a myriad of support systems located underground.
Structural Engineering
Structural engineering involves the design and construction of many types of structure, including buildings, bridges, stadiums, and wind turbines. Structural engineers ensure that a building is safe for the area in which it is built and for its intended purpose. It must also be attractive, economical and have a minimum impact on the environment.
Environmental Engineering
Environmental engineers design the systems that provide us with clean water, manage our waste and deal with pollution in air, land or water. Environmental engineers also optimise our use of energy and natural resources, minimise industrial Impacts on people and nature, and ensure that development happens in a sustainable way
Graduate skills and career opportunities
Most civil engineering graduates start their careers with engineering consultants working in infrastructure and building design, energy, environmental protection and transport management such as Arup, Atkins, Jacobs and construction companies such as BAM, Sisk. Civil engineers are also often employed in financial services, management consultancy, law firms and in corporate business. The numerical and problem-solving skills and technical expertise of civil engineers are broad based and make them very attractive employees in many different industries.
Your degree and what you'll study
In third, fourth and M.A.I. (fifth) years, students are offered modules in Structural and Geotechnical Engineering, Environmental Engineering, Transportation and Sustainable Energy.
A significant amount of teaching takes place in the laboratory, and the course involves a lot of project work. In third year, students undertake site visits to civil engineering projects, iconic engineering structures and to areas of environmental interest. This includes a one-week technical visit to an international location. Recent trips have included visits to London and Barcelona.
In the third and fourth year projects, students work in small groups to design a building or piece of major infrastructure. There is also the opportunity to undertake an internship in industry or with a research group or to participate in the Unitech, Cluster or Erasmus exchange programmes.
The optional fifth year allows students to study toward the master's degree qualification at a more advanced level, including an individual Capstone research project and thesis.
Click here for further information on modules/subject.
Study Civil, Structural and Environmental Engineering at Trinity College Dublin
Overview of the Civil, Structural and Environmental Engineering stream in the school of Engineering, delivered by John Gallagher.
Course Details
CAO Information
CAO Points 544 (2023)
CAO Code TR032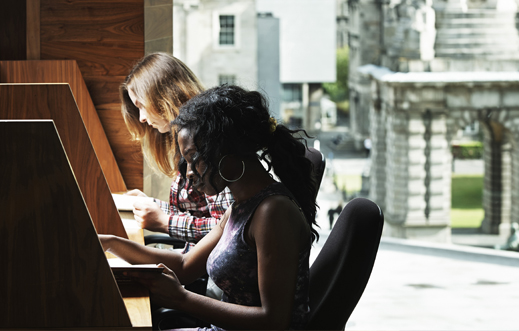 Admission Requirements
Leaving Certificate:
H4 Mathematics
Advanced GCE (A Level):
Grade C Mathematics
International Baccalaureate:
HL Grade 5 Mathematics
Apply
To apply to this course, click on the relevant Apply Link below
EU Applicants
Read the information about how to apply, then apply directly to CAO.
Non-EU Applicants
Advanced Entry Applications
Read the information about how to apply for Advanced Entry, then select the link below to apply.
Testimonials
Working now as a Civil Engineer, the degree and knowledge I gained during my time in Trinity still stands to me today. Having an appreciation of the different areas within engineering is extremely useful when working in the field, which is exactly what this course provides even after you specialise. For me, having this understanding has been extremely beneficial on recent projects, as it allows me to manage large projects as well as continuing with detailed design elements

Graduate