Geoscience: Geography and Geoscience
B.A. (Moderatorship) Honours Bachelor Degree (NFQ Level 8)
Overview
Geoscience
Students who wish to study Geoscience apply to the Geography and Geoscience stream and may select Geoscience as their specialist area for the third and fourth years at the end of the second year.
What is Geoscience?
Geoscience is a multi-disciplinary course designed by leading research scientists in response to critical challenges facing the earth system in the 21st century. It combines the study of geology, geography, chemistry, physics and biology, to develop a complete understanding of how the earth works. Geoscientists analyse the changing climate, predict earthquakes and volcanic eruptions, find supplies of energy and raw materials, maintain clean air and water, measure the motion of the earth's crust and oceans, and reconstruct the evolution of rocky planets and life.
Geoscience: The course for you?
If you like science, enjoyed taking science and geography at school, care about the earth, are fascinated by the natural world and enjoy working outdoors, then consider geoscience. Geoscience attracts people who wish to study the dynamics of our planet, to understand environmental changes past, present and future, and to manage Earth's resources in an economic and sustainable manner.
Geoscience at Trinity
At Trinity, you will learn from internationally renowned geoscientists whose teaching is informed by current research at the frontiers of knowledge. Our staff investigate topical issues including climate and environmental change, the origins and evolution of life, and Earth resources. Research and teaching combines field-observation, sophisticated laboratory analysis and numerical modelling to develop the quantitative understanding of our planet needed to address applied, real-world problems.
Graduate skills and career opportunities
There is currently a global shortage of geoscientists. Geoscience repares students to work on many of society's most important challenges whilst unlocking lucrative and personally rewarding careers in industry, academia, research and government. Careers leading directly from geoscience include work in: environmental, engineering and geological consultancies; mineral exploration companies; environmental planning; government geological surveys; teaching and research. Geoscience graduates are also highly valued in more generalised fields of employment due to their adaptability, their many transferable skills and their experience at dealing with complex but incomplete data sets.
Do you enjoy…
Finding out how our planet works?
Exploring the natural world outdoors?
Discovering how we can manage our natural resources more sustainably?
Your degree and what you'll study
The first two years provide a solid grounding in geoscience with modules covering geology, physical and human geography and foundation modules in mathematics, statistics and computation. You will tailor your experience by selecting optional modules from the chemical, physical and biological sciences, and human geography.

In third and fourth years you will deepen your knowledge in particular aspects of geoscience, whilst honing practical and technical skills though a combination of classroom lectures, seminars, and laboratory-based practicals. Topics covered include climate and environmental change, igneous and metamorphic processes, sedimentology, tectonics, geochemistry, exploration for natural resources (water, minerals and hydrocarbons), palaeontology and evolution.

You will complete a significant piece of independent research on your chosen specialism, which may take the form of a written dissertation or a geological mapping project.

Trinity is committed to training field scientists who have practical experience of field research in a range of environments and this programme includes several residential field courses in Ireland and overseas.
Click Here for further information on modules/subject.
Study abroad
Further information on the year abroad programme, and a list of partner universities, can be found by emailing our International Student co-ordinator, Dr. Sean McClenaghan mcclens@tcd.ie

Geoscience may also be studied as part of the Dual B.A. Programme between Trinity College Dublin and Columbia University (USA).
Study Geography and Geoscience at Trinity College Dublin
This is a presentation by Dr. Robin Edwards giving an outline of the Geography and Geoscience stream in Trinity College.
Course Details
Awards
B.A. (Moderatorship) Honours Bachelor Degree (NFQ Level 8)
CAO Information
CAO Code TR062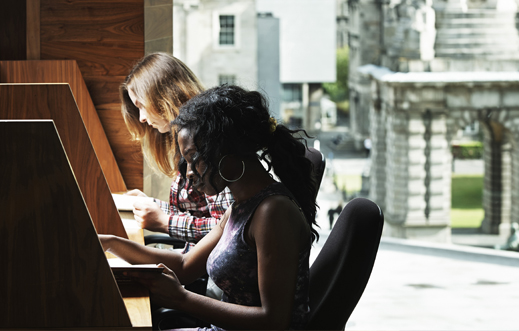 Apply
To apply to this course, click on the relevant Apply Link below
EU Applicants
Read the information about how to apply, then apply directly to CAO.
Non-EU Applicants
Advanced Entry Applications
Read the information about how to apply for Advanced Entry, then select the link below to apply.
Testimonials
---
What our students say

Naoise Guinan

If you're looking for a multi-disciplinary and hands-on course this is it! You get lectures from researchers and industry experts. Everything you learn in the classroom is an introduction to what you later observe in the field. Graduating now, there are so many career paths available, and for each there's a member of staff in Trinity I can call on for guidance.