Molecular Medicine: Biological and Biomedical Sciences
Overview
Molecular Medicine
Students who wish to study Molecular medicine apply to the Biological and Biomedical Sciences (TR060) and may select Molecular Medicine as their specialist area for the third and fourth years at the end of the second year. Our students can also avail of internships in various laboratories in the US.
What is Molecular Medicine?
Molecular medicine is the area of study that explores cutting edge advances in disease diagnosis, therapy and prevention driven by advanced bio-molecular research. The Molecular Medicine course shows how basic science is translated from 'theory to treatment.' Key areas of focus include cancer, neuroscience, genetic diseases, microbiology and immunology. It provides students with a unique perspective on modern-day molecular medicine and an appreciation for the importance of both basic and clinical research in drug discovery, molecular diagnostics and personalised medicine.
Molecular Medicine: The course for you?
Molecular Medicine is a unique collaboration between the School of Biochemistry and Immunology, Trinity Biomedical Sciences Institute (TBSI) and the Dept. of Clinical Medicine, St. James's Hospital. This is the right course for you if you have an interest in topics such as immunodeficiency, autoimmunity and inflammation, neuroscience, endocrinology, microbial diseases, molecular haematology and oncology, diagnostics and therapeutics, the cell cycle, and cancer.
Molecular Medicine at Trinity
TBSI is equipped with state-of-the-art technologies and provides a rich research environment for interdisciplinary collaboration with colleagues in medicine, pharmacy, chemistry and neuroscience while the Dept. Of Clinical Medicine operates from St James's Hospital and is affiliated with the teaching hospitals of Naas General Hospital and Our Lady's Hospice. In the area of biotechnology and biomedical research, Trinity has prioritised the areas of Immunology and Infection, Cancer, Neuroscience and Genetics – all of which are key components of the Molecular Medicine degree. Immunology at Trinity is externally recognised as an area of major research strength and was recently ranked in the top three nations worldwide (Thomas Reuters, Essential Science Indicators database). In addition, the School of Biochemistry and Immunology at Trinity provides an excellent environment for young investigators to participate in innovative and high impact research. The schools research success is evident in their strong publication record which includes output in high quality journals including Nature.
In addition to highly engaging course material, students will gain experimental skills in a range of cutting edge techniques and technologies through practicals, internships in companies such as Ely Lily and 12 week laboratory research placements in the final year of the degree. The courses are designed to equip graduates to work in all major aspects of basic and translational research and focuses on development skills relevant to careers in molecular diagnostics and novel therapeutics, including immunotherapies and next generation biologics. The course content has relevance to both academia and the healthcare/pharmaceutical sector therefore former graduates have gone on to study medicine, engage in postgraduate research (PhD; M.Sc.), and pursue careers in industrial and government organisations. Opportunities also exist in hospital and commercial labs as well as in clinical biochemistry, biotechnology, food science, teaching, information systems, communications, and management.
Graduate skills and career opportunities
Many of our graduates take up a career in industrial, medical or academic research. Some work in hospitals and commercial laboratories dealing with biotechnology, food science, pharmaceuticals or diagnostics. In addition, because they benefit from their training in terms of critical thinking, analytical reasoning and presentation and communication skills, our graduates are in high demand in careers not directly related to biochemistry such as communications, information systems, teaching and management, accountancy.
Your degree and what you'll study
First and second years
During the first two years, students intending to take biochemistry as their final degree will take a range of modules in molecular medicine, biology, chemistry, mathematics as well as open modules in other relevant areas.
Third years
Core modules are: Proteins to Cells, Nucleic Acids, Molecular Basis of Disease, Research Skills and Biochemical Analysis.
Fourth years
Core modules are: Neurobiology and Endocrinology; Innate and Adaptive Immunity in Disease; Molecular Haematology and Oncology; Microbial Diseases; Autoimmune and Inflammatory Conditions; Genomics, Metabolism and Disease; Molecular Diagnostics and Therapeutics; Cell Cycle and Cancer; Research Project in Molecular Medicine.

Click Here for further information on modules/subject.
Study Abroad
The School of Biochemistry and Immunology awards up to two internships at the end of third year. The awards will take the form of salaries for six weeks to work in one of the research laboratories in the School of Biochemistry and Immunology. Our students can also avail of internships in various laboratories in the US (e.g. University of Massachusetts, Boston) and Europe. Pharmaceutical companies have also sponsored a number of summer internships for our third year students. Further information on the year abroad programme, and a list of partner universities, can be found at: www.tcd.ie/biochemistry/undergraduate/exchange-programme/
Do you enjoy…
Learning how biological systems work?
Understanding the molecular basis of disease?
Carrying out laboratory work?
Study Biological and Biomedical Sciences Programme at Trinity College Dublin
Biology is the study of life in all its complexity and diversity. In the Biological and Biomedical Sciences programme, we explore how life first arose - the properties that distinguish living organisms from inert matter - how living organisms function and how the vast diversity of life forms was generated - how organisms reproduce themselves and how they interact both with each other and with the environment.
Course Details
Awards
B.A. (Moderatorship)
CAO Information
CAO Points 566 (2022)
CAO Code TR060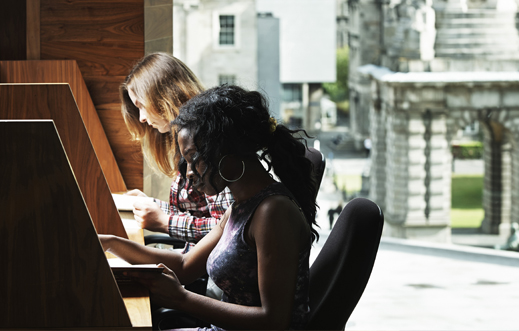 Apply
To apply to this course, click on the relevant Apply Link below
EU Applicants
Read the information about how to apply, then apply directly to CAO.
Non-EU Applicants
Advanced Entry Applications
Read the information about how to apply for Advanced Entry, then select the link below to apply.
Testimonials
"My love for Biology in school spurred me to pursue a science-based degree. I entered the Natural Sciences programme in Trinity unsure of where my real passion lay. After two years of general science, covering basic biology, chemistry and math, I decided Molecular medicine was the course for me. Molecular medicine is a relatively new degree in Trinity, which covers many aspects of Immunology, Biochemistry, Genetics, Neuroscience, Microbiology and Human Health and Disease, with a strong clinical focus. A significant portion of our lectures were held in St James hospital, delivered by medical doctors, which I found honed in the clinical relevance of what we were learning."

Graduate