Genetics: Biological and Biomedical Sciences
B.A. (Moderatorship) Honours Bachelor Degree (NFQ Level 8)
Overview
Students who wish to study Genetics for their degree apply to the Biological and Biomedical Sciences Stream (TR060) and may select Genetics as their specialist subject for the 3rd and 4th years at the end of the second year.
What is Genetics?
Genetics is the study of genes, genomes and heredity. It has developed rapidly in the last decade as new technology has made it possible to study genes in much greater detail and to rapidly sequence genomes.
A few examples of remarkable advances in knowledge include:
The discovery of the molecular basis of many inherited disorders

The application of gene editing to plant and bacterial systems for biotechnology

The detailed description of the evolutionary relationships of all organisms

The application of DNA fingerprinting to forensic science

The development of CRISPR technology for genome editing
Genetics: The course for you?
If you are interested in understanding the principles of inheritance; how genetic mechanisms control different developmental and physiological processes in biology; and how a perturbation of these mechanisms leads to disorders and diseases, this is the right course for you.
Do you enjoy…
Exploring the way living things work?

Understanding the power behind all biological systems?

Gathering evidence to support new theories and ideas?
Genetics at Trinity
Genetics is run by the Department of Genetics, which is part of the School of Genetics and Microbiology and is located in the Smurfit Institute of Genetics with state-of-the-art research facilities. There are 14 members of faculty and a number of academic associates, working in a wide range of areas of genetics areas covering everything from medical genetics, pharmacogenomics, neurogenetics, stem cells to evolutionary genetics and plant genetics, amongst other areas. The Department of Genetics has an international reputation for high-quality research and more than 50 years of experience in teaching Genetics to undergraduate students. The teaching of the Department is research-driven; undergraduates are taught by research-active scientists with excellent track records in their chosen fields.
Graduate skills and career opportunities
Many Genetics graduates go on to higher degrees (M.Sc. and/or PhD) and take up careers in research in either academia or industry. Opportunities exist in biotechnology and pharmaceutical companies, agricultural organisations, medical or clinical diagnostic laboratories, forensics, public health and epidemiology programmes, and in teaching. Other graduates have gone into careers such as medicine, patent law or science journalism. Even if you choose a career not directly related to the scientific subject, the skills of critical thinking and problem solving provided by the Genetics degree will put you in high demand.
Your degree and what you'll study
During third year, students will learn about the fundamentals of genetics through a combination of lecture courses and practical classes. In fourth year, students can choose, largely depending on their interests, from a number of lecture courses on different areas of genetics. They also spend 10 to 12 weeks in a laboratory of the institute and participate in ongoing research projects. They further write an in-depth literature review on a current topic of genetics.
Third year
Eukaryotic Molecular Genetics, Plant and Microbial Genetics, Molecular Genetics, Genomics and Systems Biology, Neuro and Behavioral Genetics, Medical Genetics, Evolutionary and Populational Genetics, Developmental Genetics, Molecular Genetics Laboratory, Analytical Genetics Laboratory, Data Handling and Bioinformatics, Science Structure, Discussion and Presentation for Genetics.
Fourth year
Literature Review, Capstone Research Project, Choices from a range of taught subjects including: Principles of Genetics, Plant Molecular Genetics, Plant Developmental Genetics, Microbial Molecular Genetics, Cancer Genetics, Transgenic Animals and Gene therapy, Genetics of Perception, Programmed Cell Death, Stem Cell Biology, Genetics and Immunology of Neural Diseases, Molecular Evolution, Developmental Genetics of Drosophila, Human Evolutionary Genetics, Behavioural Genetics, Epigenetics.
Click Here for further information on modules/subject.
Assessment
Students will be assessed by a combination of continuous assessment and end-of-year examinations.
Study Abroad and internship opportunities
Internships
The Department helps students to secure internships in research laboratories (both in Ireland and internationally) over the summer period between the third and fourth years, so that they can gain valuable research experience. Some students spend all or part of the summer period in US laboratories, again between third and fourth year.
Study Biological and Biomedical Sciences Programme at Trinity College Dublin
Biology is the study of life in all its complexity and diversity. In the Biological and Biomedical Sciences programme, we explore how life first arose - the properties that distinguish living organisms from inert matter - how living organisms function and how the vast diversity of life forms was generated - how organisms reproduce themselves and how they interact both with each other and with the environment.
Course Details
Awards
B.A. (Moderatorship) Honours Bachelor Degree (NFQ Level 8)
CAO Information
CAO Code TR060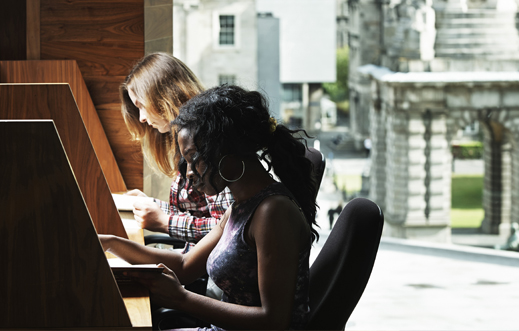 Apply
To apply to this course, click on the relevant Apply Link below
EU Applicants
Read the information about how to apply, then apply directly to CAO.
Non-EU Applicants
Advanced Entry Applications
Read the information about how to apply for Advanced Entry, then select the link below to apply.
Testimonials
---
What our graduates say
Matthew Carrigan
"The quality of teaching and research in Genetics at Trinity is world-class. I was given the opportunity to work at a lab in a top US university in the summer after my third year, and I was amazed to find how familiar researchers there were with the work being done in their field at Trinity. The whole department is deeply interconnected with leading worldwide researchers and institutions, and a number of graduates I know went on to further research both here at Trinity and at leading institutions abroad."