Chemistry with Biosciences: Chemical Sciences
Overview
Students who wish to study chemistry with biosciences apply to the chemical sciences stream (TR061) and at the end of second year may select chemistry with biosciences as their specialist area for their third and fourth year.
What is Chemistry with Biosciences?
Chemistry with Biosciences is designed to produce graduates who are prepared to work at the interface of chemistry and biology, addressing global issues in chemical and life science such as drug development and safety, biomedicine, biotechnology and clinical operations.
Graduate skills and career opportunities
As with graduates in other branches of chemistry, the skills acquired during this course will make you highly attractive to employers in a wide variety of areas. Graduates can contribute to research developments across the healthcare, pharmaceutical, biotechnology and the food processing sectors. This degree will also prepare you to work in education, science communication, business, data analysis and administration.
Our Chemistry with Biosciences degree would serve as an excellent primary degree for a graduate course in health science such as medicine or physiotherapy. Our graduates can also pursue postgraduate degrees either in the School of Chemistry or in other world-class research institutions.
Your degree and what you'll study
You will study foundation courses in chemistry, biology, maths and foundation physics in the first two years.
Third and fourth year
In third year, the course will branch off into relevant chemistry and biology modules allowing you to develop a unique perspective on issues directly effecting chemical and bioscience research.
Your third and fourth year modules will cover core chemistry principles in organic, inorganic and physical as well as the following biological modules:
From Organisms to Ecosystems
Genomes, Disease and Diversity
Microbes, Immune System and their Interaction
Molecular Basis of Disease
Introduction to Immuno/metabolism
Nucleic Acids
Lectures are complemented by laboratory experiments, where you will gain experience in more sophisticated preparative chemical and biological techniques.
Practical work in the final year will consist of a Capstone project. This may be carried out either in Trinity under the supervision of a member of staff, in a chemistry department at an overseas university, or in a commercial laboratory.
For more details on the modules and the overall course structure required for each moderatorship offered by the School, please visit: www.tcd.ie/chemistry
Study abroad and internship opportunities
The School of Chemistry has exchange agreements with a large number of universities and research institutions where Chemistry with Biosciences students carry out their final year Capstone research projects from September to December. To date, arrangements have been made for students in European universities such as Regensburg, Madrid, Liverpool, Copenhagen, Montpellier and Bologna. Study further afield in Canada and the USA is also possible.
Study Chemical Sciences at Trinity College Dublin
The TR061 Chemical Sciences degree programme is the new entry pathway to the study of Chemistry, Nanoscience, Medicinal Chemistry, Chemistry with Biosciences and Chemistry with Molecular Modelling at Trinity College Dublin.
Course Details
CAO Information
CAO Points 543 (2022)
CAO Code TR061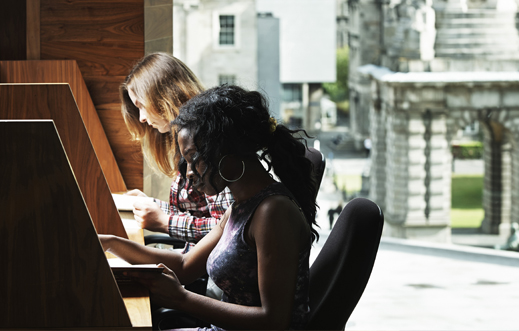 Admission Requirements
Leaving Certificate
H6 or O4 Mathematics
H4 In two of physics, chemistry, biology, physics/chemistry, geology, geography, applied mathematics, agricultural science, computer science.
GCSE Grade B/6 Mathematics
Advanced GCE (A Level)
Grade C In two of physics, chemistry, biology, physics/chemistry, geology, geography, applied mathematics, agricultural science, computer science.
International Baccalaureate
SL Grade 5 Mathematics
HL Grade 5 In two of physics, chemistry, biology, physics/chemistry, geology, geography, applied mathematics, agricultural science, computer science.
Combinations of subjects not permitted: Physics/chemistry with physics or chemistry. Agricultural science with biology. Applied mathematics with mathematics
Apply
To apply to this course, click on the relevant Apply Link below
EU Applicants
Read the information about how to apply, then apply directly to CAO.