Neuroscience: Biological and Biomedical Sciences
Overview
Neuroscience
Students who wish to study Neuroscience apply to the Biological and Biomedical Sciences (TR060) and may select Neuroscience as their specialist area for the third and fourth years at the end of the second year.
What is Neuroscience?
Neuroscience is the discipline concerned with the scientific study of the nervous system in health and disease. It probes the intricate processes of the nervous system in an attempt to understand how we think, move, perceive, learn and remember. Research in the neurosciences is of considerable importance in medicine, considering the debilitating and costly effects of neurological and psychiatric disease. In this regard, a major goal of modern neuroscience research is to elucidate the underlying causes of, and to produce more effective treatments for, major brain diseases such as multiple sclerosis, Alzheimer's disease, Parkinson's disease, schizophrenia and depression.
Neuroscience: The course for you?
Neuroscience is an ideal topic for students who have an interest in understanding how the brain works. Additionally, the topic is suited to students who are interested in using concepts and techniques from a variety of biological disciplines. The neuroscience degree in Trinity brings together lecturers from diverse backgrounds including psychology, physiology, biochemistry, immunology, pharmacology and genetics to deliver a truly multidisciplinary training. This diversity is also reflected in the range of laboratory projects offered during this degree, which offers students broad horizons after graduation
Do you enjoy…
Finding out how the brain achieves simple and complex actions?
Analysing evidence and developing your own hypotheses?
Performing experiments in the laboratory?
Neuroscience at Trinity
Trinity has a strong research focus in Neuroscience centred around the Institute of Neuroscience (TCIN) with 45 research groups and 250 researchers within the Lloyd Building and in labs in the many affiliated academic schools and departments that drive Neuroscience activity in Trinity. These research groups investigate a wide variety of topics in Neuroscience and Trinity neuroscientists are well respected by the neuroscience community worldwide, regularly contributing at international meetings and in high impact publications. This breadth of research expertise is the driver for excellence in teaching across a range of disciplines within this degree. There is a lively research community within TCIN, including undergraduate and graduate students, postdoctoral fellows and principal investigators and it's interdisciplinary ethos allows for fruitful interactions between scientists of various backgrounds. This community regularly meets at seminars and social events to discuss the latest news in the field and beyond.
Graduate skills and career opportunities
Graduates in Neuroscience can expect to find employment in a wide range of areas, utilising their general scientific training as well as their specialist skills. In the past Neuroscience graduates have pursued careers in academic, government, pharmaceutical, biotechnology or medical research organisations. Some graduates study for higher degrees in neuroscience, biology or psychology or, medicine or allied health-related disciplines. For those not seeking a research or medical career, the course provides transferable skills and experience that are suitable for a wide variety of careers, e.g. in education, business, management and industry.
Your degree and what you'll study
Neuroscience links neurobiology with cognitive science and, as a result, modules in multiple disciplines (Anatomy, Biochemistry and Immunology, Genetics, Pharmacology, Physiology, Psychology and Zoology) are provided. The course involves in-depth instruction in the fundamentals of modern molecular and cellular biology, as well as in the structure and operation of the nervous system. Other modules focus on the development of the nervous system, its response to injury and disease, the relationship of the brain to behaviour, imaging the brain, and the drug treatment of brain disorders. You will also be trained in scientific methodology and experimental design, data handling and research skills.
Third year
The third year will cover core topics in Neuroscience including: Neuroanatomy and Development, Systems, Behavioural and Cognitive Neuroscience, Neurophysiology, Neurochemistry, Neuropharmacology, Neurogenetics and Molecular Neuroscience as well as research skills, basic laboratory skills for Neurobiology and a Trinity Elective.
Assessment
Some modules are assessed by examination; however some modules are assessed entirely by in-course assessment and some are assessed by a combination of in-course assessment and examination. Written examinations are part of the final year exams. Third year Neuroscience results constitute 30% of the final Moderatorship result.
Fourth year
The final year will examine some more specialised areas of Neuroscience and examine others at a more advanced level. Topics will include Neuropsychology, Neurochemistry, Neuronal and Glial Physiology, Neuropharmacology, Developmental genetics, Neuroimmunology and Neurodegeneration, Neuropsychiatric Genetics. There will be a greater focus on research with modules involving scientific literature skills (literature review and journal clubs) and all students will carry out a major Capstone research project in one of the many research groups in the schools that contribute to the Neuroscience degree.
Assessment
Modules are assessed by continual assessment based on written assignments, oral presentations and literature reviews and written examinations. The Capstone research project is graded according to performance across many elements: oral presentation, literature review, poster presentation, student performance in the laboratory and the submitted dissertation.
This degree is also available within the Dual B.A. Programme between Trinity College Dublin and Columbia University.
Click Here for further information on modules/subject.
Study abroad and internship opportunities
Students may arrange to study abroad during their third year following discussion with staff. Students are also facilitated in seeking internships, in Ireland or abroad, during the summer and some opportunities exist for research laboratory placements within the university.
Study Biological and Biomedical Sciences Programme at Trinity College Dublin
Biology is the study of life in all its complexity and diversity. In the Biological and Biomedical Sciences programme, we explore how life first arose - the properties that distinguish living organisms from inert matter - how living organisms function and how the vast diversity of life forms was generated - how organisms reproduce themselves and how they interact both with each other and with the environment.
Course Details
Awards
B.A. (Moderatorship)
CAO Information
CAO Code TR060
Course Director
Gabrielle McCabe, Course Administrator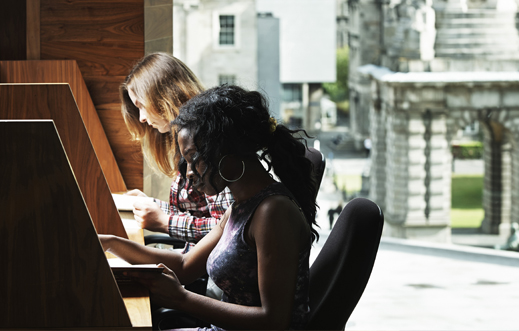 Apply
To apply to this course, click on the relevant Apply Link below
EU Applicants
Read the information about how to apply, then apply directly to CAO.
Non-EU Applicants
Advanced Entry Applications
Read the information about how to apply for Advanced Entry, then select the link below to apply.
Get in Touch
Telephone Number
+353 1 896 4195
Email
Website
Testimonials
---
What our graduates say
Martina Hughes
"I specialised in Neuroscience as I wished to gain an in-depth knowledge of the workings of the brain in both health and disease. A wide variety of topics were covered and I particularly enjoyed the neuroanatomy practicals and the lectures focusing on neuropharmacology, neuroimmunology, neuroinflammation and neurogenetics. On completion of my degree, I undertook a Ph.D. in the Neuroimmunology research group in Trinity College Institute of Neuroscience before going on to work as a post-doctoral researcher in King's College London, investigating the role of inflammation in Alzheimer's disease.."
Iannis Barron
"When I started college in Ireland, all I knew was that I was interested in Science and curious about why people do what they do. So when it was time to choose a moderatorship, neuroscience was my obvious favourite. I have loved the course so far; although it is broad (because of all the aspects there are to cover), it is entirely focused on the understanding how the brain works and so, how we function. Whether it is understanding how the brain develops from birth, how drugs affect brain function or even why we see the colours we see, the complexity of the brain is apparent."