Physiology: Biological and Biomedical Sciences
B.A. (Moderatorship) Honours Bachelor Degree (NFQ Level 8)
Overview
Students who wish to study Physiology for their degree apply to the Biological and Biomedical Sciences Stream (TR060) and may select Physiology as their specialist subject for the 3rd and 4th years at the end of the second year.
What is Physiology?
Physiology is the study of life – it is the science of how cells work, how they cooperate in organs like the heart or brain and how these organs function together in the body as a whole. Knowing how the body works is essential for understanding how it goes wrong in sickness and disease, therefore physiology is the scientific basis of human and animal medicine.
Physiology: The course for you?
In the Physiology Department at Trinity we focus on human physiology and how it is affected by disease, although you will study other animal species in some modules. We study every aspect of the human body, from the function of individual proteins in cells, to the function of the different body systems such as the cardiovascular, respiratory and nervous systems, all the way through to the integrated, whole body level. Physiology continues to be at the forefront of research in biomedical science, because there are still so many things about the functioning of the human body that remain unknown. If we know more about our physiology we can use this knowledge to develop better treatments for various diseases. As a student of physiology you will be provided with a detailed understanding of a range of cell and organ systems, and will receive training in scientific methodology, experimental design, data analysis and research skills.
Do you enjoy:
Studying how the body works?
Investigating the functional changes that underlie illness and disease?
Carrying out research and laboratory work?
Physiology at Trinity
The Physiology Department is part of the School of Medicine and has strong teaching and research links with other disciplines in the school, such as physiotherapy and clinical medicine, and with other schools in the Faculty of Engineering, Mathematics and Science. All of our lecturers run research laboratories and the major strengths of the department are in neuroscience, cell biology and exercise physiology. In Trinity, we recognise the vital importance of laboratory teaching. We encourage every student who enters the teaching laboratory to consider himself or herself as a research scientist from day one. This research training culminates in the individual Capstone research project each student carries out in the final year. We train students to design experiments that may help to solve some of the mysteries that remain about the function of the human body. We teach them how to make accurate measurements, how to generate data, how to analyse those data and how to draw conclusions based on the data. Using this hands-on approach, they gain a much deeper knowledge of the subject of physiology.
Graduate skills and career opportunities
When you graduate you will be able to use your general scientific training and specialised knowledge of physiology to find employment in a wide variety of jobs. You may pursue further training in physiology and become a research scientist in a hospital, the pharmaceutical industry, a government agency or a university. Some graduates undertake further study in health-related fields such as medicine or physiotherapy.
Your degree and what you'll study
Third year
The third year will cover core topics in Physiology including: Nerve, Muscle and Sensation; Cell and Tissue Structure; Gut, Metabolism and Hormones; Pharmacological and Physiological Research; Physiology of Brain; Nerve and Muscle Fluids; Heat and Metabolism; Cardiovascular Physiology; Respiratory Physiology. Trinity Electives also make up part of third year teaching.
Fourth year
Synaptic Properties; Biomechanics and Neural Control of Movement; Glial Physiology; Techniques in Cellular Physiology; General and Integrative Physiology.
During the second half of fourth year you will undertake an individual Capstone research project. This project will be based in Trinity or in one of its associated hospital departments and will include a literature survey and production of a written dissertation. Some typical recent research projects have looked at the toxic effects of cannabis on brain cells, gastric motility in patients with pancreatitis, respiratory function in lung disease, the cellular mechanisms of memory formation, cardiovascular adaptations in athletes and muscle performance after different warm-up protocols.
Click Here for further information on modules/subject.
Research internship opportunities
Our students have gained Wellcome Trust Biomedical Vacation Scholarships and Health Research Board Summer Student Scholarships to work in research laboratories between their third and fourth year.
Study Abroad and internship opportunities
Many of our students undertake research internships in Trinity or other universities during the summer vacation.
Study Biological and Biomedical Sciences Programme at Trinity College Dublin
Biology is the study of life in all its complexity and diversity. In the Biological and Biomedical Sciences programme, we explore how life first arose - the properties that distinguish living organisms from inert matter - how living organisms function and how the vast diversity of life forms was generated - how organisms reproduce themselves and how they interact both with each other and with the environment.
Course Details
Awards
B.A. (Moderatorship) Honours Bachelor Degree (NFQ Level 8)
CAO Information
CAO Code TR060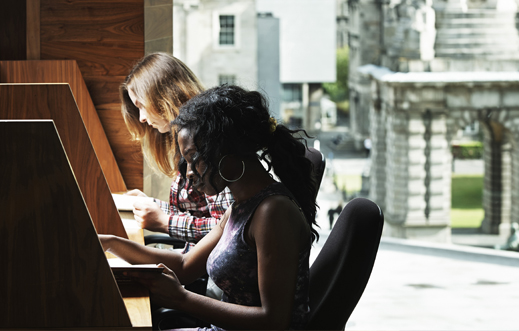 Apply
To apply to this course, click on the relevant Apply Link below
EU Applicants
Read the information about how to apply, then apply directly to CAO.
Non-EU Applicants
Advanced Entry Applications
Read the information about how to apply for Advanced Entry, then select the link below to apply.
Get in Touch
Telephone Number
+353 1 896 2723
Email
Website
Testimonials
---
What our current students say
Cian O'Connor
The course is great in so far as it provides such an integrative approach to studying how the entire body works, what can go wrong and how we can fix it by learning from the forefront of cutting edge research.
Philip O'Gorman
I enjoy physiology because it provides me with the understanding about the countless, interesting ways the human body functions.
What our graduates say
Sinead Smith
Choosing Physiology as my speciality through Science was the best decision I made. The course is very well organised and the small class size gives students the opportunity to work together. I felt so much support during my two years in Physiology; the department staff are very friendly and the lecturers are very approachable. The course structure and content give students an excellent range of both theory-led and practical-based learning opportunities. It helped me to develop a standard of learning to perform at master's level. I am now in the final year of my M.Sc. in Physiotherapy.