Immunology: Biological and Biomedical Sciences
Overview
Immunology
Students who wish to study Immunology apply to the Biological and Biomedical Sciences (TR060) and may select Immunology as their specialist area for the third and fourth years at the end of the second year.
What is Immunology?
Immunology is the study of the immune system. The immune system has evolved to protect our bodies against infection and cancer and involves the co-ordinated activities of specialised cells, molecules and genes to orchestrate an immune response.
Immunology is one of the most rapidly growing research areas in biology and has been shown to have a fundamental role in almost all disease states. Understanding how the immune system works has led to the development of new therapeutics, e.g. antibodies, for the specific treatment of diseases such as rheumatoid arthritis. In addition, we can now harness the immune system such that it can help to fight against infection and cancer. Many pharmaceutical companies have substantial immunology programmes.
Immunology: The course for you?
If you want to understand how the immune system works, how its failures lead to disease and how we can use our knowledge to design new therapies for infection, cancer and a range of other diseases, this is the course for you. Trinity is not only the leading centre for immunology in Ireland but it is recognised around the world for its high level of research excellence. Graduating with an Immunology degree puts students in an excellent and competitive position for their future career. Immunology is a dynamic and rapidly expanding subject and this degree provides excellent training from world class researchers and lecturers to enable students to successfully pursue a career in immunology.
Immunology at Trinity
Trinity is currently the only university that offers an undergraduate degree in Immunology in Ireland. Third and fourth year students will be based in the new state of the art Trinity Biomedical Sciences Institute (TBSI) on Pearse Street. Our students have the opportunity to study abroad for third year and there are also some internship opportunities, in Ireland and abroad.
Graduate skills and career opportunities
Graduates follow a range of different career pathways. Many of our students are recruited into PhD positions either here or abroad in order to pursue a research based career in the university, medical (hospital based research), or industrial sectors. Some of these are specifically within the area of immunology but other students diversify and use their immunology to branch into other areas. Some graduates go straight into lab based positions as immunologists and these can be in academic, hospital or industrial laboratories, e.g. Pfizer. Other students decide to use their scientific background for non-lab based careers, e.g. science communication and journalism, or science outreach. Some graduates have gone into research support positions, while others have gone on to get a business qualification or law qualification to enable them to be competitive in a business/commercial setting.
Your degree and what you'll study
Students will learn about all aspects of immunology: from the cells and molecules of the immune system and how they carry out their jobs in particular diseases, through to what happens when the immune system goes wrong and actually starts to attack our own bodies, as seen in autoimmune diseases. In order to fully understand the immune system, students will also cover important aspects of biochemistry, genetics and microbiology. One exciting aspect of this degree is that undergraduates experience real research as they undertake a final year Capstone project in a research laboratory in the School of Biochemistry and Immunology.
First and second years
The first two years are part of the Biological and Biomedical Sciences (TR060). Students intending to take Immunology as their final degree take a range of required modules in biology, chemistry, mathematics as well as approved modules in other disciplines.
Third year
Modules cover Immunology, Microbiology, Biochemistry and Genetics with a strong emphasis on practical skills. There is also a mini-review and a data handling project.
Fourth year
Modules cover advanced topics in immunology and a final year Capstone project that takes place in a research laboratory in the TBSI building. A range of assessment types including continual assessment, annual exam papers and thesis will all be used over the duration of the degree. Currently, 30% of the marks towards your final degree grade come from third year.
Click Here for further information on modules/subject.
Study abroad
Students can undertake to spend third year abroad. We have links with universities in Glasgow and Marseille. Some students have also studied in the US for their third year and returned here for their final year.
Study Biological and Biomedical Sciences Programme at Trinity College Dublin
Biology is the study of life in all its complexity and diversity. In the Biological and Biomedical Sciences programme, we explore how life first arose - the properties that distinguish living organisms from inert matter - how living organisms function and how the vast diversity of life forms was generated - how organisms reproduce themselves and how they interact both with each other and with the environment.
Course Details
Awards
B.A. (Moderatorship)
CAO Information
CAO Points 566 (2022)
CAO Code TR060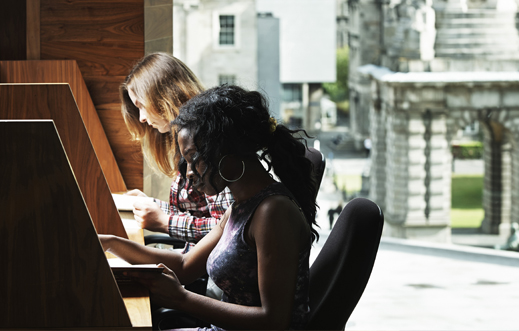 Apply
To apply to this course, click on the relevant Apply Link below
EU Applicants
Read the information about how to apply, then apply directly to CAO.
Non-EU Applicants
Advanced Entry Applications
Read the information about how to apply for Advanced Entry, then select the link below to apply.
Testimonials
---
What our graduates say
Darren Ruane
My time at the Trinity Biomedical Sciences Institute fostered my love for Immunology and as a result I chose to complete a Ph.D. My research focused on the capacity of dendritic cells, a type of white blood cell, to mediate communication between distinct mucosal compartments. While pursuing my Ph.D. I had the opportunity to conduct my research projects at the Rockefeller University in New York within the lab of 2011 Nobel prize winning scientist Ralph Steinman. After completing my Ph.D., I conducted postdoctoral research at the Icahn School of Medicine at Mt. Sinai in New York. I am also a member of the discovery Immunology group at Genentech in San Francisco investigating the molecular mechanism of lung fibrosis and exploring new therapeutic targets."