Private Presses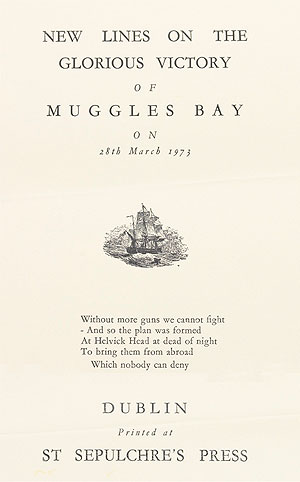 Detail of New Lines on the Glorious Victory of Muggles Bay, Dublin, St. Sepulchre's Press, 1973
The Library has a fine collection of private press material. Amongst the Irish material it holds the archive of the Cuala Press and of St. Sepulchre's Press as well as having a very full set of early Dolmen Press productions.
English presses are very well represented with good holdings of the productions of the Kelmscott, Doves, and Golden Cockerel Presses. The collection of English private press production has been energetically pursued since the early 1970s.
Thanks to the generosity of Philip Bender there are numerous examples of works produced by Western American private presses in the 1920s and 1930s. A representative sample of the works of 1970s and 1980s American private presses has recently been added to the collection.