Rebellions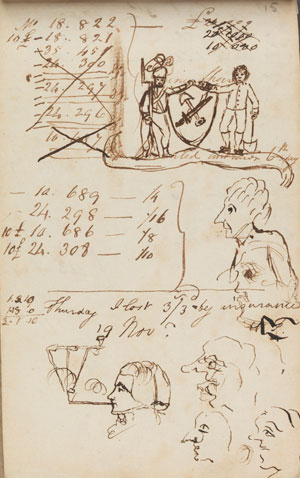 MS3810 fol 15: extract from the diaries of Theobald Wolfe Tone
There is a variety of material in Manuscripts & Archives relating to Irish rebellions over the last four hundred years.
The 1641 Depositions (MSS 809-841) comprise 33 bound volumes of documents containing sworn statements of complaint made by Protestant citizens in the years following the rebellion
The rebellion of 1798 is represented in the papers of Richard Robert Madden (1798-1886), Major Henry Charles Sirr, Town Major of Dublin (1764-1841), Thomas Russell, and Theobald Wolfe Tone (1763-1798). The College's experience of that period is represented in several documents, including a diary of the rebellion kept by a Fellow of the College, Thomas Prior (MS 3365)
The Easter Rising of 1916 is well represented in the following: a diary kept by the Provost's daughter, Elsie Mahaffy (MS 2074); an account by Professor Gilbert Waterhouse, lieutenant in the Dublin University Officer Training Corps (DUOTC), of the defence of Trinity College (MS 4875); a description of some incidents of Easter Week by Peadar Ó Cearnaigh (MS 3560/1); and a transcript of Liam de Róiste's recollection of incidents in Cork during the Rising (MS 10539/274). Documents relating to prominent figures of the Rising, including Patrick Pearse, Thomas McDonagh and Francis Sheehy-Skeffington also appear in other collections
Catalogues
Catalogues for individual collections are available in the reading room of Manuscripts & Archives.