Engagement and Team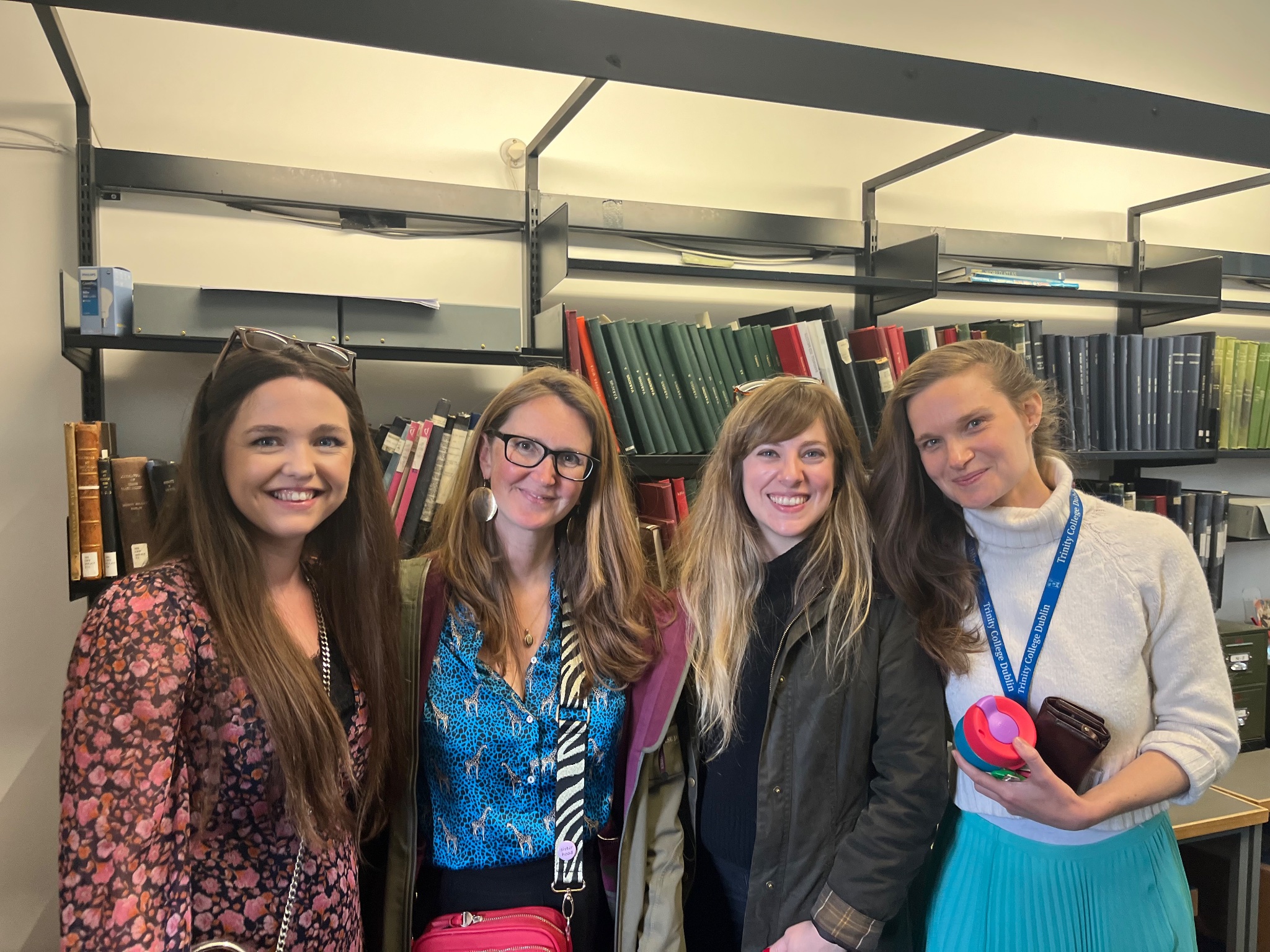 The work to digitise some of the most valuable and important manuscripts in the Library's collection, involves many different people with much expertise, including conservators, cataloguers, curators, photographers, programmers, researchers, and teachers, across processes spanning the sciences, technology, and the humanities, in order to bring these manuscripts to schoolchildren, scholars, and students beyond Trinity.
The project implementation team consists of Estelle Gittins (Curatorial Lead), Dr Claire McNulty (Post Doctoral Fellow), Dr Alison Ray (Archivist/Project Manager), Angelica Anchisi (Conservator), Laura Farrell (Conservator), and Caroline Harding (Photographer).
Engagement
The Manuscripts for Medieval Studies project partners with the M.Phil in Medieval Studies providing the core materials for student engagement with the physical manuscripts and the digital versions. It is also a featured project for Trinity Centre for the Book. Other events include:
September 2023 - The 'Manuscripts for Medieval Studies' project team participated in the Trinity Arts & Humanities Research Festival 2023, showcasing their favourite manuscripts digitised as part of the project, along with colleagues from the Library.
September 2023 - 'Manuscripts for Medieval Studies' teamed up with Trinity Centre for the Book for European Researchers Night 2023: The team brought medieval manuscripts to life through 'Guess the Medieval Animal' and 'Match the Script' games, 'Beat the Computer' transcriptions, and 'Ink and Quill' demonstrations.
June 2023 - The Manuscripts for Medieval Studies team delivered an online lecture for St Albans Cathedral 'Sharing the medieval Book Manuscripts from St Albans'.
September 2022 - START EU European Researchers Night: The Manuscripts for Medieval Studies team partnered with the Manuscripts Book and Print Culture research theme to provide a range of in person activities including 'Matthew Paris' colouring sheets, a 'Match the Script Game', handling examples of pigments and a 'Beat the Computer' transcription challenge.
June 2022 - The Online Exhibition on the Matthew Paris Book of St Albans was released in tandem with the release of the digitised manuscript: It also included a promotional programme in partnership with other Libraries, researchers and community stakeholders. It included online articles by the British Library and the University of Exeter, and co-ordinated social media posts with the British Library, Cambridge UL, Corpus Christie College Cambridge, St Albans Cathedral, St Albans Museum, and the British Embassy Ireland. Media coverage included the Irish Times, Irish Independent and Irish Central.
Explore our Book of St Albans Exhibition
More researchers accessed the online version of the manuscript in the first week than had accessed the real-life manuscript in the Reading Room during the previous 10 years, and over 70% of those were brand new users to the Library's Digital Collections platform.
December 2021 - Joint Trinity College Dublin and University of Kent Palaeography Workshop: This built upon the success of the September event with a 'Transcribathon Challenge' for postgraduate students and colleagues.
September 2021 - START EU Researchers Night: A two-hour online event entitled 'Getting to Grips with Manuscripts Online'. This event was the first time Trinity had organised a live 'Transcribathon' including participants from across Europe and further afield.