Music
Early Printed Books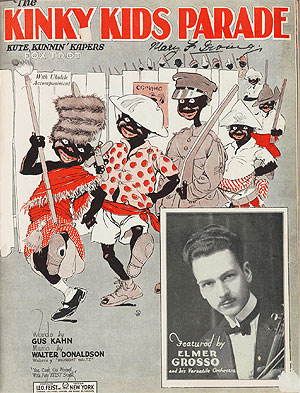 The Kinky Kids Parade, words by Gus Kahn, music by Walter Donaldson, New York, Leo Feist, 1925
The music collection comprises some 10,500 pieces printed before 1920 and some later items. While there are some notable early items, such as Gaffurius, Practica Musicae, Milan 1496 and J. Dowland, The First Booke of Songes, London, 1603, the strengths lie in the 18th- and 19th-century items. Among these are:
19 Handel operas in early London editions in full score
Reduced scores of mid and late 18th-century comic operas
Songs and keyboard pieces
The 19th-century items include:
The first standard editions of the works of Bach, Handel, Mozart and Mendelssohn
A large number of opera scores, including nineteen of Auber's operas in full score.
Some 600 editions of waltzes by the Strauss family and J. Lanner from the Wittgenstein collection
Several hundred late 19th-century songs, including many music hall ones, provide a balance to more serious music.
Ancillary items include programmes, among them a very full set from the University of Dublin Choral Society from its foundation in 1837.
Manuscripts & Archives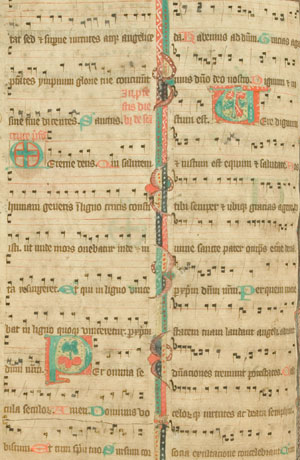 MS 82 fol 85v: the Kilcormack Missal
Manuscripts & Archives holds music collections of medieval religious music, Irish traditional music and the papers of several important modern Irish composers.
The highlights include:
MS 408, MS 410: the Ballet and Dallis lute books from the late 16th and early 17th centuries. The second manuscript contains Calleno Casturame, the earliest known notation of an Irish song, and Greensleeves, a popular Elizabethan English tune. Bound with the Dallis lute book is the Dublin Virginal manuscript, one of the earliest extant collections of English keyboard music, compiled in 1570
MS Mercer Deposit: the Mercer Hospital music collection is a set of 18th-century vocal and instrumental parts containing music by Handel, Greene, Boyce and Purcell. These relate to benefit concerts held in aid of the hospital in the 1760s
MSS 3194-3197, 11320-2: the James Goodman collection comprises four volumes of tunes gathered mainly from the Munster uillean pipers
MSS 3562-3566, 10739, 10742: the Petrie collection
MS 10615: the Maclean-Clephane collection of Irish and Scottish music
MS 412 is included in the University of Edinburgh project The World of Reformation Britain as Seen and Heard in the Wode Psalter
20th-century Irish composers are represented in the collections of Arthur Duff (1889-1956), Ina Boyle (1889-1967), Brian Boydell (1917-2000), Gerard Victory (1921-1995) and Gerald Barry (1952- ).
Catalogues
Catalogues for individual collections are available in the reading room of Manuscripts & Archives.