Named Collections - C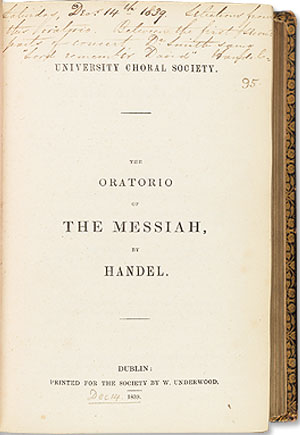 Titlepage of The Oratorio of the Messiah, by Handel, Dublin, 1839. From the Trinity College Dublin Choral Society collection. OLS L-7-491
Carrickford
660 items.
This is the major part of the repertory play stock of the Carrickford Theatre Company, which toured Ireland between 1900 and the late 1940s. Some of the plays are annotated for performance and there are some playbills for performances at the Mechanics' Theatre of Varieties, Dublin, and for various provincial venues.
Presented by R. and S. Carrickford, 1995.
Carson
673 items in over 300 volumes.
These works are from the collection of Joseph Carson, d.1898, F.T.C.D. 1838, Vice-Provost 1890-1898. They include French politics and literature, German theology and an extensive range of late 19th-century pamphlets on Irish religious and political affairs.
Carton
211 items.
This collection is from the library of the Duke of Leinster at Carton House, Maynooth, Co. Kildare. It is comprised of 17th and 18th-century French works, and a few English works, on historical and literary topics
Bought at the auction of the library, 1949.
Choral Society, Trinity College Dublin
802 items.
This is a selection from the library of the TCD Choral Society of music it performed during the late-19th and early-20th centuries. There is an extensive run of concert programmes from the Society's foundation in 1837.
College Historical Society Library
350 volumes approx.
This collection is what remains of the library of the Society, founded in 1770. The emphasis is on Philosophy, History and "polite literature". It also includes works relating to the operation of the Society and Auditors' speeches. There are 11 items listed in Wing and over 200 18th-century items.
Crofton Collection (Bibliotheca Earberiana)
2,000 items approx. in 218 volumes.
These pamphlets are from the library of Christopher Henry Earbery (1764 - c.1811) of Dublin. On his death his estates went to his sisters, one of whom married the Rev. Henry William Crofton of Inchinappa, Co. Wicklow.
The collection contains mostly 18th century Dublin and London imprints. Approximately 10%, however, are from the 17th century (Wing) and there are a few STC items. Subject emphasis is on politics and economics, especially Irish.
Presented by Miss A. Crofton of Inchinappa, Ashford, Co. Wicklow, 1955.
Cunningham
465 items.
This is the personal collection of Marjorie Cunningham, warden of Trinity Hall 1908-1940. It contains much Anglo-Irish literature from the early part of the 20th century as well as works dealing with adult education.
The collection was purchased for Trinity Hall by subscription after her death and was transferred to the Department of Early Printed Books.