Historical Objects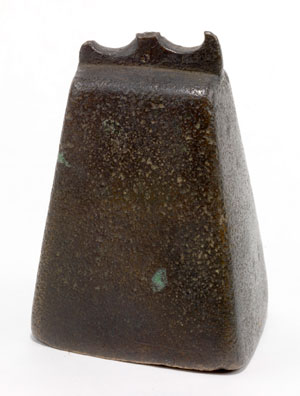 12th-century bell
Until the establishment of the Museum of Science and Art, Dublin (later the National Museum of Ireland), by Act of Parliament in 1877, institutions such as Trinity College Dublin, the Royal Dublin Society and the Royal Irish Academy acted as repositories for museum materials. In 1894 the Board of Trinity College Dublin agreed to transfer many of their historical objects, which had been used as teaching tools in Trinity College, to the Museum of Science and Art.
There remains a collection of over 600 objects still housed in Manuscripts & Archives. Some of the holdings relate directly to the history of the university and its graduates:
Death masks of Jonathan Swift (1667-1745), Edmund Burke (1729-97), and Theobald Wolfe Tone (1763-98)
Portable writing desk of Robert Emmet (1778-1803)
Box camera and typewriter belonging to John Millington Synge (1871-1909)
Medals (approximately 200 medals, many awarded for academic achievements)
Dublin University Officer Training Corps paraphernalia, including a rifle, swords, swagger stick, drum, banners, and commemorative silver cups
Salt-glazed tile from the medieval All Hallows monastery, subsequently the site for Trinity College Dublin
Some of the most significant items housed in the Library relate to the manuscript collections:
The 12th-century shrine of the Book of Dimma (see Mullarkey below).
The 15th-century leather satchel associated with the the Book of Armagh (written 807) (see Meehan in Crone, below).
The Brian Boru or College harp, the oldest surviving Irish harp, mistakenly associated with Brian Boru (d.1014) but probably dating from the later Middle Ages is on permanent display in the Long Room.
Castle Otway harp (17th century), was owned and played by Patrick Quin (c.1745-1812), Co. Armagh and was subsequently in the possession of the Otway-Ruthven family of Co. Tipperary
Ancient Irish, classical and other antiquities include:
Two Ogham stones, probably dating to the 5th or 6th centuries, from Inishvickillaune, Co. Kerry and Fortwilliam, barony of Clanmaurice (MS OBJ/ND/26-27).
Three pre-10th-century brooches (MS OBJ/ND/1-3).
Two gold fibula [Ireland, ?8th-7th-century BC], (MS OBJ/ND/24-25).
Bronze die (East Anglia, late 7th or early 8th century), used for impressing silver or gold foil, (MS OBJ/1998/15).
Insular gilt bronze cross mount (8th century), (MS OBJ/1998/16).
Medieval bronze bell, possibly associated with Abbey of Dough Mór, Co. Mayo.
Objects associated with other eminent Irish figures include:
Daniel O'Connell's top hat
Cast of the upper half of the skulls of Hester Johnson (Swift's "Stella", 1681-1728) and Jonathan Swift.
Eastern artefacts include:
Coptic textiles from the 3rd - 8th centuries
Pallaya, a stringed musical instrument, probably once part of collection of explorer Captain James Cook (1728-79) from his voyages in the South Seas.
Stauette of Pallas Athéné, Greek goddess
Greek stélé (stones used for commemorative purposes or as territorial markers) found in Egypt bearing a dedication of a site to the god Shebah, dated 93 BC.
Bibliography
B. Meehan, "Book satchels in medieval Scotland and Ireland" in: A. Crone and E. Campbell (eds) A Crannog of the First Millennium AD: Excavations by Jack Scott at Lough Glashen, Argyll, 1960 (Edinburgh: Society of Antiquaries of Scotland, 2005), pp. 85-92
P. Mullarkey, Irish Book Shrines: A Reassessment. 3 vols (Ph.D thesis, Trinity College Dublin, 2000)
R. Rensh, Harps and Harpists (London: Duckworth, 1989)
J. Rimmer, The Irish Harp (Dublin: Mercier Press, 1969)
P. Cone (ed), Treasures of Early Irish Art 1500 BC to 1500 AD, from the Collections of the National Museum of Ireland, Royal Irish Academy, Trinity College (New York: Museum of Modern Art, 1977)
M. Ryan (ed), Treasures of Ireland: Irish Art 3000 BC - 1500 AD (Dublin: Royal Irish Academy, 1983)