Modern Literary Manuscripts in English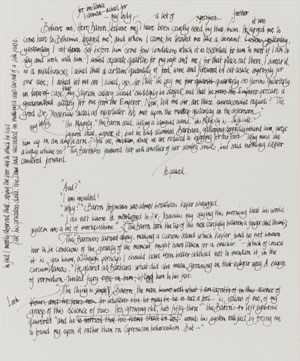 MS 10252/5/7: extract from Kepler by John Banville
The principal modern literary manuscript collections in English in Manuscripts & Archives are those of:
The satirist and poet Jonathan Swift (1667-1745): TCD MS 1050 contains Swift's autobiographical fragment and his sermon Brotherly Love
The playwright J.M. Synge, whose papers encompass his career as a dramatist, folklorist, traveller and photographer including drafts of his works, notebooks, diaries, photographs, correspondence, and his typewriter and camera
The playwright Samuel Beckett whose collection includes his letters to close friends Thomas MacGreevy and Barbara Bray; a 1952 annotated copy of En attendant Godot; and the earliest known draft of the 1965 work Imagination Dead Imagine
Other literary highlights include the papers of:
Joseph Campbell (1879-1944), J G Farrell (1935-79), Denis Johnston (1901-84), John B Keane (1928-2002), Thomas MacGreevy (1893-1967), Seumus O' Sullivan (1879-1958) and The Dublin Magazine archive, Pike Theatre , Somerville and Ross and James Stephens (18[80/82]-1950].
The Library continues to collect literary papers and has recently acquired the papers of John Banville, Jennifer Johnston, Tom Murphy, and Leland Bardwell.
Catalogues and Bibliography
Catalogues for individual collections are available in the reading room of Manuscripts & Archives.
N. Grene, 'Modern Irish literary manuscripts', in: Fox. P (ed) Treasures of the Library, Trinity College Dublin (Dublin: Royal Irish Academy for Trinity College Library, 1986), pp. 230-238
M. Engleberts, E. Frost and J. Maxwell, Notes Diverse Holo: Catalogues of Beckett's Reading Notes and Other Manuscripts at Trinity College Dublin with Supporting Essays (Amsterdam: Rodopi, 2006)
D. Johnston, The Dramatic Works of Denis Johnston, 2 vols (Gerrards Cross, Bucks: Colin Smythe Ltd, 1979)
S. Pressley, "The archives of the Dublin Magazine, 1923-1958", Long Room 7 (Spring 1973), pp. 27-32
C. Swift, Stage by Stage (Dublin: Poolbeg Press, 1985)
Trinity College Dublin Library, The Synge manuscripts in the Library of Trinity College Dublin: A Catalogue Prepared on the Occasion of the Synge Centenary Exhibition, 1971 (Dublin: published for the Library of Trinity College Dublin by the Dolmen Press, 1971)