Travel, Exploration and Antiquarianism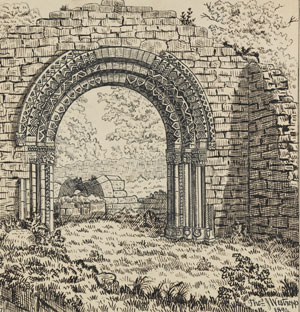 MS 2938/16: archaeological drawing by T.J. Westropp
Among the travel-related collections in the Library there is a wide selection of travel journals documenting grand tours of Europe; family holidays in popular resorts abroad; travellers interested in exploring Ireland itself; and intrepid adventurers who have found themselves further afield, such as MS 7375 the diary of J.A Kinahan, a nursing sister who travelled to South Africa to care for soldiers injured during the Boer war and. Some are made up entirely of sketches, such as MS 10805 recording its owner, Captain Kenneth Howard's, voyages to Australia and the South Pacific in the form of highly detailed, colourful, drawings.
Other travellers and explorers represented within the collection are:
MSS 10472-84, 10514-19: Major R.W.G. Hingston (1887-1966), a surgeon and naturalist who travelled to India and Africa and took part in the 1924 attempt to reach the summit of Everest
MSS 11007: the papers of J.J. Abraham (1876-1963), a naval surgeon and author
MSS 10901-10922: the papers of Henry Chichester Hart (1847-1908), a naturalist who served on the HMS Discovery polar expedition of 1875-1876
MSS 3640-1: letters written by botanist William Henry Harvey (1811-1866) while travelling
MS 10355: papers of Daniel O'Sullivan-Beare relating to a cure for blackwater fever
The papers of politician Michael Davitt (1846-1906) (MSS 9320-9681) contain the written and photographic records of his travels from 1880s to the early 1900s through Europe, the US, Australia and the Holy Land. They also record his reports on the Boer War in South Africa.
Another type of traveller recorded the picture of a fading Ireland through the study of its antiquities. These include:
MSS 2935-9, 2957, 5868-70: the papers of Thomas Johnson Westropp (1860-1922)
MSS 10739-42a: the papers of George Petrie (1789-1866)
MSS 3868-3900 :the papers of Harold G. Leask (1882-1964)
Catalogues
Catalogues for individual collections are available in the reading room of Manuscripts & Archives.