Modern Irish Language Manuscripts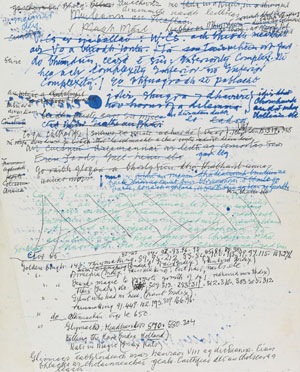 MS 10878/L/3/9 from Barbed Wire by Martín Ó Cadhain
Manuscripts & Archives is building its collection of modern Irish language manuscripts, which includes the papers of Máirtín Ó Cadhain (1905-1970), Irish language activist, writer and Professor of Irish at Trinity College Dublin.
Among these papers (MS 10878) are manuscripts of Ó Cadhain's numerous novels and short stories; papers relating to his work as a newspaper columnist; papers concerning his involvement with Irish language organisations; a collection of tape recordings of folklore; work on grammar and the different dialects of the Irish language; and notebooks from the period of Ó Cadhain's internment in the Curragh Camp, Co. Kildare (1940-4).
Other collections include:
MS 11234: the papers of Risteárd Ó Glaisne (1927-2003) writer, biographer, journalist and broadcaster
MS 11212: the original manuscripts of Niall Ó Dónaill's (1908-1995) Irish dictionary, Fóclóir Gaeilge-Béarl (An Gúm: Dublin, 1977). The manuscripts contain extra unpublished material
MS 10819: the papers of Cathal Ó Sándair (1922-1996) author
MSS 10123-53: research notes of Irish scholar Áine ni Chrónín
MSS 3664-78: the papers of the Reverend James E.H. Murphy, Professor of Irish at Trinity College Dublin (1896-1919)
MSS 7111-18: the papers of Eleanor Knott, Professor of Early Irish at Trinity College Dublin (1938-55)
Catalogues and Bibliography
Catalogues for individual collections are available in the reading room of the Manuscripts and Archives Research Library.
A. Ó Cathasaigh, Ag Samhlú Troda: Máirtín Ó Cadhain 1905-1970 (BÁC: Coiscéim, 2003)
B. Costigan, i gcomhar le S. Ó Curraoin, De Ghlaschloich an Oileáin: Beatha agus Saothar Mháirtín Uí Chadhain (Béal an Daingin: Cló Iar-Chonnachta, 1987)